NRMA Members have highlighted the Sydney CBD, Parramatta and North Sydney as the three most frustrating locations for parking.
With even some of the largest institutional owners of car spaces forced to leave parking assets dormant – often due to restrictions and regulations – the NRMA presents the results of a sample comparison of parking utilisation rates across seven buildings in Sydney with off-street parking assets.1
Where parking is restricted to private access, utilisation rates are noticeably lower, highlighting the fact that, even where road congestion is significant, off-street parking assets are being underutilised.
Image 1: Sample comparison of parking utilisation rates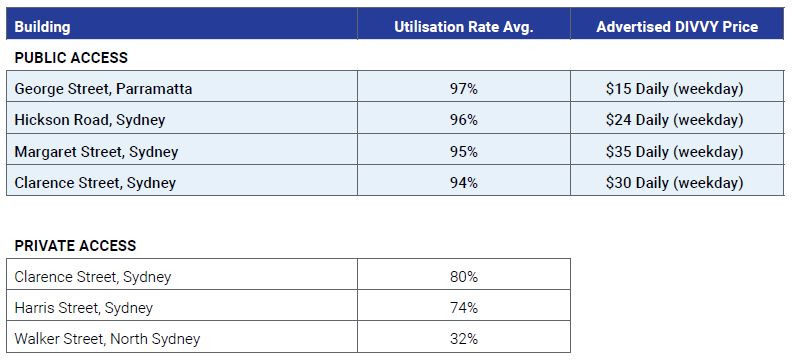 With restricted parking facilities not visible or accessible to the general public, the issue of parking asset underutilisation is somewhat masked.
From this sample comparison, it is clear that thousands of off-street parking spaces at any given time are sitting unused – a frustrating deduction when our urban places are jammed with cars searching for parking.
And in the case of the Sydney CBD, the frustration is compounded with $70.85 being the average price for a daily parking space.2
How can we move forward?
NRMA has been focusing on bringing down parking costs by offering Member discounts with providers like Secure Parking, Park & Fly and Space Shuttle Airport Parking, plus improving accessibility through the my nrma app parking finder.

However, a bigger opportunity exists. Outdated approaches to managing the development of urban places must be replaced with innovative planning that uses technology to adapt to rapid pace of change.

Car spaces in private, off-street car parks that are sitting unused or underutilised are wasted assets that are not generating revenue or contributing to congestion management. Companies like DIVVY are leading the way in looking at how to better use these assets by unlocking underutilised spaces in commercial buildings and giving easy access to those spaces at lower rates.

As cities become smarter and more integrated, and as quality public transport programs are progressively rolled out, richer data can unlock underused parking spots and technology can show people where they are.
Download the Smarter Parking report by NRMA and Divvy in full to learn more.