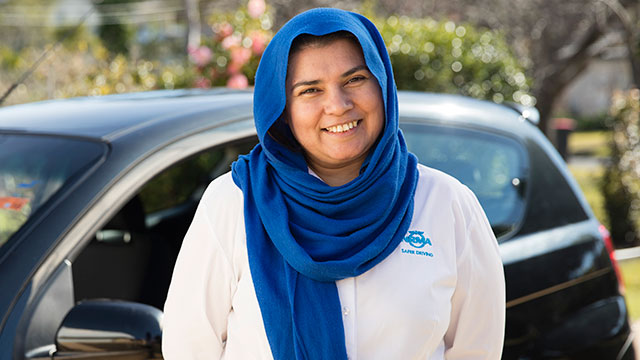 Belong @mynrma is our commitment to building a diverse and inclusive culture where all of our people, customers, Members and communities feel they truly belong.
Working at the NRMA Group means we put people first. We know that delivering a great experience for our customers and Members starts on the inside. And when we look inside, we want to see a culture that is richly diverse, where everyone is included and valued for their uniqueness, and where everyone has the opportunity to reach their full potential.
"The NRMA has a proud history in supporting and advocating for gender equality - from the establishment of the Women's Auxiliary Network during WWII, training 700 females as mechanics and heavy vehicle drivers to support the war efforts, to today where females represent 56% of our board composition and 44% of leadership roles. I am committed to continuing our focus on gender equality and ensuring the NRMA is a place where all our people are given equal opportunity to achieve their goals and make meaningful contributions." Rohan Lund, Group CEO
Find out more on:
Gender equality
LGBTQI+
Indigenous
Disability and accessibility
Intergenerational workforce
Multiculturalism
Employee network groups
Recognition
Gender equality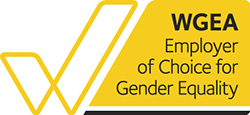 We are very proud to have been recognised in 2021 by the Workplace Gender Equality Agency's (WGEA) as being an Employer of Choice for Gender Equality citation.
"We want the NRMA to be a workplace that sets high standards around equality and fairness so this WGEA certification is recognition for our staff, members and customers that we are on track to building an inclusive and supportive workplace with equal access to all." Group CEO - Rohan Lund
Through our Belong strategy we have been focused on creating workplaces and communities where everyone is treated fairly irrespective of gender and where we remove barriers to create a level playing field.
Whether this be flexible work practices, initiatives to create a gender diverse workforce or programs and policies to support greater gender equality and embed a culture of inclusion.
What we're doing:
- We're increasing female representation across all our Group business. As of 30 June 2020, women comprise 50% of our executive team, our board has 56% female representation, and women in management roles continues to increase year on year to 44% (up from 40% in 2019 and 34% in 2018).
- We're building a strong female talent pipeline and are committed to attracting and retaining talented females across the NRMA Group, particularly in traditionally male dominated fields in Motoring and Marine. We're proud to have recently recruited female tow-truck drivers into our Roadside business.
- We have zero tolerance for domestic and family violence and support victims with access to professional counselling, paid leave and accommodation at our parks and resorts.
- Our gender neutral parental leave policy allows all eligible NRMA Group employees access to 18 weeks paid leave as well as keeping in touch programs and return to work support.
- Our Flex@mynrma flexible work program encourages both women and men to achieve their career goals and balance their families and lifestyles too. Listen to Rohan Lund, NRMA Group CEO discuss our commitment to flexible working at the NRMA during the COVID-19 pandemic and beyond.
Hear from some of our people about the parental leave support at the NRMA:
"I was lucky enough to take 12 week's primary carers leave when our little guy was 9 months old in November 2019, which meant that my wife could return to work full time and I would get to take over the reigns as primary parent and everything that goes with it, and what a life-changing experience it has been. Spending so much time with him to see him grow in himself, his development and his curiosity has been nothing short of life-changing. My manager and team could not have been more encouraging, supportive and happy for me to take the opportunity to experience this joyful and hands on time with my family - this is time that all fathers should get to enjoy." Vincent Canavan - Video Production Manager
"Our son Arthur was born at the tail end of January 2020. This was very good timing as at the turn of the year NRMA had introduced an improved parental leave policy, meaning I was able to enjoy 4 weeks of paid 'Secondary Carer' leave without any worries. This let me focus on what actually matters - adapting to the new world of family life! My wife and I lost count of the amount of times we said something along the lines of "Jeez, imagine having to go back to work after a week or two". What's even better about the policy is that if we decide to switch things up during Arthur's first 12 months, I can take on the 'Primary Carer' role and access the 18 week Primary Carer paid parental leave allowance (minus the weeks already taken as Secondary Carer leave of course) - such fantastic flexibility. I've always said my dream job is 'Stay-at-home-Dad' so, who knows, maybe I get to give it a taster at some point over the next few months." Pete Johns - Senior Manager, Organisational Culture
LGBTQI+
We want to ensure a safe and inclusive place for all our people regardless of sexual orientation or gender identity. That's why we're out and proud at the NRMA, supporting our LGBTQI employees, as well as our Members and the wider community.
What we're doing:
- We've established Shine, our employee-led network group who are leading our strategy for supporting LGBTQI inclusion at the NRMA.
- We are a member of Pride in Diversity and recently participated in our first Australian Workplace Equality Index being recognised as an LGBTQI inclusive employer.
- Our Employee Assistance Program's psychologists undertake professional development training in LGBTQI+ inclusive practices and therapy approaches for working with LGBTQI+ clients and their families.
- Our Gender Affirmation Guide and Policy provides support for employees to safely transition at work and includes 10 days paid leave.
- Our policies and benefits are inclusive of same sex partners and families.
Indigenous
The NRMA acknowledges the Traditional Custodians of the land and waterways on which our organisation operates. We pay our respects to Aboriginal and Torres Strait Islander Elders past, present and future.
Together we can drive positive social change. We're committed to developing a genuine, trusting relationship with Aboriginal and Torres Strait Islander peoples within our organisation and beyond.
What we're doing:
- In July 2019 we launched our second Reconciliation Action Plan (RAP). Our stretch RAP maintains our focus on fostering education and employment pathways as well as economic prosperity for Aboriginal and Torres Strait Islander people and communities.
- We're working with CareerTrackers Indigenous Internship Program, a national non-profit organisation with the goal of creating pathways and support systems for indigenous young adults to attend and graduate from university with high marks, industry experience and bright professional futures.
- Together with Aboriginal Employment Strategy and CareerTrackers, we're also proactively recruiting Indigenous talent.
- We partner with the Australian Red Cross for our Learner Driver Mentor Program, providing licensing support that helps Aboriginal and Torres Strait Islander people access mobility and the opportunity it brings.
- In partnership with Tribal Warrior - a not-for-profit community organisation initiated and directed by Aboriginal people with Aboriginal Elders, we launched the Me-Mel (Goat) Island Indigenous cultural tourism experience to support and drive Indigenous tourism.
Disability and accessibility
At the NRMA we're people moving people, and that means people of all abilities. We are committed to making sure we are accessible, flexible and supportive of all our people and their needs.
What we're doing:
- We are proud to be a member of the Australian Network on Disability who support the NRMA Group to improve accessibility and inclusion and build a disability confident workforce to better support the needs of employees, members and customers.
- We introduced Flex@mynrma - our flexible working policy to ensure flexible working is more accessible to everyone, with a focus on those who are caring for loved ones with a disability.
- In partnership with the Australian Network on Disability, we will provide more employment opportunities for people with disabilities.
Intergenerational workforce
With five generations currently working at the NRMA, we value the talent and abilities of all ages and actively encourage everyone to share their experiences and perspectives so we can drive meaningful change both within our organisation and for our Members and customers. We're also the type of organisation where we have multiple generations from the same family all proudly calling the NRMA home.
What we're doing:
- Supporting all our people through key milestones and life events from buying your first home, overseas travel, caregiver support leave policies, physical and mental wellbeing and our employee assistance program.
- Offering flexible work arrangements to people, no matter what their age or stage of life.
- Working to ensure we increase the representation of younger and older workers in our recruitment processes.
- Provide transition to retirement programs.
Multiculturalism
We know the breadth of cultural backgrounds we have at the NRMA makes our culture richer and more rewarding, and we're committed to supporting and valuing a diverse workforce including people from different cultural, ethnic, religious and national backgrounds and identities.
What we're doing:
- Our DriveTime Program is a driver licensing support program for refugees in Wollongong and Fairfield. Participants access NRMA Driver Training and volunteer mentors to accrue the hours, experience and knowledge needed to get their license and open pathways to work.
- On Harmony Day we celebrate diversity by encouraging colleagues to share food and stories from different cultures.
- We actively encourage our people to share what's important to them and how their cultural heritage or faith influences who they are today.
- We are training our leaders in unconscious bias.
- We ensure our recruitment, remuneration, promotion, talent and succession planning processes are free from bias and support equality.
Employee network groups
We know that real and sustainable change around diversity and inclusion is made when employees feel heard and are empowered, and can work together towards a common goal. That's why we've established employee-led network groups for each of our six diversity pillars.
Recognition
The NRMA is proud to be a member of:
- Diversity Council of Australia (DCA)
- Pride in Diversity
- Australian Network on Disability