Here are two top-down sports cars designed with one thing in mind – driving pleasure. But one is a throwback to the lightweight driving purity of another era and the other is a technological marvel of modern motoring. They are both low-slung and have eye-catching style, yet one comes in at an affordable $31,990, while the other starts at a bank-breaking $83,905. With such similarities and vast differences, the Mazda MX-5 and the Audi TT roadster are two cars at extreme ends of the same spectrum.
Mazda MX-5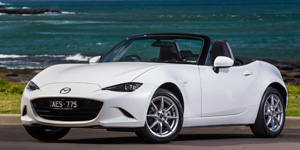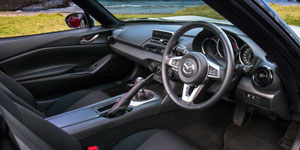 This is the first completely new version of Mazda's perennially popular drop top in seven years. The stated purpose of the MX-5, since its debut back in 1989, has been to channel sports cars from bygone days, and the fourth-generation MX-5 is a return to those roots. It is 10cm shorter and up to 100kg lighter than its predecessor.

It's evident just how 'classic' the MX-5 is from the moment you hit the starter button. The gearstick vibrates in your hand at idle and is a lovely thing to use, with just enough weight to the clutch pedal, a short throw and a satisfying 'snick' as it slots into gear.

Our test car has the smaller 1.5-litre engine (96kW/150Nm) mated to a six-speed manual transmission. It might appear weak on paper, but the engine is a sprightly thing in most situations and is the sort of high-revving unit that thrives on winding mountain passes, although it does get breathless when asked to accelerate at highway speeds. Because the MX-5 is back down around the 1000kg mark in its new guise, the engine's power deficiencies are negligible.

This 'added lightness', to use the old Lotus phrase, is evident the moment I put the MX-5 into a tight corner. It doesn't feel especially planted, but it holds its line as if by witchcraft and never feels like it's going to lose grip. It's a reminder of just how overweight most modern cars are.

The seat backs are narrow and a more ample person would probably spill over the sides. The steering wheel is also slender – another nod to the sports cars of yore. In an SUV or a sedan it would feel wrong, but it suits the MX-5 down to the ground.

The steering itself, however, is the one real disappointment. Feedback is next to non-existent by sports car standards and, even though Mazda has used tech wizardry to make it more responsive in corners, the overall impression is loose and mushy. It's a curious decision given the 'driving purity' remit Mazda set itself with this car.

One other quibble – more an irritant than a disappointment – is the enviro-nanny upshift/downshift alert behind the steering wheel. The MX-5 is a sports car for crying out loud – why would I want it to drag its feet in sixth gear at every possible opportunity? A digital speedo would have made much more sense.

But the essence of the new MX-5 is fun. And it's an awful lot of fun for a tick over $30,000.
| | |
| --- | --- |
| MAZDA MX-5 | |
| Engine | 1.5-litre DOHC four cylinder |
| Transmission | Six-speed manual |
| Power | 96kW |
| Torque | 150Nm |
| Fuel consumption | 6.1L/100km |
| ANCAP | 4-star |
| Price | $31,990 (plus on road costs) |
| Pros | Light and nimble, sporty gearbox, offers "classic" driving |
| Cons | Steering lacks weight, irksome gear change alert, small seats |
Audi TT roadster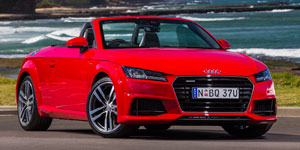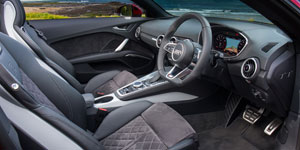 One need only slide into the driver's seat of the Audi TT to know it exists in a different financial realm to the MX-5. The seats are plush and generous, the chunky steering wheel is coated in soft leather, and behind it is a clever digital screen that can expand and contract its speedo/tacho dials and sat nav screen depending on the driver's priority.

In regular driving mode the TT's 2.0-litre turbocharged engine (210kW/380Nm) is almost pedestrian. Put it into sports mode and change the TT's chassis setting to dynamic, however, and you might as well be driving a different car. Acceleration is instant and thrilling, the quattro (all-wheel-drive) handling is unbelievable. The TT feels (and is) heavier than the MX-5, yet it has so much going on behind the scenes that it is unflappable even around the tightest bends.

Our test car has the six-speed S-tronic automatic rather than a manual, but it's not much of a loss because Audi's lightning fast paddle shifter system has its own appeal.

A spirited drive of the TT roadster through the Royal National Park is one of the highlights of my driving career. Cool and clean air in my nose, afternoon sun filtering through the canopy, sticks snapping under the TT's tyres, and its glorious engine singing a guttural song (with a satisfying crackle on downshifts).

I would assert it is impossible for a fan of top-down driving to dislike the Audi TT roadster – it is summer embodied in an automobile. But it could also be spring, autumn and possibly even winter, since it has heated seats and vents just below the head rest that blow hot air onto the occupants' necks.

So given I've already noted the Mazda MX-5 is all about fun, what is the essence of the Audi TT? Excitement.
| | |
| --- | --- |
| AUDI TT | |
| Engine | 2.0-litre turbo four cylinder |
| Transmission | 6-speed auto |
| Power | 210kW |
| Torque | 380Nm |
| Fuel consumption | 6.9L/100km |
| ANCAP | 4-star |
| Price | $83, 905 plus on road costs |
| Pros | Brilliant engine, quattro handling, lovely interior styling |
| Cons | Big asking price for what is likely to be a weekend car |