Many have mourned the demise of locally-built family sedans, but the mid-sized Toyota Camry and Hyundai Sonata are well equipped to take their place.
Sales figures for medium-sized sedans tell an ugly story. Not one brand recorded an increase in year-on-year sales for 2016-2017, according to the December 2017 VFACTS report. Even the market-leading Toyota Camry saw a 10.8 per cent drop nationally. However, thanks largely to its fleet sales, the Camry sold more than six times the number of its nearest competitor, the Mazda6, and more than 20 times its rival in this comparison, the Hyundai Sonata.
The silver lining to this doom and gloom is that medium-sized sedans are better than ever, and clever consumers can snare a real bargain. Not so long ago, a comparison between a Camry and a Sonata would have been a 'battle of the beige', but now nothing could be further from the truth.
In 2014, the Sonata returned to the local Hyundai line-up, replacing the much-derided i45. It offered two very good engines and a standard features list that could make the most tight-fisted customer smile. It has been given a substantial facelift for 2018 to bring it in line with Hyundai's latest design philosophies. And, as noted last issue, the all-new Camry is no longer the humdrum transport that was a Toyota staple for nearly 25 years. So what exactly do these revamped sedans now offer?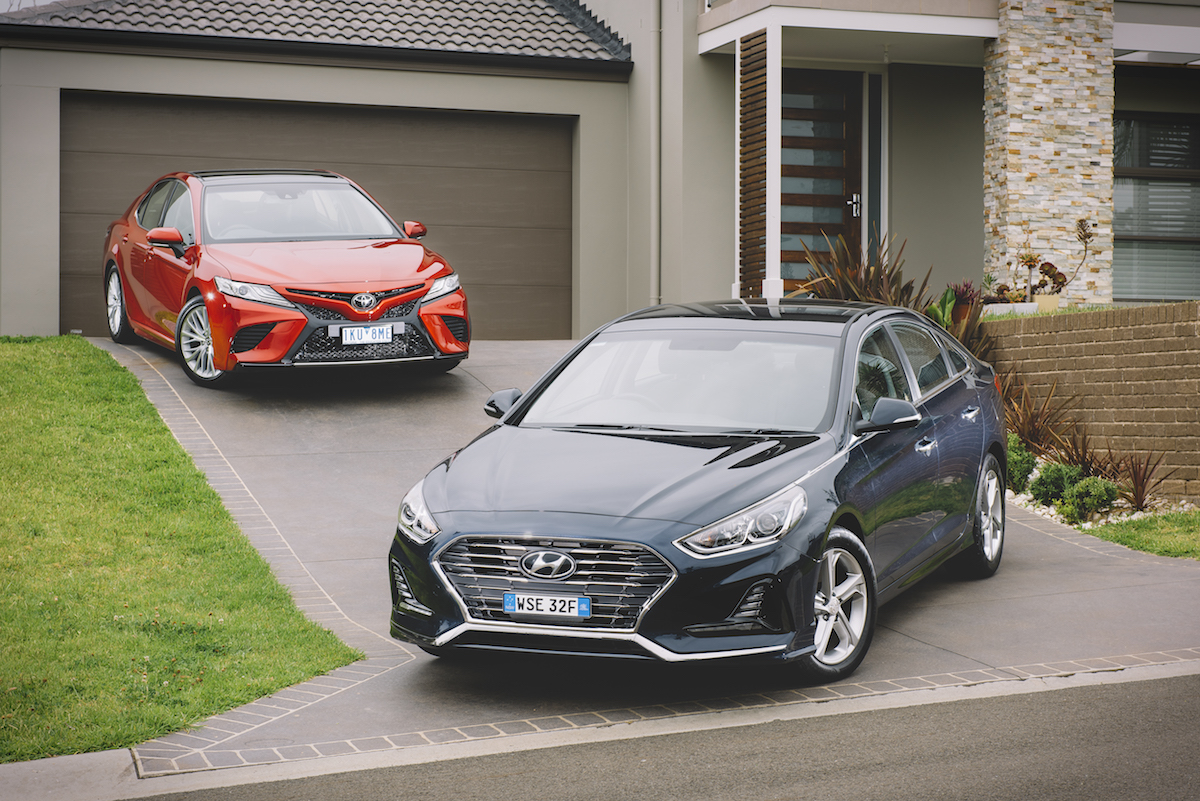 Hyundai Sonata
Sometimes a simple selection is best, especially in a low-volume segment like medium sedans, and that's how Hyundai has packaged its Sonata. There are two spec levels – Active and Premium – and the key difference is the drivetrain.
The cheaper Active ($30,990) gets a naturally aspirated 2.4-litre four-cylinder engine and six-speed transmission, while the Premium ($45,490) has a 2.0-litre turbocharged unit and eight-speed auto. The MY18 Active comes standard with an eight-inch touchscreen infotainment system, proximity key and push-button start, as well as sat nav, Apple CarPlay and Android Auto.
Hyundai has never been renowned for its styling, but over the past few years it has gone through a Euro-inspired revolution. The Sonata's graceful lines are perhaps the best expression yet of the Korean carmaker's new aesthetic sensibilities.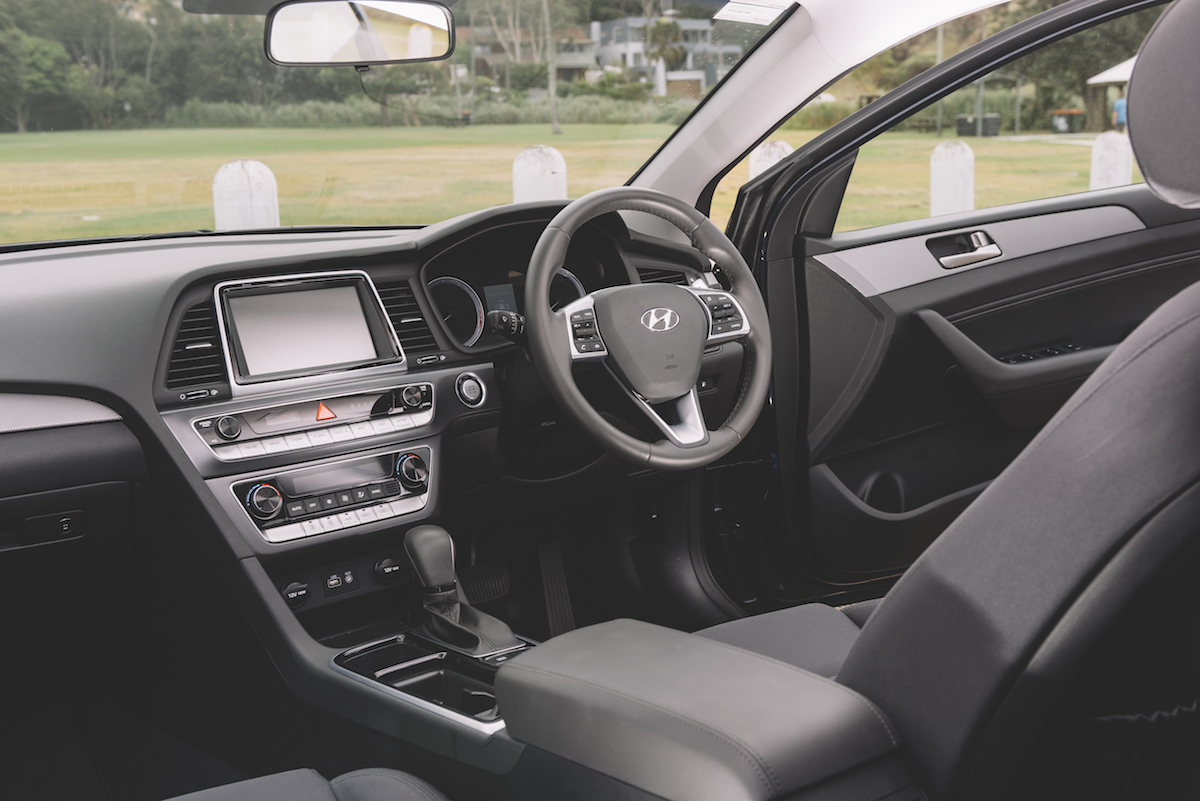 The interior doesn't let it down, either, with a smooth leather steering wheel, pleasant touch-points all around, and a row of 'tape deck' switches that give it a practical yet stylish appearance. Slightly coarse seat fabric is about the only thing that betrays the Sonata Active as a base model. Sitting inside either the Sonata or Camry shows bracket creep is alive and well. These 'mid-sized' sedans are enormous, with as much room as a Falcon or Commodore. The Sonata's seats are somewhat flat and shapeless, especially the bases, but beyond that its ergonomics are excellent. The centre armrest is wide and well positioned, and the console has a number of recesses for storing odds and ends, plus cup holders that can accommodate all but the widest drink bottles. Hyundai has a growing reputation for user-friendly infotainment systems and, although it took us some time to puzzle out the trip meter, the new touchscreen holds true to this, with almost no learning curve. Unlike the Camry, the sat nav displays the current speed limit, but the image from the reversing camera lacks definition. The foot-operated parking brake (a concession to the Sonata's popularity in America) also makes it feel a bit old-school in an age of increasingly ubiquitous electric parking brakes.
While the 2.0-litre turbocharged four-cylinder engine in the up-spec Sonata Premium deserves its plaudits, the naturally aspirated 2.4-litre four is no slacker, either. It's sharp off the line, has plenty of grunt at highway speeds, and works well with Hyundai's silky six-speed transmission, so the driver is never left hanging if sudden acceleration is required. There's a sport mode, but the changes to engine mapping are virtually indiscernible. The paddle shifters are likewise redundant, and positioned such that I found them interfering with my fingers while I was trying to perform three-point turns.
The steering has some slackness when off centre, which doesn't make the Sonata the best handling car, but it's nice and light for parking manoeuvres. It holds a consistent line on winding country roads and offers plenty of feedback, but does get jiggly over small bumps, which lessens driver confidence during vigorous cornering. Conversely, the suspension is able to take catastrophic potholes in its stride without troubling the occupants. The brakes, at least on our test vehicle, were grabby and difficult to actuate. If this is evidence of a wider calibration issue, it's something Hyundai needs to examine.
An interesting (or perhaps gimmicky) innovation is the boot release button, which had us hunting through the owner's manual in order to find its location. It's secreted in the void above the 'H' in the Hyundai badge. Under the boot floor is a full-size spare wheel and this is still a sought-after feature among typical sedan buyers.
Toyota Camry
The Camry range is the polar opposite of the Sonata's, with four models and three engine offerings. The closest in price to the Sonata Active is the Ascent Sport, which retails for $29,990. Like the Sonata, it comes with 17-inch alloy wheels, cloth seats, a premium steering wheel, keyless entry and start, eight-inch infotainment system with sat nav, rear parking sensors and reversing camera, and dual-zone air conditioning. The driver's seat is electrically adjustable, giving it a one-up over the Sonata's manual action. (Our test car was the higher spec SL.) Where the Sonata's external styling is Euro-inspired, the new Camry reflects the current Japanese obsession with geometric lines and fussy details. But it isn't over-designed and, from the rear in particular, is a handsome and sporty-looking machine.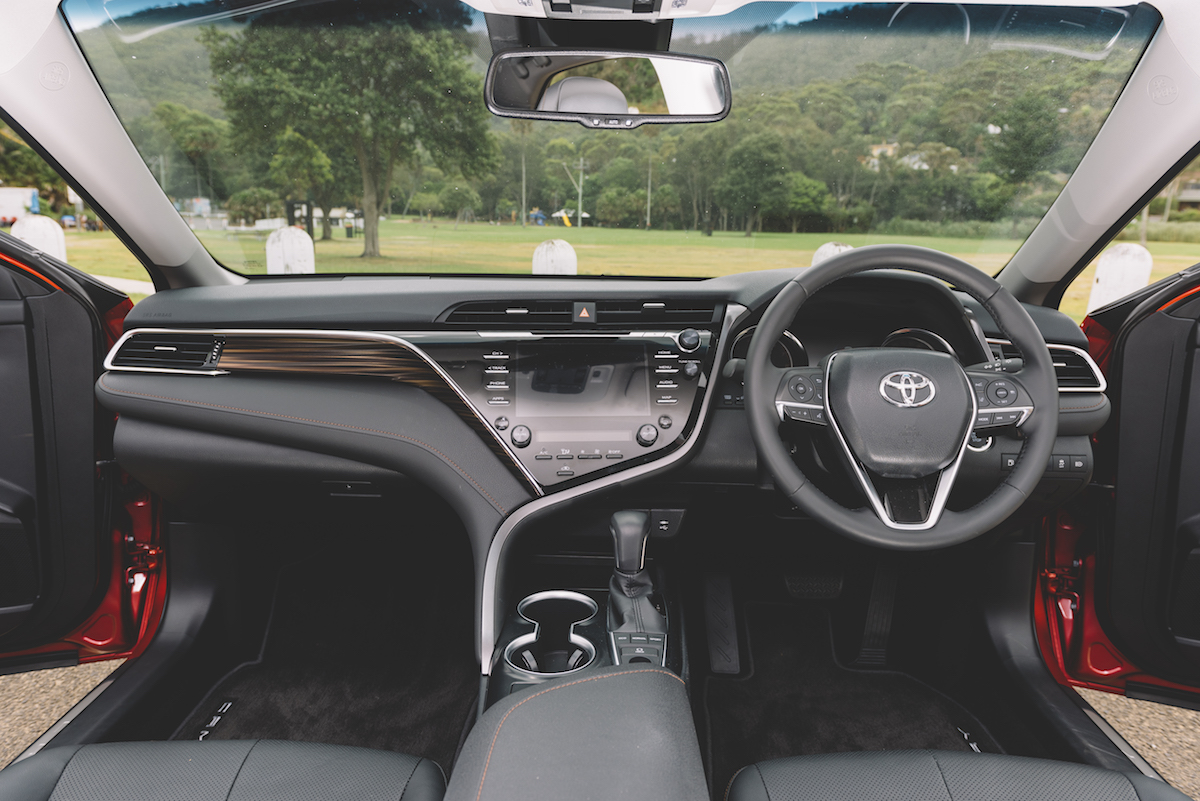 The Camry's interior is even more elegant than the Sonata's, featuring better quality trim and materials, without sacrificing practicality for looks. Attractive silver buttons are arranged sensibly around the infotainment screen and, unlike its Corolla stablemate, the Camry has a manual volume knob on the dash. With this latest model, Toyota has also done away with its 'stepped' gear selector in favour of a traditional one, much to its benefit.
From the driver's seat the Camry feels bigger than the Sonata, but a once-over with the tape measure shows there's not much in it. It's a matter of a few centimetres for foot, head and leg room. The armrest is a similar size, the view out the back window is almost identical, and the Camry's seats are also large and lack shape (although its rear seats are deeper and have better bolstering). Even the steering wheel is a comparable size and shape. The Camry's boot is 90mm wider and 70mm longer, but the Sonata's is a fraction taller and its aperture when the rear seats are folded down is appreciably larger. Given the Camry only has a space-saver spare, its cargo space is something of a trade-off.
As the power and torque figures imply, the Camry also offers similar performance (and its sport mode is similarly ineffective). It does, however, deliver far superior fuel economy, with the Camry returning 7.3L/100km in our real-world test compared to the Sonata's 8.2L/100km. NVH (noise, vibration and harshness) mitigation also sets the Camry apart from the Sonata – in fact, it's in another league. Vibration is almost absent over bumpy roads and very little noise permeates the cabin, even when the engine reaches high revs. Our test car did, however, bottom-out when it hit dips or potholes at speed, whereas the Sonata's greater wheel articulation saw it glide over them.
The Camry's steering is less direct and has less feedback than the Sonata's, too, and the suspension, which does such a good job of soaking up minor road imperfections, can make the car feel bouncy in fast corners. My colleague preferred the Camry's handling, though, so it's probably a matter of taste.
Final thoughts
Both these cars come up short on seat comfort and neither would be my first choice for a Sydney to Cairns road trip, but other criticisms amount to a handful of quibbles. The Sonata is a commendable car, with a plenitude of standard features for the price and a slight edge over the Camry in performance. However, as a complete package of space, refinement, fuel economy and value, it's impossible to go past the Camry in this head-to-head comparison.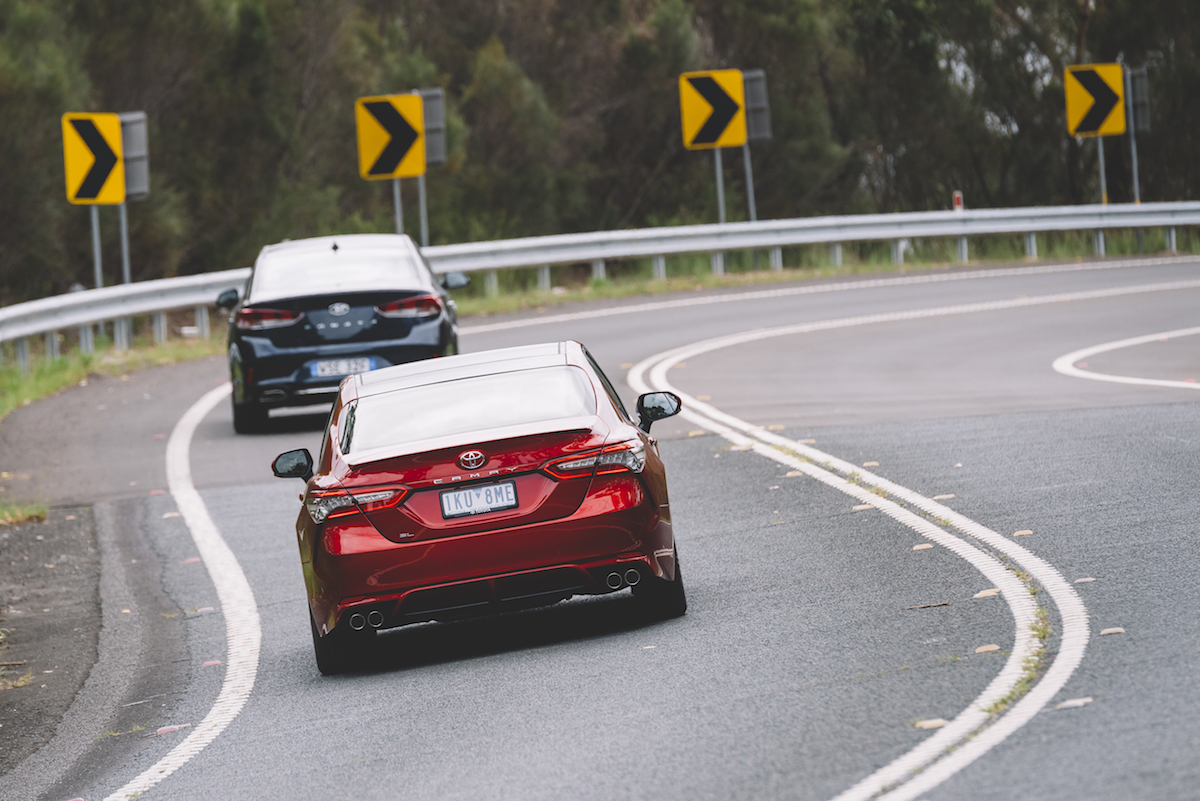 Specifications
Hyundai Sonata Active
Engine: 2.4 litre four-cylinder Transmission: six-speed auto Power: 138kW Torque: 241Nm Fuel consumption: 8.3L/100km (claimed) ANCAP: Five stars Price: From $30,990
Toyota Camry Ascent Sport
Engine: 2.5 litre four-cylinder Transmission: six-speed auto Power: 133kW Torque: 231Nm Fuel Consumption: 7.8L/100km (claimed) ANCAP: Five stars Price: From $29,990 (SL as tested $39,990)
This article was published in the Open Road magazine.