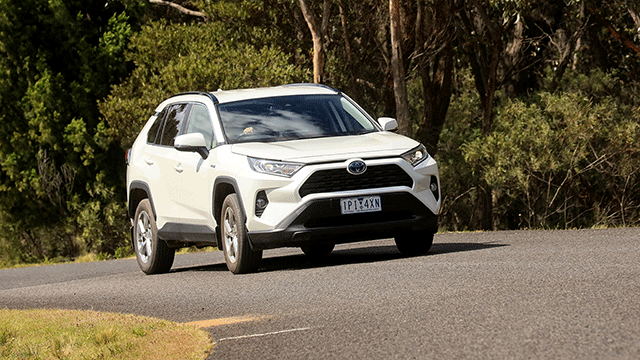 2019 Winner: Toyota RAV4 GXL AWD Hybrid
2nd Place: Subaru Forester 2.5i-S

Winner: Toyota RAV4 GXL AWD Hybrid

3rd Place: Mazda CX-5 Maxx Sport
Winner: Toyota RAV4 GXL AWD Hybrid
Australia's love affair with small-to-medium SUVs continues to grow. Buyers in the all-wheel-drive SUV under $55,000 category now have a plethora of excellent models to chose from, which makes the Toyota RAV4 GXL AWD Hybrid's win in this important category an outstanding achievement.
The RAV4 took a significant step up with the all-new 2019 model. While the regular top finishers in this category – the Subaru Forester and Mazda CX-5 – weren't far behind, the RAV4 matches their strengths in on-road ability, comfort and space, and then raises the stakes with category-leading fuel economy and lower emissions, as well as being the smoothest and quietest. The RAV4's five-star ANCAP rating was achieved under the tougher 2019 test requirements, too, gaining it maximum points for safety.
Toyota's new global platform provides the RAV4 with a solid foundation for improved driving dynamics and impressive ride comfort, while a longer wheelbase and extra width create more useable cabin space, particularly for rear occupants. Seating up to five, the RAV4's redesigned seats provide good comfort and support. The luggage compartment is also one of the most spacious in the category. For the driver, the all-new layout is clean and simple with easy-to-read instrumentation and logically positioned switches.
The introduction of Toyota's well-proven petrol/electric hybrid technology has added a new dimension to the RAV4 line-up and gives it a distinct point of difference. Using a similar system to the Camry hybrid with minor tweaking to suit SUV requirements, the AWD version employs a third electric motor to drive the rear wheels. For everyday driving, the Hybrid's electric motors add extra punch down low, with the petrol and electric power sources combining to provide brisk performance and seamless transition between the two. It can also be driven short distances on electric power only (in EV mode).
Like most vehicles in this category, the main benefit of the RAV4's AWD system is the reassuring extra traction it provides if the bitumen is wet and slippery or when travelling on loose gravel/dirt roads. For the odd occasion when you might want to venture onto rougher tracks, the hybrid AWD system has proven itself to be as capable as other more conventional mechanical AWD setups in the category – the majority of which are on-demand AWD systems. In most cases, the limiting factors will be ground clearance and tyre grip, rather than any problems with the ability of the hybrid AWD system.
The GXL model's purchase price and ownership costs are competitive with other brands' top-selling variants. It has a respectable, rather than generous level of standard equipment, however, as some of the money goes to pay for advanced technology in the hybrid system.