Winner: BMW M240i Sport Line
Second: Mercedes-Benz A 45 AMG
Third: Ford Focus RS
Winner: BMW M240i Sport Line
Buyers in this premium segment expect something special for their sports car dollars, and the BMW M240i certainly delivers. Replacing the M235i, which was the class's runner-up last year, the updated 2 Series' flagship model comes to market $3500 cheaper, plus it sports extra standard equipment and features. That gives it a handy head start on the dearer Mercedes A 45 AMG when it comes to price and depreciation.

However, the extra coin for the Merc will get you a lengthier list of standard features than the BMW, even with its recent upgrades. New features include adaptive headlights, 360-watt 12-speaker Harmon Kardon audio system, keyless access and driver assistance technologies such as approach control warning, lane departure warning, pedestrian warning, light city braking function and attentiveness assistant.

The BMW is more fiscally responsible for running and repair costs than the Mercedes which blots its financial copy book by costing more over the standard ABC calculation period of five years or 75,000km.

The M240i features the latest-generation M Performance engine that now uses a little less fuel than its predecessor and, importantly, delivers an extra 10kW of power and 50Nm of torque. Maximum outputs now total 250kW at 5500rpm and a virile 500Nm at 1520-4500rpm.

And what a cracking engine it is. All judges enthused over the 3.0-litre turbo in-line six-cylinder engine's muscular performance through the rev range and its eager throttle response. It revs freely and emits that sweet soundtrack that's so typical of BMW's brilliant straight sixes. The standard eight-speed auto features a launch control function, and there are paddles for when manual selection is desired. The gearbox received the judges' universal praise for its greased-lightning-fast, intuitive gear changes. The powertrain's smoothness and power delivery is sublime. All-in-all, it's an experience to savour.

The M240i also won compliments for its ride and handling finesse. Steering is light and responsive. And underpinning its sporting handling credentials is the purity of BMW's classic rear-wheel-drive agility, fine dynamic balance and a communicative chassis. The A 45 follows a different ideology, scything through corners and getting its considerable power down efficiently to the tarmac, courtesy of its 4MATIC all-wheel-drive system. They are different approaches to the task for sure, but each has its virtues, a point acknowledged by each scoring a class-leading handling score. Braking is efficiently dealt with by an M Sport package with four-piston front and dual-piston rear callipers.
The BMW is well finished, and the cabin is a user-friendly place earning the M240i high marks for ergonomics and build quality. It features the latest generation of BMW's iDrive infotainment system.

Very comfortable front seats with good adjustability rated well, although ultimately not as highly as the body-hugging sports seats of the Mercedes. The BMW now gets heated front seats and power adjustment.

The M240i offers a winning combination of powerhouse performance and sporting dynamics, plus everyday liveability.
Second: Mercedes-Benz A 45 AMG
After two years reigning over this class, the Mercedes-AMG A 45 has been narrowly beaten. But as the high on-road scores attest, the hot-shot little Merc still has enormous driver appeal.

Buying and owning the AMG A 45 punishes the bank balance more than the M240i. But offsetting its higher price is a more impressive standard equipment list. And there's that stonking 2.0-litre turbo engine that pumps out 280kW and 475Nm, making it one of the most powerful production engines of that displacement you will find. Mated to a seven-speed DCT gearbox, performance is nothing short of exhilarating, and then there's that lovely snap, crackle and pop from the AMG exhaust.

The AMG Dynamic Select system allows driver control over engine and transmission response and steering and suspension settings to best suit driving conditions and style. The 4MATIC all-wheel-drive system efficiently puts power down to the tarmac, allowing it to carve through and slingshot out of corners. It's more a point-and-shoot weapon than the agile rear-wheel-drive BMW with which it shares class-leading handling scores.

The more overtly styled interior in the A 45 has switch gear that's too fussy for our liking, but the body-hugging sports seats provide great comfort and support.
Third: Ford Focus RS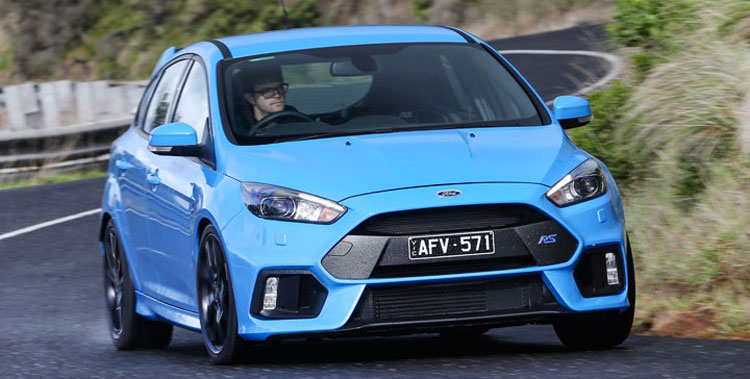 With an on-road price just over $55,000, Ford's new hot hatch is the second cheapest car in ABC's premium sports car class. With Ford's Rallye Sport heritage, including RS Escorts and Sierra Cosworths, the Focus RS promises something to delight demanding drivers, and delivers in spades – think ear-to-ear grins.

The 2.3-litre Ecoboost turbo engine mated to a slick six-speed manual gearbox delivers a claimed 257kW and 440Nm (470 Nm in over-boost for up to 15 seconds). There's a launch control system for really quick getaways, and Brembo brakes to halt proceedings efficiently.

The RS is equipped with all-wheel-drive, dynamic torque vectoring, sports suspension with adjustable dampers, and four selectable drive modes that vary steering, suspension, ESC and engine calibrations. The system includes a 'track' mode, and controversially a very effective 'drift' mode for tyre-frying fun. Neither is intended for public roads. Steering and dynamics impressed, although the hard-edged ride was less appealing.

Judges loved the great support offered by the Recaro race-shell sports seats, although the lack of seat height adjustment was frowned on. Build and finish more akin to the average Focus models is outpointed by the prestige German brands found in this class.