The fourth-generation Kia Sorento might be more expensive than before, but it has more space and is better in almost every way.
What is it?
Kia Launched the Sorento nameplate back in 2002 to mixed reviews. Our own road test didn't exactly paint a rosy picture: "prominent understeer and body roll" made it a handful out on the open road, and "wooden feeling brakes" inspired little confidence.
An upgrade in 2007 increased towing capacity to 2500kg and started to win fans in the caravan brigade, but it wasn't until the third generation that everyone's perception of it changed. Kia dropped the Sorento's ladder frame construction for conventional monocoque, an extensive localisation program improved the ride and handling, and a new 2.2-litre diesel engine (145kW/421Nm) further upgraded its standing.
How much is it?
Kia is offering drive-away pricing for the range and the 2WD S petrol is the entry price point at $46,990. The 2WD Sport petrol ($49,990), Sport+ petrol ($54,390) and GT-Line ($61,990) round out the line-up. Entry into the diesels starts with the S diesel ($49,990), Sport ($52,990), Sport+ ($57,390) and GT-Line ($64,990). Along with the limited run Kia Stinger Carbon edition, the latter becomes the most expensive Kia on our market to date.
What's it like on the outside?
Based on Kia's latest generation and larger SUV platform, it has a longer wheelbase and body, and is taller and wider than its predecessor. As a result, the new design looks a lot more striking and the larger body increases interior space in all rows and adds an extra 32 per cent of cargo space when all three rows are in use.
An all-alloy 2.2-litre diesel engine is almost 20kg lighter than the old cast iron block it replaces. Power outputs remain almost identical at 148kW and 440Nm. Matched to an eight-speed dual clutch transmission (DCT), Kia claims the new combination reduces fuel consumption up to 15 per cent over the previous auto, with a claimed figure of just 6.1L/100km. All diesel models are AWD and a revised version of the 3.5-litre petrol engine, developing 200kW and 332Nm, will power 2WD models when they become available.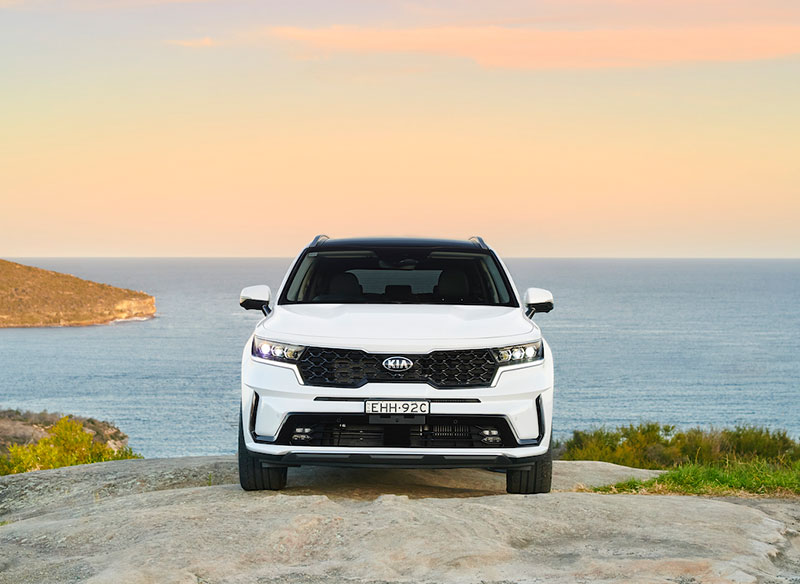 What's it like inside?
Inside the cabin, four large air vents with polished alloy trims anchor the dash design and the large infotainment screen floats in the centre. The switchgear is beautifully detailed and a diamond motif finish is used on sections on top of the dash, around the door handles and in the seat fabric. The cabin feels surprisingly light and airy and the fixed glass quarter windows aid forward vision normally blocked by the large external mirrors.
Seat comfort, cabin entry and second-row seat adjustability benefit from the extra millimetres gained with the new design.
What are the standard features?
A strong array of standard features are in the range, especially the higher spec models, which have a 10.25-inch screen, sat nav and dual–zone climate control. In a first for Kia, the GT-Line has a digital instrument cluster with four selectable themes and a colour head-up display.
Initial renderings of the Sorento before launch looked big and boxy and more suited to the American market than ours, but we sampled the Sport+ diesel for a few weeks and, in the flesh, the strong design works. Sharp crease lines and a big grille create a bold visual presence compared to the softer lines of its predecessor.
Are there any safety features?
Kia's list of safety features is long, with all models receiving blind spot collision avoidance, cross traffic collision, lane keeping and lane following assistance, autonomous emergency braking and more. However, an ANCAP safety rating isn't available at this point.
What's it like to drive?
The powertrain feels refined and closer to premium Euro diesels in performance. The DCT seems free of any inherent jerkiness on take-off and the shifts feel precise under acceleration. Kia's claim the DCT reduces fuel consumption also rings true – we saw a best of 6.5L/100km and an average of 8.4L/100km in urban driving.
Final thoughts
The new Kia Sorento seems to have lifted its game to a point where it might trouble some of the established European marques, and the Open Road team looks forward to a future comparison test. It has certainly come a long way in a relatively short time.
Pros: Attention to detail in interior design; refinement of new powertrain
Cons: Some interior trim is reflective