Engine
Transmission
Fuel Economy
Output
ANCAP rating
The Land Rover Discovery 4 is easily Australia's most capable all-terrain four-wheel drive, but it's also an excellent people mover, and luxurious to boot…
Fresh from winning a seventh consecutive Australia's Best Cars Best All-Terrain 4WD, Land Rover has released the MY12 Discovery 4. The running changes include two new alloy wheel designs, Bluetooth and iPod connectivity as standard, and a colour non-navigation touch screen on the entry-level audio system.

There are also interior tweaks to the steering column-mounted indicator wands (they're now meatier looking and feeling), and two new option packs (Technology and Vision Assist). The price has increased by $2300, but the Disco 4 continues to undercut, price-wise, many of its rivals thanks to its cavernous interior and its outstanding Terrain Response system. Our review vehicle is a Discovery 4 3.0 SDV6 SE.
Design
Minor tweaks to the inside and outside of the MY12 Discovery 4. Land Rover's Discovery 4 is fast becoming an iconic vehicle, and the design changes from Disco 3 to 4 helped soften the look inside and out. For 2012 the tweaks have been kept to a minimum, and include new steering column stalks with chrome bezels and a new pebble-like design for the smart key. More than that, the entry-level audio system has been upgraded to incorporate a colour (non-navigation) screen, this replaces the old black-and-white screen, and features Bluetooth and iPod connectivity as standard. On the outside of the car, the top-spec HSE model gets, as standard, a new 19-inch alloy wheel, while the SDV6 SE, which we're testing here, gets the alloys from the 2011 HSE. A split-spoke 20-inch alloy and extended Satin Black roof rails are available as extra-cost options across the range.
Drive
Plenty of grunt, a smooth gearbox and good on fuel. Under the bonnet is a 3.0-litre twin-turbo V6 diesel (the same engine that features in the Jaguar XF), which makes 180kW (at 4000rpm) and 600Nm from a low 2000rpm, although, 500Nm of torque is available from just off idle. Mated to a smooth-shifting six-speed transmission with manual override, the Disco 4 SDV6 SE is as comfortable and effortless to drive as a premium station wagon.

With its electronic air suspension the Land Rover Discovery 4 SDV6 SE corners better, with the exception of the Evoque, than any other Land Rover product. Only the BMW xDrive 30d feels more sporting than the Disco on-road (there's a slight roll into corners), but not a single one of the Disco's competitors can match it when the bitumen turns to dirt, nor can they match it for bump absorption.

And while the steering could do with some more feel it's well weighted, direct and stable in the straight-ahead position. With a turning circle of just 11.45 metres, the Disco is maneuverable, which is great whether you're trying to get around town or the bush. And the brakes, which are off the Range Rover Sport are excellent on or off road.

But, what sets the Disco apart from its rivals is its Terrain Response system, which allows you to choose from General Driving, Grass Gravel Snow, Mud Ruts, Sand, and Rock Crawl modes. These setting alter things like suspension, traction control and throttle mapping to allow the Disco to go where other 4WDs fear to tread. Throw in the cost-optional Active Rear E-Differential ($1040) that was fitted to our test car and the Disco walked up our extreme off-road test track without it or me raising a sweat. In terms of fuel consumption, Land Rover claims a combined 9.3L/100km.
Comfort
Excellent refinement and a nice smooth ride. Because the Disco's 3.0-litre twin-turbo V6 was designed with the Jaguar XF in mind, it's nice and refined. And so, under the Disco's bonnet it's almost impossible to pick as a diesel. Even under load, so good is the insulation and the tuning, the engine remains clatter free.

And that insulation means there's almost no wind or road noise leaking into the cabin; only the Touareg offers similar levels of noise insulation. As far as passengers are concerned, the Discovery 4 is a genuine seven seater, and the front seats, second row seats, and the two seats making up the third row offer generous levels of foot, knee, shoulder and head room.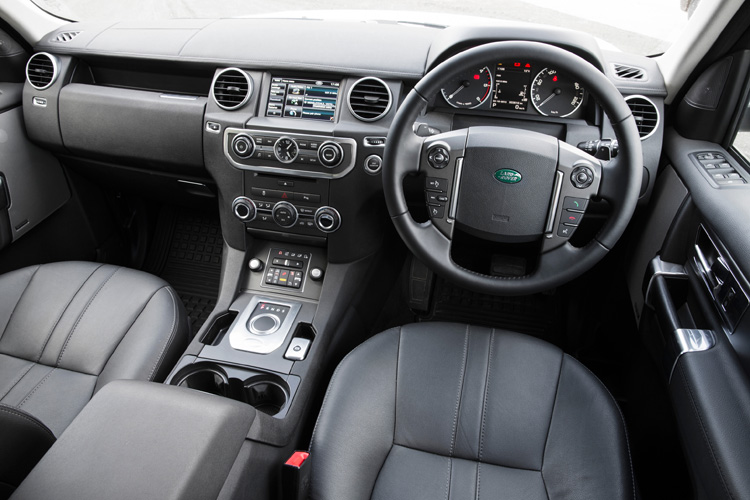 Practicality
Seven seats and a very spacious cabin. For a lot of seven-seat 4WDs, the third row is nothing more than a glorified bench. Not in the Disco. The third row, which can be folded entirely flat into the floor (which grows the boot to: 1124mm or 1192 litres), offers excellent head, knee and foot room. With the third row of seats in place there's 338mm and 280 litres of load space. There's also a storage bin and a cup holder, and because the third row is mounted slightly higher than the second row and the second row is mounted slightly higher than the front seats passengers get a great view no matter where they're sitting.

One advantage the second row has is the near flat floor (minimal transmission tunnel intrusion), which means an adult can sit in the middle seat very comfortably. Fold the second row flat into the floor and luggage space grows to 1950mm and 2558 litres. In the front, the driver and passenger's seat is electrically adjustable.

The electronic air suspension does an excellent job of keeping the Disco flat across bumps and ruts and, unless you've locked the car into access height to access one of those 1.8 metre height restricted car parks, you'll barely notice speed humps. Put the Disco's Terrain Response system into Rock Crawl and the thing raises itself right up onto its tippy toes and takes ground clearance to 310mm; this offers a super smooth ride with excellent articulation.
Build and finish
Very well screwed together and high-quality materials used. Land Rover, like all British makes, have suffered poor build, but the company has turned that around and models like the Discovery 4 and the Range Rover Evoque are built to a very high standard. The materials used inside (the leathers and plastics) are well matched and very well finished. Indeed, we couldn't find any misaligned plastic panels and, even after a day of bashing around in the bush there wasn't a single rattle.
Safety and security
Well equipped to keep occupants safe and secure. There isn't an ANCAP rating for the Discovery 4, the Discovery 3 scored four-stars. But with the Disco 4 scoring maximum points in the frontal offset crash test in Europe and with a host of active and passive safety systems the Discovery 4 is a safe vehicle. There are up to eight airbags placed around the interior of the Discovery 4; the second and third rows have curtain airbags.

There's a diesel misfuelling device, all-terrain calibrated ABS with traction control, emergency brake assist, Trailer Stability Assist; Dynamic Stability Control; understeer control, four-wheel ventilated disc brakes, passive engine immobilization, auto lock on drive-away, audible seatbelt warning, perimetric alarm system and much more.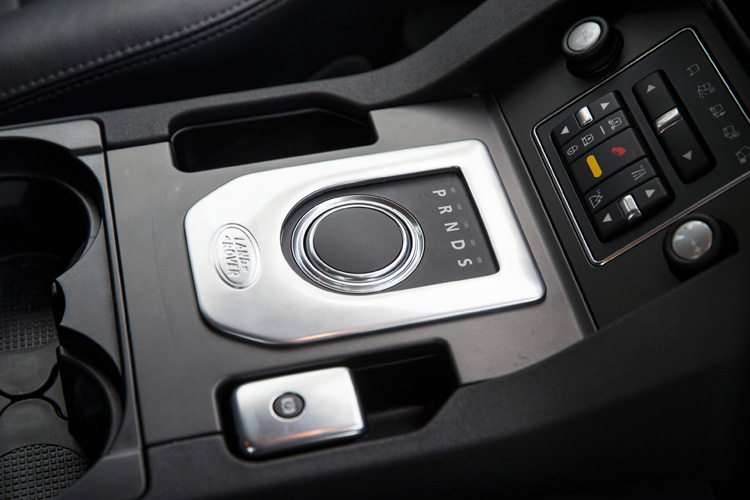 Ownership
For the best value, go entry-level. This MY12 Discovery 4 is refined, comfortable and seemingly very well screwed together. Our pick would probably be the entry-level 2.7-litre V6 turbo-diesel because it's so much cheaper than every one of its rivals, it's also just as classy looking inside and out as this SDV6 SE model we're testing. That said, if you've got the cash then do stretch to this model, because it's fantastic and so very versatile.

But, it does have to be said that Land Rover's don't have the most fantastic reliability record, although it's much better now than it was in the past, but just don't expect the incredible electronics that make it so capable, to be cheap if they go kaput. Land Rover obviously has plenty of faith in its product as the first service isn't due until 26,000km (or 12 months) and that first service should cost somewhere in the region of $662; there is also an optional 13,000km or six-months health check which should cost $198. After the first service the intervals are every 26,000km.
Price and equipment
Disco 4 undercuts its rivals and is well equipped. With a list price of $84,300 (+ORC) the Discovery 4 3.0 SDV6 SE (which saw a $2300 price rise from MY11 to MY12 spec) undercuts its premium rivals, bar the top-end VW Touareg. For instance, the BMW xDrive 30d lists from $92,100, the Audi Q7 3.0 TDI from $90,500, and the LandCruiser 200 Series 4.5 GXL from $87,664. Only the Toyota Prado 3.0 VX and the Volkswagen Touareg 3.0 V6 YDI 4xMotion manage to slip in underneath it at $75,404 and $82,990, respectively.

But, given you can get an entry-level Discovery 4 from $68,490; the Toyota and the Touareg lose their advantage. In terms of standard equipment, the Disco 4 3.0 SDV6 SE gets climate control, electrically adjustable driver's seat, one touch up and down on all windows, colour, non-navi, touch screen, cruise control and cup holders for all rows, an auto-dipping mirror, leather, and sun visors with illuminated mirrors. You also get permanent 4WD, electronic air suspension with Terrain Response, hill descent control, and traction control, etc.
The rivals
BMW xDrive 30d: $92,100; 180kW; 540Nm; 7.4L/100km
The X5 xDrive 30d is more road-focused than the Disco, but utterly useless when the bitumen turns to dirt. No third row option, and the diesel engine is noisier.
Toyota LandCruiser 200 Series 4.5 GXL: $87,664; 202kW; 400Nm; 14.5L/100km
The LandCruiser is capable off-road, big and cumbersome on-road, and not as simple, mechanically speaking, as it used to be. Lacks the premium look and feel of the Disco.
Volkswagen Touareg 3.0 V6 TDI 4xMotion: $82,990; 180kW; 550Nm; 7.4L/100km
The Touareg won the 2011 Australia's Best Cars Best 4WD category, and while it's good on and off-road it's not quite as capable or as comfortable as the Disco, and there isn't that same feeling of space inside.