Winner: Mazda6 Touring
Second: Subaru Liberty 2.5i Premium
Third: Kia Optima GT
Winner: Mazda6 Touring
There is something special about the Mazda6. Maybe Mazda's Kodo design protocol really does embrace 'Soul of Motion' because driving the Mazda6 does give you the right sort of connected feeling with the car and the road. When you combine Mazda's build quality, reliability and drivability, you start to get the makings of a true winner. Mazda6 scored admirably under each of the three scoring sections – value for money, design and function, and on the road – either leading or matching virtually all other cars overall.

There's been a lot of development and talk about active safety in recent times and Mazda has not been resting on its laurels because Mazda6 now comes with some of the features that were normally reserved for premium makes or higher levels of specification. Our winner here, the Touring model, as well as the entry-level Sport, now receives as standard Mazda's autonomous braking system, called Smart City Brake Support, which can activate up to 80km/h (previously 30kmh). A newly developed forward-sensing camera can more easily detect pedestrians as well as other objects and vehicles. Blind spot monitoring and rear cross-traffic alert features are also included across the range now. It's refreshing to see front parking sensors on this model, too, to complement the reversing camera and rear sensors.

As far as convenience and comfort features, the list goes on. Valued items such as satellite navigation, digital radio operated from within Mazda's MZD Connect system, auto-dimming internal rear-view mirror, dual-zone climate control with rear vents and electric handbrake are standard across the range.

But it's on the road that Mazda6 really shines. Mazda has upped the handling ante with its G-Vectoring Control system (GVC) which improves tyre grip and performance by controlling engine torque in relation to the G-forces that are generated during steering, further stabilising vehicle behaviour and body roll. The results of this technology are quite distinguishable when compared with the previous model.
In the petrol version Mazda's SkyActiv philosophy allows the 2.5-litre engine to generate a useful 138kW and 250Nm, and it returns an official 6.6L/100km on the combined cycle. Helping to achieve this attractive fuel number is Mazda's i-ELOOP energy storage system which collects electricity on deceleration and braking. The energy is stored in large capacitors and released when required, reducing the load on the alternator and saving fuel. The engine is coupled to a very smooth and precise six-speed automatic transmission, and all models have paddle shift gear control.

It doesn't take long after taking the driver's seat to realise your surroundings have been well thought out, with a quality to the build and finish and great attention to detail and function. But it's on the road where Mazda6 drives the point home, providing a hard-to-match driver connection with the car and the road.

Overall, the Australia's Best Cars judges were so impressed with the Mazda6 Touring that they have named it their Judges' Choice vehicle this year, as having brought more to its particular category than any of the other winners.
Second: Subaru Liberty 2.5i Premium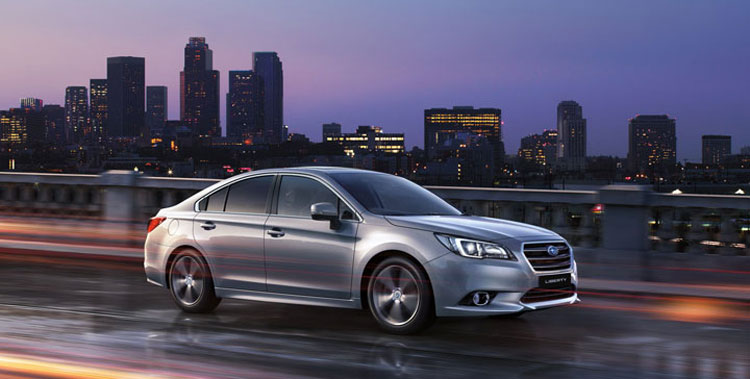 The Subaru Liberty has been quietly restoring a solid fan base over the past few years following significant equipment upgrades and price overhauling. It's not the most spirited vehicle in the segment, however Liberty claws back with class-leading ride comfort, plus high scores for standard features, safety, smoothness/quietness and space.

Liberty comes in three variants, and other than a few extra creature comforts and trim upgrades, the mid-spec 2.5i Premium doesn't miss out on too much. It's great to see a full-size spare wheel too.

With Subaru's EyeSight safety system on all models, it's pleasing that Liberty buyers don't pay more for safety equipment such as a pre-collision braking system, pre-collision throttle management, lane departure warning, lane sway warning and adaptive cruise control.

CVTs have come a long way in the past 10 years and Subaru is now one of the most notable exploiters of the technology. The CVT in Liberty can perform like a traditional slick-shifting automatic by employing stepped ratios on the steering wheel paddles.

So it's another case of technology, attention to detail and quality, a generous equipment list and satisfying drive experience being rewarded with a podium finish for Liberty.
Third: Kia Optima GT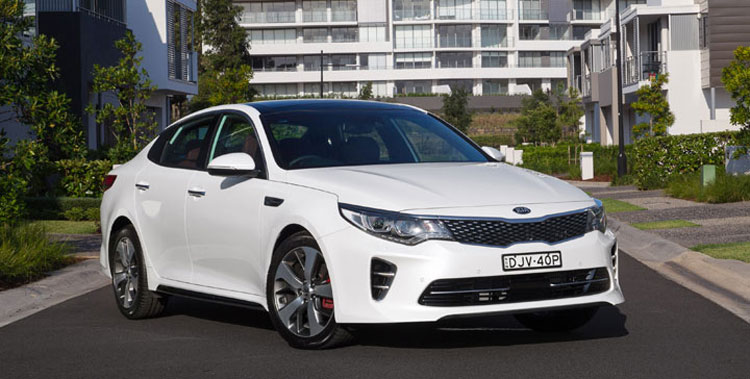 There are some really good cars in this category so coming third isn't anything to be scoffed at. Kia Optima GT took the winner's gong last year but refreshed Mazda6 and Subaru Liberty models pushed it to third this time.

Optima scored particularly well in areas such as safety, seating comfort and performance. Kia's industry-leading seven-year/unlimited-kilometre warranty meant the highest score for warranty and dealer access in the class, which emphasises the car company's commitment to the Australian market. Optima was only rivalled by Honda Accord with its class-leading standard features score, and it is apparent when behind the wheel that the equipment list is very generous. An item of note is Kia's wisdom to include a full-size matching spare wheel.

On the road, the Optima's willing 2.0-litre turbo-charged petrol engine changes the perception that this car is only about comfort and style, because it is one nimble, surefooted touring sedan, pleasantly surprising most drivers the first time they get behind the wheel.

Optima GT challenges this category with refinement, technology, safety, plenty of standard features plus a sense of quality and an above-average drive. It's probably only let down by below-average fuel consumption and its relatively high starting price.