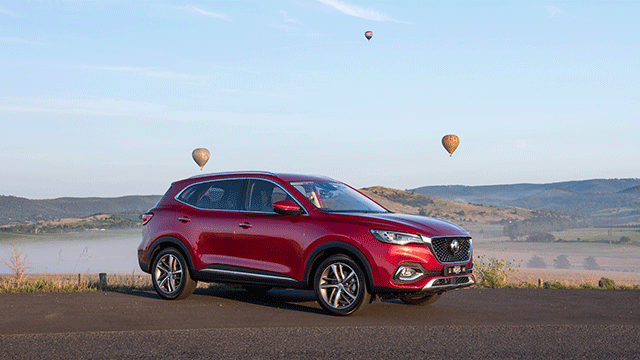 The value-packed MG HS offers interior improvements, but its on-road dynamics still need work.
MG's second attempt to join the Australian market in late 2016 seemed ill-fated. The ZS small SUV wasn't just built to a price, it felt cheap in the worst sense of the word. Yet it still won over enough buyers for MG to gain a foothold here and the Chinese carmaker has since capitalised on that success, with its much-improved MG3 light car and, now, the HS.
What is it?
Slotting between small and mid-sized, with a spacious cabin but limited cargo area, MG's new SUV comes in two specs: the Vibe and the Excite. MG Australia has made no official announcement about a third top-spec version, but in the UK it's known as the Exclusive.
How much is it?
At the time of writing, the Vibe was available for $30,990 drive away with a formidable list of standard features, including a 10.1-inch touchscreen, driver digital display, push-button start, alloy wheels, reversing camera, and a safety package with numerous active systems, among them adaptive cruise control, cross traffic alert, lane keeping assistance, and blind spot detection.
What's it like inside?
The interior, reminiscent of the MG3, is a big improvement over the ZS. Gone are the last-generation styling, cut-rate glass and coarse materials, and in their place are tasteful lines, a simple silver-and-black colour palette, leather-wrapped steering wheel and upholstery, and soft-touch surfaces. Also noticeable is the insulation against engine and tyre noise – the HS is a quiet drive, even on coarse bitumen. Generous leg room is another plus, although the seats are a bit shapeless.
What's it like to drive?
While MG's interior refinement has taken a leap forward, the same can't be said for the powertrain. The 1.5-litre turbo engine (124kW/250Nm) is willing enough, but seems out of step with the dual clutch transmission (DCT), which can leave the engine struggling up a hill, or at other times unleash an unexpected burst of power. If cruise control is engaged on anything but a flat road, the DCT has a tough time maintaining a constant speed.
Suspension setup and damping are similarly erratic. Over crests and undulations the HS bounces around on its springs yet a small bump can send a jolt through the cabin. Even the steering has a split personality – direct at lower speeds but floaty and indistinct on the highway.
Final thoughts
For all its shortcomings, though, the HS continues to improve on a formula that's already working for MG. Driving enthusiasts might slate its on-road dynamics, but others will simply see a good-looking SUV with loads of equipment for a competitive price. There are definite shades of Hyundai circa 2007 and, if MG can refine its drivetrains the same way it has refined its interiors, it could soon find itself rubbing shoulders with the big Korean brands.
Pros: Nice interior; standard features list
Cons: Ride and handling lack refinement