Every year more cars and trucks join the chaos of Sydney's already overburdened road system.
And with congestion getting worse, tempers are flaring.
Drivers are losing patience and making the simple act of merging lanes a dangerous exercise.
Research Director for NRMA Insurance, Robert McDonald, tells us that people's failure to merge properly is the greatest cause of motor vehicle accidents and much of it is happening at a handful of notorious intersections.
The hot spots - where and why?
"The two worst intersections are where Parramatta Rd and Silverwater Rd intersect with the M5, they have the highest collision rate due to having the highest traffic volume and reflects the traffic volume from Greater Western Sydney," Mr McDonald said.
And the major cause of collisions during attempted merges?
Speed.
Drivers trying to merge with traffic are travelling too slow, says Mr McDonald.
"Slowing down in merging lanes when the traffic on the main road is doing 90 to 100km/h is a big problem. You need to try and match the speed of the traffic. Those driving too slowly onto the main road are only asking for trouble as those who let them in are at risk of a rear ending," Mr McDonald told us.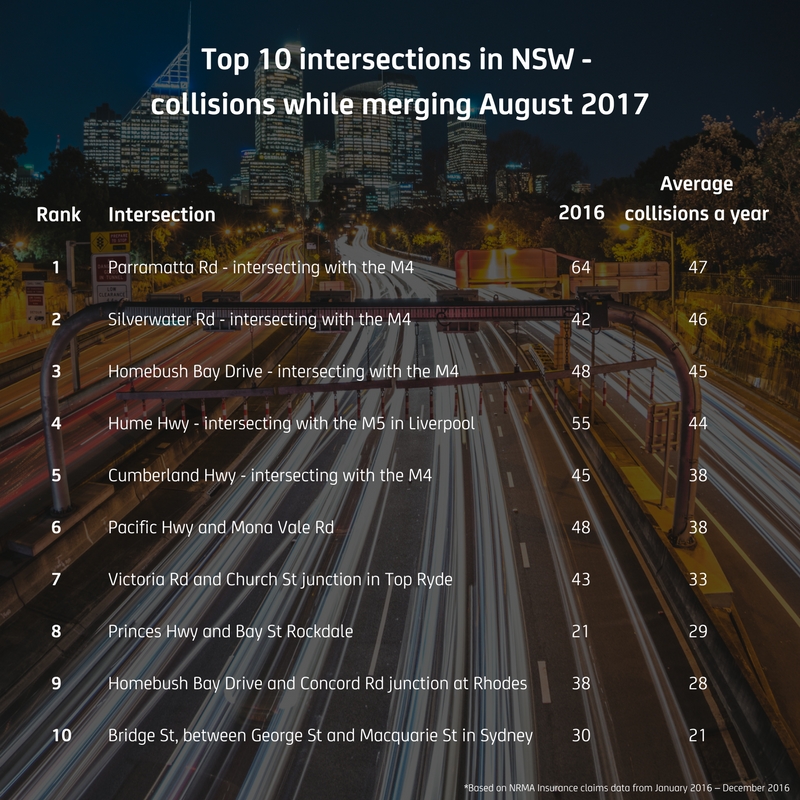 The worst of the worst
The data above reveals that a staggering 434 collisions were tallied at Sydney's top 10 offending intersections in 2016.
Perhaps what's not surprising though, is that 4 out of the top 5 were where roads met the heavily trafficked M4 Motorway.
The dubious honour of being the most dangerous intersection when it comes to merging goes to the westbound intersection between Parramatta Road and the M4.
It racked up more than one crash a week as poor driving led to 64 failures to merge in 2016 – more than a 36% increase on its yearly average.
City construction fuels driver fury
One newcomer onto this infamous list is Bridge St in the city - a normally unremarkable stretch of asphalt.
"For such a short street to make the top 10 is interesting," Mr McDonald said.
Undoubtedly, motorist's tempers are frayed as the never-ending light rail construction continues to cause mind-numbing traffic jams.
You can make a difference
Want to avoid becoming one of those statistics?
Mr. McDonald explains a common sense technique for merging, known elsewhere as zipper merging: "Our advice… is simple, if you find yourself driving on an accident-prone intersection or on a road with heavy traffic, leave plenty of room to allow other vehicles to move slowly into your lane.
This article was contributed by NRMA Insurance, which is part of the Insurance Australia Group. The NRMA (National Roads and Motorists' Association Limited) is a separate and independent company from NRMA Insurance. Read more articles on protecting things you love at The Hub.