The NRMA will partner with the NSW Government in delivering at least 20 additional electric vehicle fast chargers across major regional corridors, creating the most comprehensive regional charging network in the country.
Once holiday travel restrictions ease across NSW, this fast-charging network will help further open up the state to electric vehicle owners who previously weren't able to access regional NSW because of a lack of charging opportunities.
The NRMA's Electric Vehicle Fast Charging Network now sits at over 38 fast chargers installed across regional NSW along most major highways including the Hume, Newell, Sturt and Oxley Highways as well as the Mitchell, Pacific, Olympic and Great Western Highways.
NRMA Group CEO Rohan Lund said tackling the issue of range anxiety was critical to giving Australians more choice when it came to purchasing an electric vehicle.
"The NRMA has been building Australia's most comprehensive fast charging network now for over two years because we want to give our Members choice and make sure Australia has the capacity to meet demand as electric vehicles become more prominent on our roads," Mr Lund said.
"This partnership will also open up regional NSW to electric vehicle owners and boost regional tourism by giving certainty to drivers that they can journey across the state without fear of running out of charge."
Locations for regional fast chargers were carefully chosen to complement and not duplicate current and proposed charger locations. Consideration was also given to the significance of the route, availability of electricity supply, proximity to services and value for money.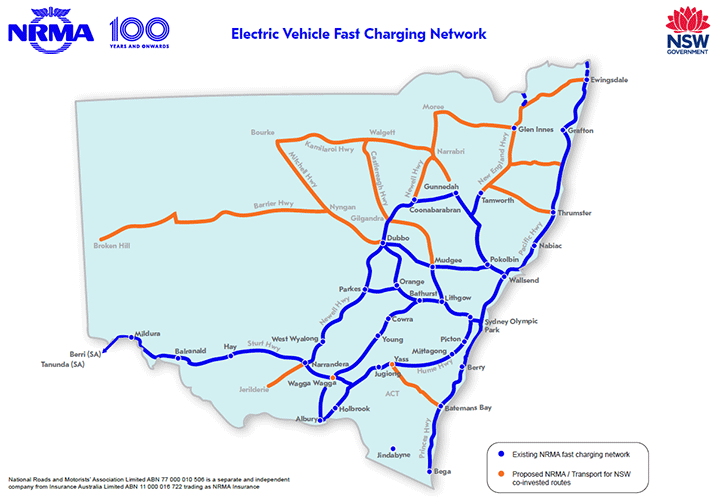 NSW Minister for Regional Transport and Roads, Paul Lawrence Toole said this partnership with the NRMA will help the government deliver on its commitment to provide the fast-charging infrastructure to make green and cleaner travel possible, as well as help get regional businesses and the tourism industry moving again.
"The expanded regional fast-charging network will help further support the regional tourism economy and local investment in regional centres. We want to encourage people to stop off and explore our regional towns while they charge their EVs," Mr Toole said.
The first two launched sites at Wagga Wagga and Yass will mean an EV owner can travel from Sydney to Victoria along the Hume Highway. Once completed, the network will be able to link up with major routes in Queensland, Victoria and South Australia, allowing EV motorists to enjoy all of the breathtaking and iconic destinations our state's has to offer.
The investment is part of the NSW Government's Electric and Hybrid Vehicle Plan, which also includes $2 million for new EV charging points in commuter car parks.