Your windscreen repair specialists
Our repair process uses modern technology to fill the damaged area on a windscreen with a special resin, which is then set with an ultraviolet light. This restores the strength and most of the original clarity of the windscreen.

The benefits of repairing your windscreen with us:
Repairs are usually completed within just 30 minutes


It's much cheaper to repair than replace a windscreen – and Members save a further 20%


A chip or crack that may impede the driver's view can mean a fail on a roadworthy inspection



We back all our windscreen services with a lifetime warranty
Our team of mobile specialists will diagnose the damage wherever you are. If a replacement is necessary, we can organise a time and place that's convenient for you. Or you can visit any one of our 22 car servicing centres in Sydney and NSW.
Repairable windscreen damage
If your damage exceeds the sizes above, we can replace your windscreen when and where it's convenient for you.

The windscreen is divided into 2 main areas:
Critical Vision Area (CVA)
Primary Vision Area (PVA)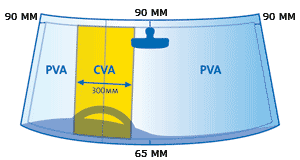 Types of damage

 Types of damage
Within CVA
Within PVA
Crack 
25mm
20mm
Star
15mm 
30mm
Horseshoe
10mm
25mm
Bullseye
10mm
20mm
Crater
2mm
5mm
Combination
As above for each type of damage