The NRMA has again joined a global road safety campaign featuring multi-Grammy award winner Pharrell Williams to encourage drivers to put their phones away behind the wheel.
The 3500LIVES advertising campaign, coordinated through the Federation Internationale de l'Automobile (FIA) and JCDecaux, will feature Pharrell on over 460 bus shelters and billboards across NSW and Queensland and will highlight the risk of using your phone while driving.
The risks associated with illegal phone use behind the wheel are alarming. Our Can't talk. Driving. report, revealed that over one-fifth of drivers had a near miss where the other driver was using a mobile phone.
The report also found that 11 per cent of people wrote and sent a text message behind the wheel and 19 per cent read a text message. Of those using a phone illegally, 15 per cent thought they were not likely to get caught.
In response to calls by the NRMA, the NSW Government announced new camera technology designed to catch people using their phone behind the wheel and also increased the fine to five demerit points.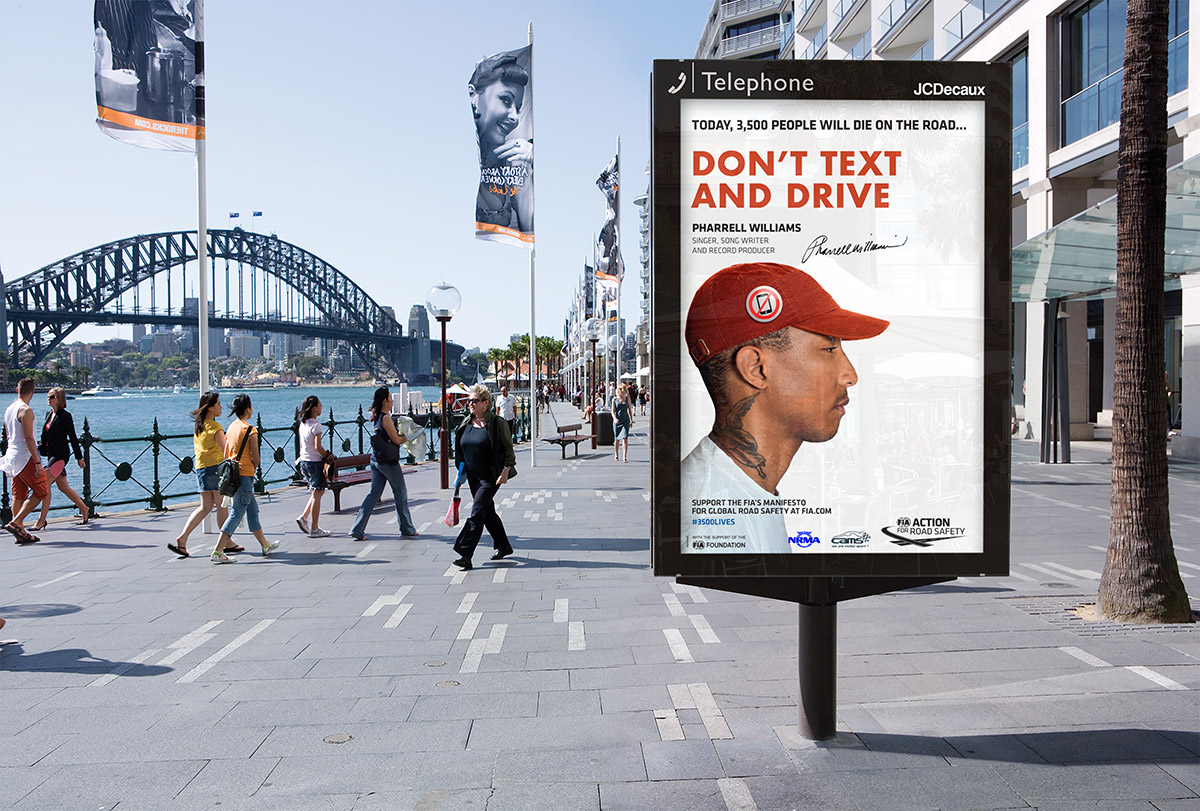 Source: FIA/JCDecaux. Illustrative purposes only.
NRMA Road Safety Expert Dimitra Vlahomitros feared that the relatively new phenomenon of using smartphones while driving could become the new speeding or drink driving if it is not immediately addressed.
"Around one-in-10 deaths on our roads occur because someone was using their phone while driving and we know, sadly, that young people are over-represented in the statistics," Ms Vlahomitros said.
"The NRMA holds the unequivocal view that the best way to change bad behaviour behind the wheel is education backed by enforcement. We have seen the NSW Government trial new technology to assist enforcement, introduce tougher penalties and we now have this exciting campaign.
"Pharrell is an international superstar. His presence on this campaign will help the NRMA deliver the critical message to the community – and young drivers in particular – to put down their phones and focus on the road because it will save their lives."
Everyone has a role to play in making safer roads for all. That's why we're encouraging you to sign up to the FIA Manifesto for Global Road Safety which calls on all governments to prioritise road safety and introduce effective legislation on key risk factors on the road.