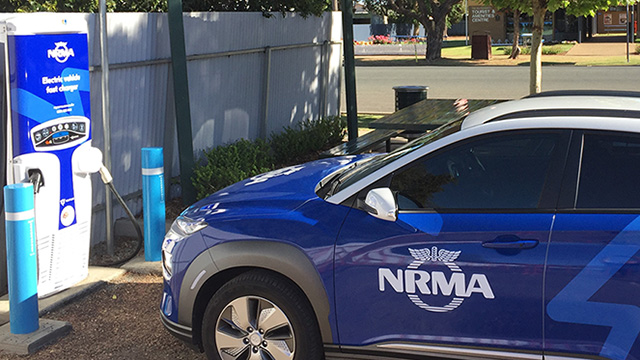 The NRMA has extended its network of electric vehicle fast charging stations in the Riverina region with the installation of a charger at Hay.
The fast charger will allow most EV motorists to fully charge their cars in about 30 minutes. Standard public EV chargers take between three and six hours, and traditional power outlets can take more than 12 hours.
Located centrally the EV fast charger has been installed at the Car Park, 406 Moppett St, in the town centre behind the Hay Shire Council Building and Police Station.
The Hay charging station is the 25th of the NRMA's electric vehicle fast charging stations to open to the public across the state, following Sydney Olympic Park, Wallsend near Newcastle, Jindabyne, Pokolbin in the Hunter Valley, Mittagong in the Southern Highlands, Narrandera, Berry, Young, West Wyalong, Bathurst, Parkes, Dubbo, Nabiac, Tamworth, Batemans Bay, Orange, Glen Innes, Grafton, Byron Bay, Bega, Lithgow, Holbrook, Jugiong and Gunnedah.
NRMA Executive General Manager Motoring Nell Payne said the Hay charger would help drive the next generation of motoring tourists to the region, improving mobility and contributing to the local tourism economies.
"We are proud to be further opening up the Riverina Region to EV motorists. This charger continues our Sturt Highway route enabling connections to Narrandera to the east, Balranald (when built) and Mildura to the west and eventually on to the Barossa Region, Adelaide and Central NSW via public chargers, which was not previously possible," Ms Payne said.
"At the NRMA we know one of the key reasons motorists in Australia have been hesitant to purchase electric vehicles is because they're worried about 'range anxiety'.
"That's why we're building this extensive network of chargers in towns like Hay to safeguard against that happening, and make sure regional areas don't get left behind because we know regional communities thrive when regional tourism thrives.
"This charging station means electric vehicle owners can charge quickly and safely, and then enjoy the rest of their drive without having to worry about time spent waiting for a charge.
"Our aim is that 95 per cent of Member journeys are within 150 kilometres of one of our charging stations," Ms Payne said.
Hay Shire Council Deputy Mayor, David Townsend was pleased Hay would be home to the new infrastructure.
"The inclusion of the EV charging station in Hay helps ensure we can accommodate electric vehicles in our Shire. Tourism is a huge part of our local economy and being able to allow motorists to visit our town in the comfort of knowing they will be able to recharge their vehicle quickly is a major advantage.