Local's guide: Snowy Mountains
The Snowy Mountains is an untapped destination for sport lovers and food/ drink connoisseurs alike, learn the best things to do in this beautiful region.
Pamper yourself with a hot stone treatment

Horseback riding

Climb Mount Kosciuszko

Sample the local drops
Climb Mount Kosciuszko
Best reserved for non-riders or post-race recovery, at 2,228m above sea level, Mt Kosciuszko lays claim as Australia's highest peak. Unfolding breathtaking views of neighbouring mountains, historic huts, weathered snow gums, rock formations, and stunning wildflowers along the route, there are walking tracks to suit every age and fitness level, and even a scenic chairlift which provides a 2km shortcut to the top, operating 365 days a year.
Saddle up
There are few experiences more essential in the Snowy Mountains than hopping on horseback and taking a ride through the ruggedly beautiful landscape rich with bushland, Snow Gums, creeks and wildlife. Local operators offer a range of guided treks suitable for a range of ages and ability levels, giving the average visitor the chance at journey that harks back to the days of earlier, untouched Australia.
Get some R&R
What better than to indulge in a deep-tissue massage, hot stone treatment, or other assorted methods designed to get the kinks out and alleviate muscular aches and pains following a long day on the bike or tired arms cheering from the sidelines, then at the secluded Lake Crackenback Resort & Spa that sits nestled on the border of the Kosciuszko National Park with an outlook that includes the panorama of Lake Crackenback itself.
Marvel at an engineering wonder of the world
While its natural setting is undoubtedly the most impressive aspect of the Snowy Mountains region, the influence of mankind on the area is also a showcase of some truly amazing feats of what humans are capable of. The Snowy Mountains Hydroelectric Scheme is one of the most ambitious accomplishments of engineering in Australian history, and a significant example of this is the extensive array of tunnels, dams, pipelines and power stations that still play a large role in the infrastructure of NSW to this day.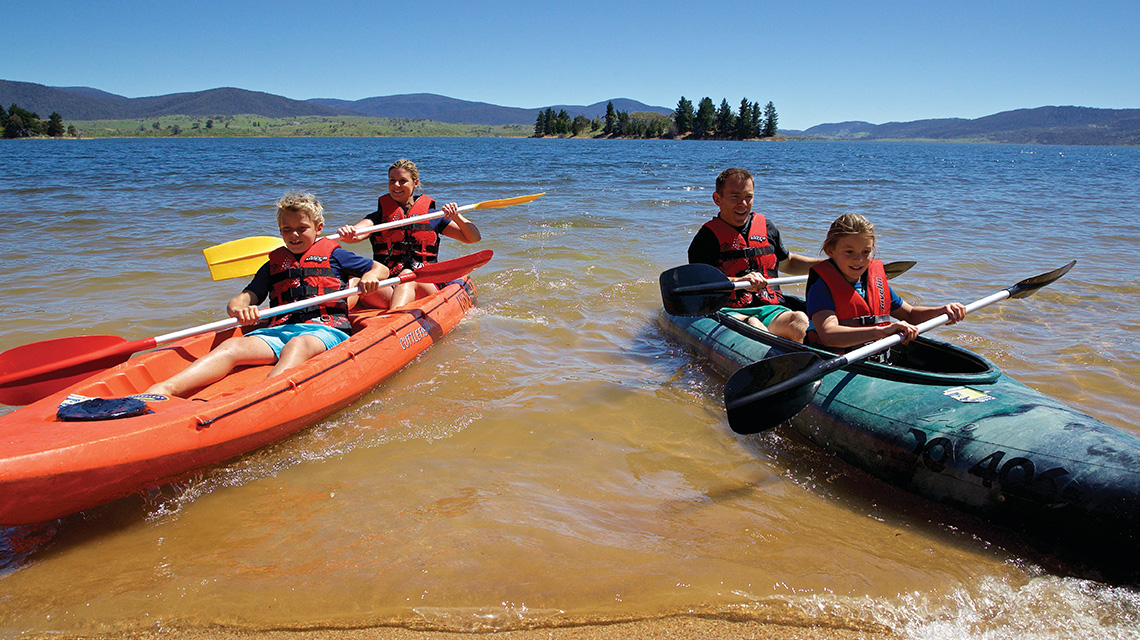 Kayaking on Lake Lindabyne (Photo credit: Destination NSW)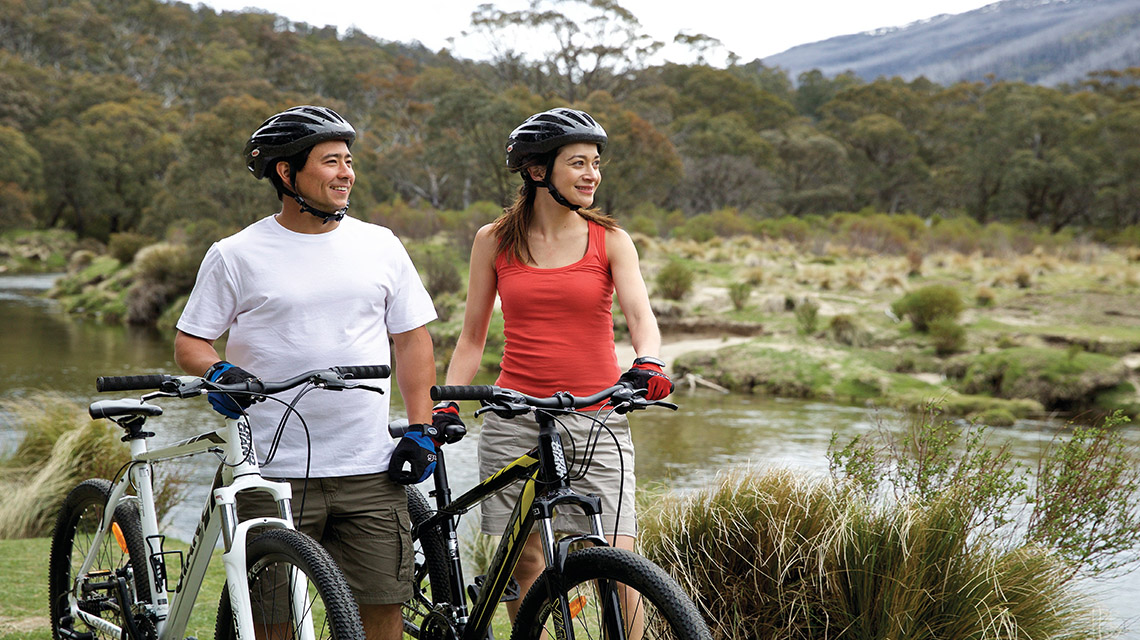 The Diggings, Kosciuszko National Park (Photo credit: Destination NSW)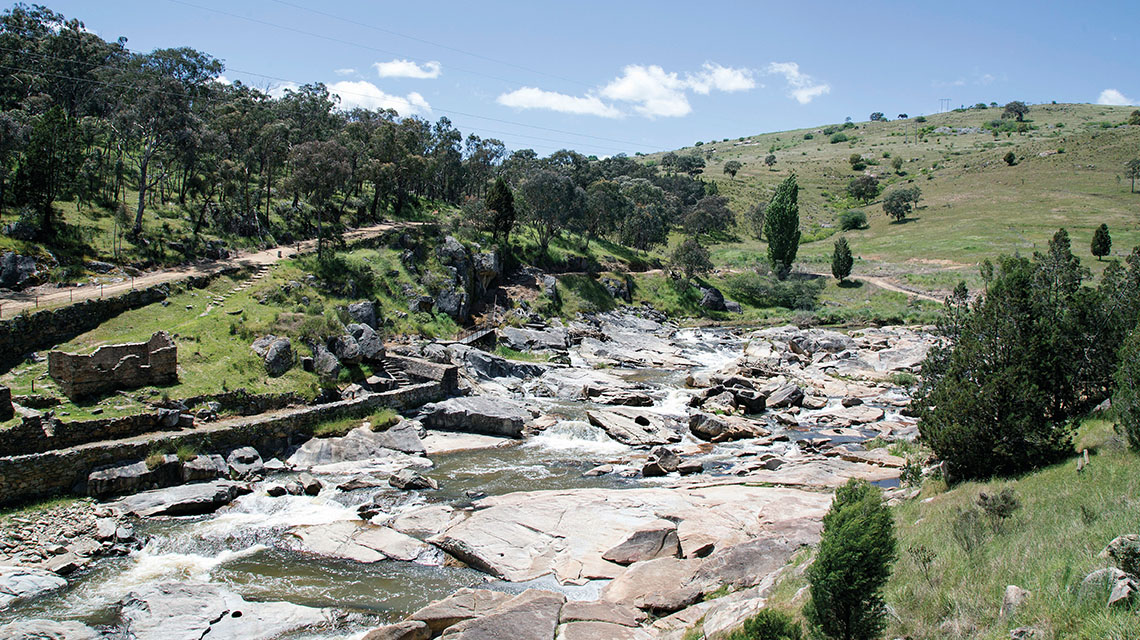 Adelong Falls Gold Mill Ruins (Photo credit: Destination NSW)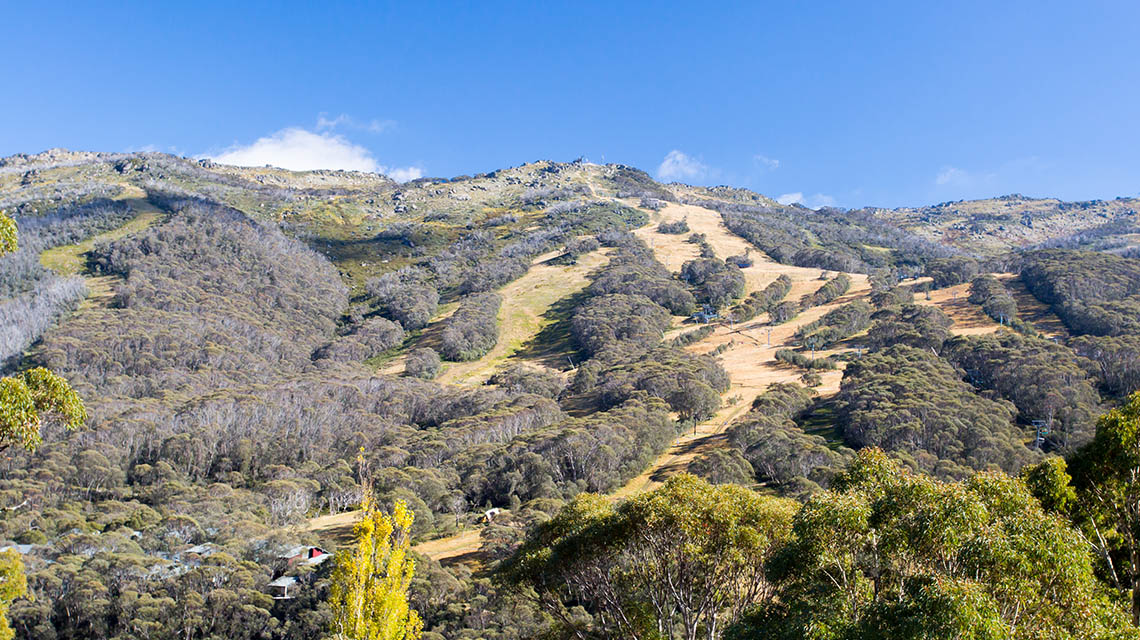 Thredbo ski runs
Sample the local fare
The Snowy Mountains region is home to a host of stellar food and beverage options sure to satisfy every rider and their support crew. Of particular note is the WildBrumby Schnapps Distillery, which offers visitors the chance to sample a wide variety of schnapps, alongside a mouth-watering German/European-inspired menu, among a backdrop of majestic mountain terrain and lush manicured gardens. While the Snowy Vineyard & Microbrewery is a solid choice for families seeking a farm-style environment. Sample from wines, beers and schnapps during lunch while the kids get up close with the guinea pigs, chickens, and pigs.
Go fishing
This is a part of Australia that is renowned for the purity of its waters, and thus it's only fitting that the Snowy Mountains are home to an eclectic mix of rivers, lakes and other various catchments that serve as prime fishing spots for anglers of all levels of ability. Visit one of the local angler stores for fishing reports, the latest local knowledge and find out exactly where the fish are biting and what to use.
Accommodation
Located on the foreshore of Lake Jindabyne, and a short 30 minute from both Perisher and Thredbo, NRMA Jindabyne Holiday Park offers charming views of the Snowy Mountains and a range of affordable accommodation options from cosy cabins, to sites for caravan and camping. The park offers a range of facilities, including a shared lounge and TV area, camp kitchen, library, games room, children's playground, as well as tennis and basketball courts.
Lay-by your next holiday
Take advantage of flexible payment settings to suit your budget on bookings over $200 – no fees or hidden costs.

With NRMA Parks and Resorts, you never have to miss out on a holiday again!