NRMA fast chargers into Glen Innes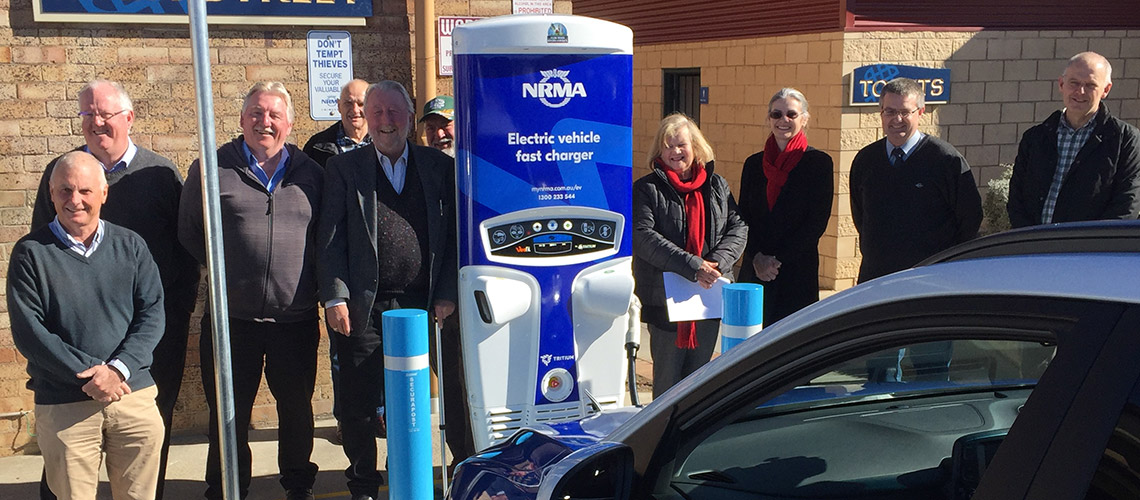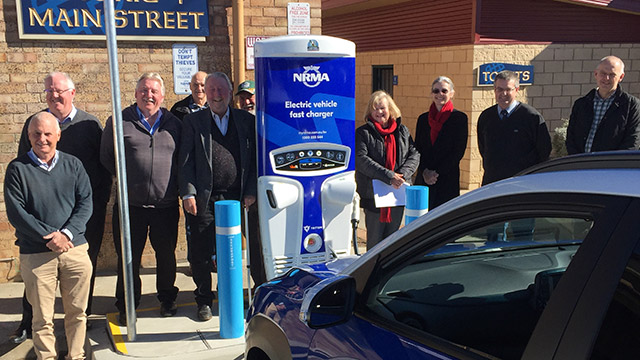 Tuesday July 16, 2019: The NRMA has extended its investment in the New England North West region's tourism industry with the opening of a new Electric Vehicle Fast Charging Station in Glen Innes.
The fast charger will allow most EV motorists to charge their cars in about 30 minutes. Standard public EV chargers take between three and six hours, and traditional power outlets can take more than 12 hours.
The station has been installed in the Town Hall carpark off Sommerlad Lane, drawing motorists into the centre of town and allowing them to use local amenities while charging.
The Glen Innes charging station is the 17th of the NRMA's electric vehicle fast charging stations to open to the public across the state, following Sydney Olympic Park, Wallsend near Newcastle, Jindabyne, Pokolbin in the Hunter Valley, Mittagong in the Southern Highlands, Narrandera, Berry, Young, West Wyalong, Bathurst, Parkes, Dubbo, Nabiac, Tamworth, Grafton, Batemans Bay and Orange.
The NRMA has committed $10 million to build one of Australia's largest fast charging networks across NSW and the ACT.
NRMA Executive General Manager Motoring Nell Payne said the Glen Innes charger would further enhance motoring infrastructure offerings in the region.
"We want to attract the next generation of motorists into the New England region, and by opening this charger we are able to do that," Ms Payne said.
"We know one of the key reasons electric vehicle uptake has been relatively slow in Australia is because people are worried there isn't any charging infrastructure available along their journeys.
"That's why the NRMA is a part of the solution to that perceived 'range anxiety' – our network of fast chargers will allow EV motorists to tour to towns like Glen Innes and know that they will have all the amenities and services they need to stop, charge their car, enjoy the town, and safely continue on their journey."
Ms Payne said today's opening would activate the NRMA's connected route in the region, following the opening of a station in Tamworth in June and ahead of the planned build of stations in Armidale and Tenterfield later in the year.
"Our aim is that 95 per cent of Member journeys are within 150 kilometres of one of our charging stations," Ms Cronin said.
Glen Innes Severn Council Mayor Carol Sparks said the charger would be beneficial for the town.
"I am very proud that NRMA has chosen this site for a fast charger as this has put Glen Innes in a very good place for the future use of electric cars," Ms Sparks said.
"Having a fast charger will encourage users to have a coffee and a stroll around our town whilst their car is being charged. Maps will include where chargers can be located so that people can plan their journeys accordingly. I Thank NRMA for their contribution to the Natural Energy emissions reduction."
Contact: Rebecca Page 0439 130 400