NRMA fast charging the Central West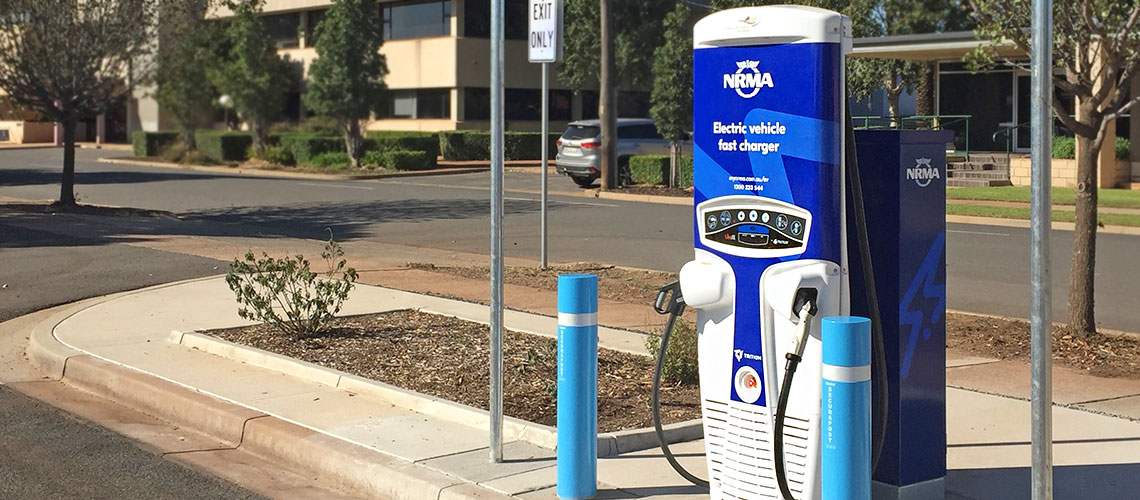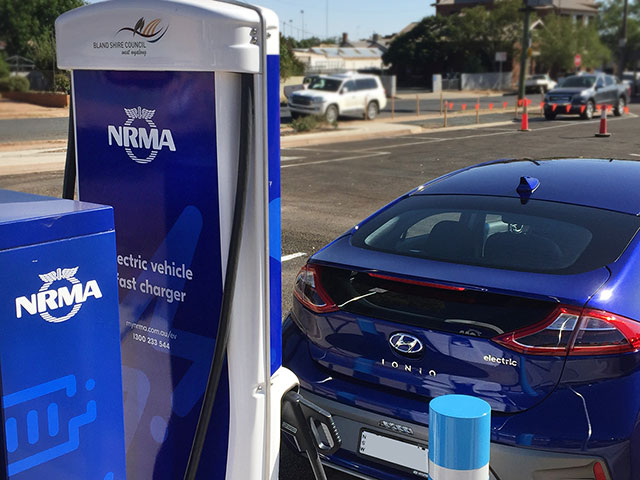 The NRMA has opened the roads of the Central West to electric vehicle motorists by installing a fast charging station at West Wyalong.
The fast charger will allow most EV motorists to charge their cars in about 30 minutes. Standard public EV chargers take between three and six hours.
The station has been installed at 13 Shire Street, across the road from the Visitor's Information Centre and just one block back from the main street, allowing EV motorists to use local amenities while charging.
The West Wyalong charging station is the ninth of the NRMA's electric vehicle fast charging stations to open to the public across the state, following Sydney Olympic Park, Wallsend near Newcastle, Jindabyne, Pokolbin in the Hunter Valley, Mittagong in the Southern Highlands, Naranderra, Berry and Young.
The NRMA has committed $10 million to build one of Australia's largest fast charging networks across NSW and the ACT.
NRMA General Manager Commercial Projects Elspeth Cronin said the West Wyalong charger would be a game changer for electric vehicle motorists driving to and from the state's Central West and Riverina regions.
"The NRMA is committed to ensuring the future of mobility is accessible for motorists right across the state, and the opening of this fast charging station today means that we are able to connect EV drivers to the northern fringes of the Riverina on the junction of the Newell and Mid Western Highways," Ms Cronin said.
"We know that one of the key reasons why the uptake of electric vehicle ownership has been relatively slow in Australia is because motorists are worried about where their next charge will be, particularly when they're on the road in country NSW.
"The NRMA is committed to delivering a solution to 'range anxiety', by installing an extensive network of electric vehicle fast chargers right across NSW and the ACT. Our aim is that 95 per cent of EV journeys are within 150 kilometres of one of our charging stations."
Federal Member for the Riverina, Deputy Prime Minister and Minister for Infrastructure, Transport and Regional Development Michael McCormack said the region welcomed modern infrastructure investment.
"I commend the NRMA for taking this step to ensure regional and rural Australians will not miss out when it comes to the emerging EV market," Mr McCormack said.
"This will not only support the local community directly but will help attract more tourists from the city to come out to visit our beautiful part of the world."
Bland Shire Council Mayor Brian Monaghan was pleased Council was able to offer a location.
"Bland Shire is delighted to have been chosen by the NRMA as a location for a new, state of the art, EV Fast Charger," Cr Monaghan said.
"It shows that our Shire is moving with the times and I am confident that its use will continue to grow, providing benefits not only to the users but also to our local economy as visitors stop to enjoy what we have to offer."