NRMA fast charging the Riverina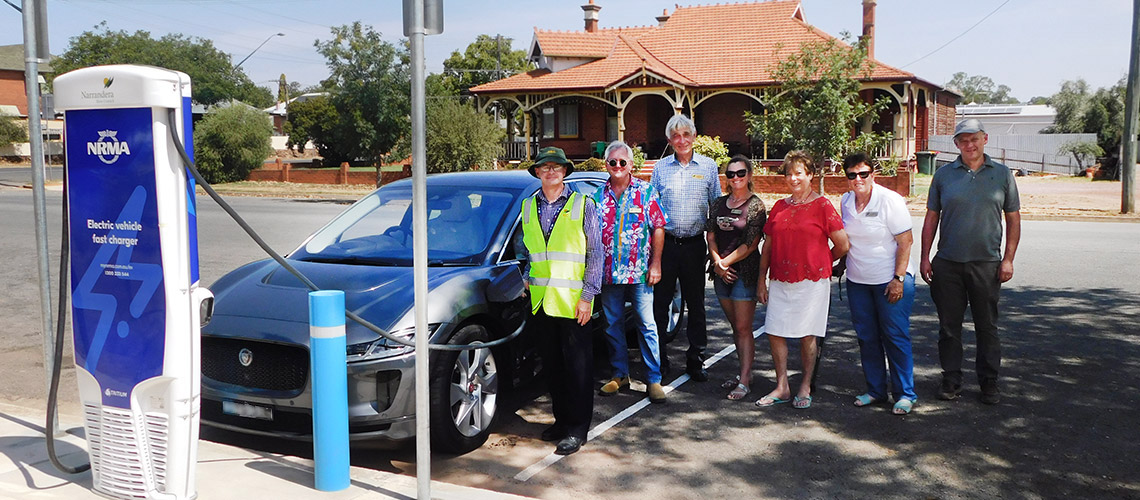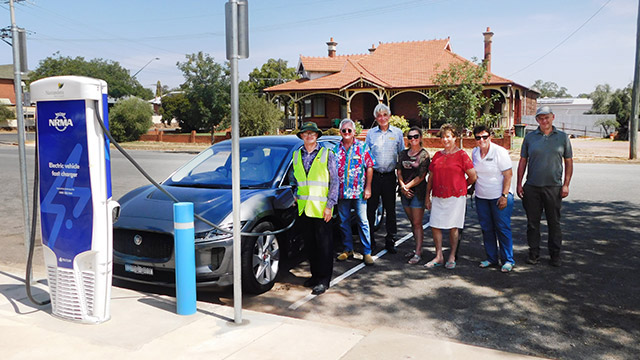 Friday January 25, 2019: The NRMA has installed the Riverina's first electric vehicle fast charging station at Narrandera's Visitor Information Centre.
The fast charger will allow most EV motorists to charge their cars within about 30 minutes. Standard public EV chargers take between three and six hours.
The Narrandera charging station is the sixth of the NRMA's electric vehicle fast charging stations to open to the public across the state, following Sydney Olympic Park, Wallsend near Newcastle, Jindabyne, Pokolbin in the Hunter Valley and Mittagong in the Southern Highlands. The NRMA has committed $10 million to build one of Australia's largest fast charging networks across NSW and the ACT.
NRMA Chief Investment Officer Rachel Wiseman said the Narrandera charger would be a game changer for electric vehicle motorists driving to and from the region.
"This charging station means electric vehicle owners driving into and from Narrandera can charge quickly and safely, and then enjoy the rest of their drive without having to worry about time spent waiting for a charge," Ms Wiseman said.
"All towns throughout the Riverina are in drought and much of the region still in intense drought. These communities need the right, modern infrastructure to attract more visitors. Road trips in and around regional NSW support local communities by bringing money to the regions."
This latest charger is the first step in rolling out fast charging stations in the south western part of the state, with the goal to eventually connect EV motorists to South Australia and Victoria.
"We know that one of the key reasons why the uptake of electric vehicle ownership has been relatively slow in Australia is because motorists are worried about where their next charge will be, particularly outside of capital cities," Ms Wiseman said.
"The NRMA is committed to delivering a solution to 'range anxiety', by installing an extensive network of electric vehicle fast chargers right across NSW and the ACT. Our aim is that 95 per cent of EV journeys are within 150 kilometres of one of our charging stations.
"We have strategically placed chargers at sites where people can stretch their legs and have access to amenities while charging their cars. This is why we identified the Narrandera Visitor's Centre as a great partner for this project."
Narrandera Shire Council Mayor Neville Kschenka said the charger was a welcome addition not just for the town but the whole region.
"Council is eager to facilitate progressive projects such as this electric car fast charger, and are grateful to the RMA for selecting Narrandera as a key location at the junction of two major highways, in their early stages of introducing chargers throughout NSW," Cr Kschenka said.
"This installation will put Narrandera on the front foot of emerging technology and will certainly encourage travellers with electric vehicles to choose Narrandera as a charging destination. The charger station is also ideally located near the CBD for travellers to take advantage of all that Narrandera has to offer."