Frequently ranked among the world's most liveable cities, Adelaide is beautiful, easy to navigate and packed with great new tours, outdoor adventures and dining experiences.
Kayak the Port River in search of dolphins

Climb onto the roof of Adelaide Oval

Discover the small bars around Peel Street

Ride the Linear Park cycle trail

Shop the bohemian East End
Most of us feel we know Adelaide even before we arrive. The Central Market, Adelaide Oval, Botanic Garden and Glenelg Beach are national icons, while the city's reputation for food and wine is well established. But probe behind the familiar and you'll discover an edgier, more adventurous destination full of new tours, backstreet bars and amazing festivals. Let us show you some of the city's hidden secrets – from kayaking with dolphins to bespoke shopping tours.
Where to eat
When the people of Adelaide are not watching, debating or dreaming AFL, they are eating and drinking. The proliferation of new bars and micro eateries over the past five years has transformed the city's dining habits. These days Adelaide is the king of casual, on the move grazing.
Where better to start than its current gastronomic darling Africola, a shabby chic diner pumping out flamboyant South African inspired dishes? Try the charred peach salad and fiery peri peri chicken. For something equally on trend, walk around the corner to NOLA, a hole in the wall bar serving a nifty selection of craft beers and whiskies, plus some finger lickin' dishes from the Deep South.
When the sun goes down, all roads lead to the city's West End and the small bar precinct around Leigh and Peel streets. Kick off your evening at the subterranean Maybe Mae, before noshing on Serbian fare at Kaffana and finishing up with cocktails at Clever Little Tailor. For a nightcap, catch the elevator to 2KW on King William Street, Adelaide's most exclusive rooftop bar. The night time views of the city, the hills and the River Torrens are unrivalled.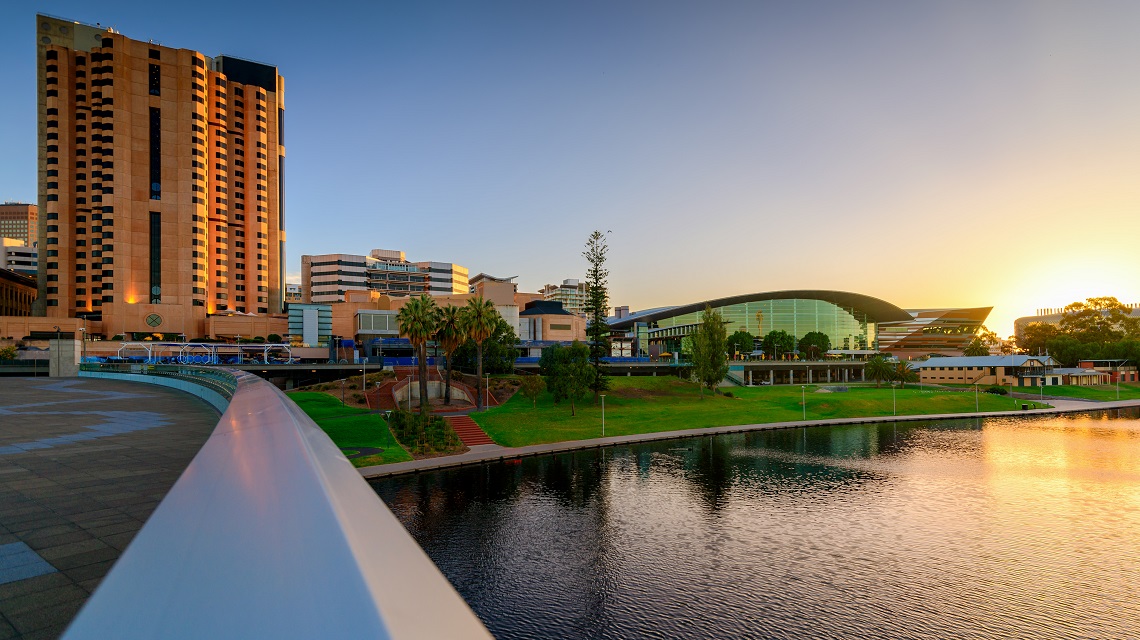 Adelaide Riverbank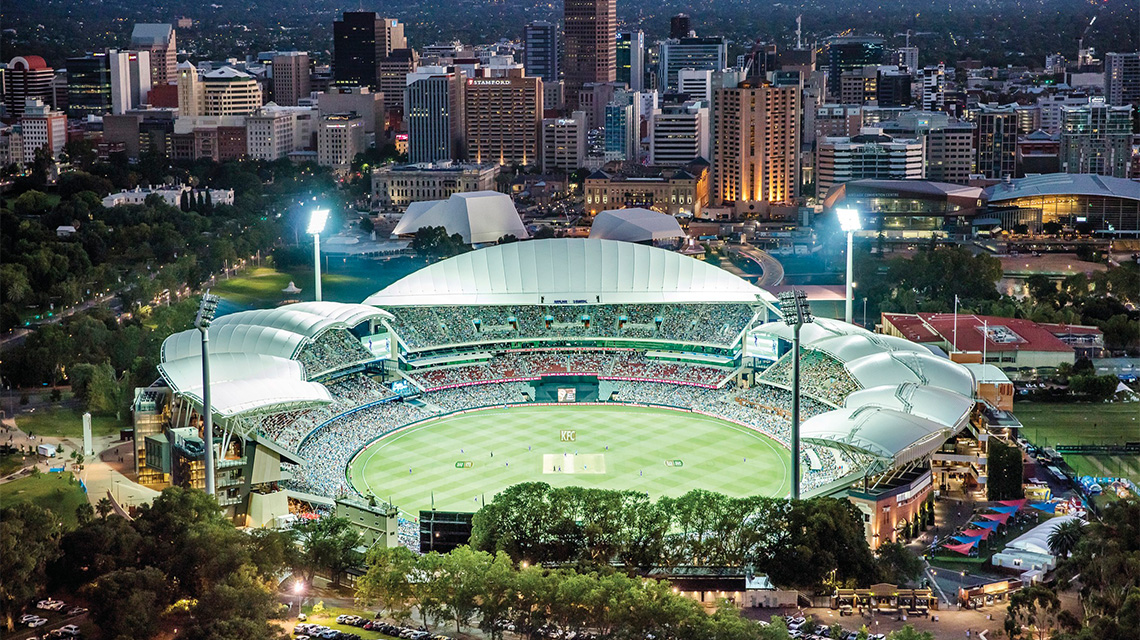 Adelaide Oval (Photo credit: SATC)
Glenelg Beach (Photo credit: SATC)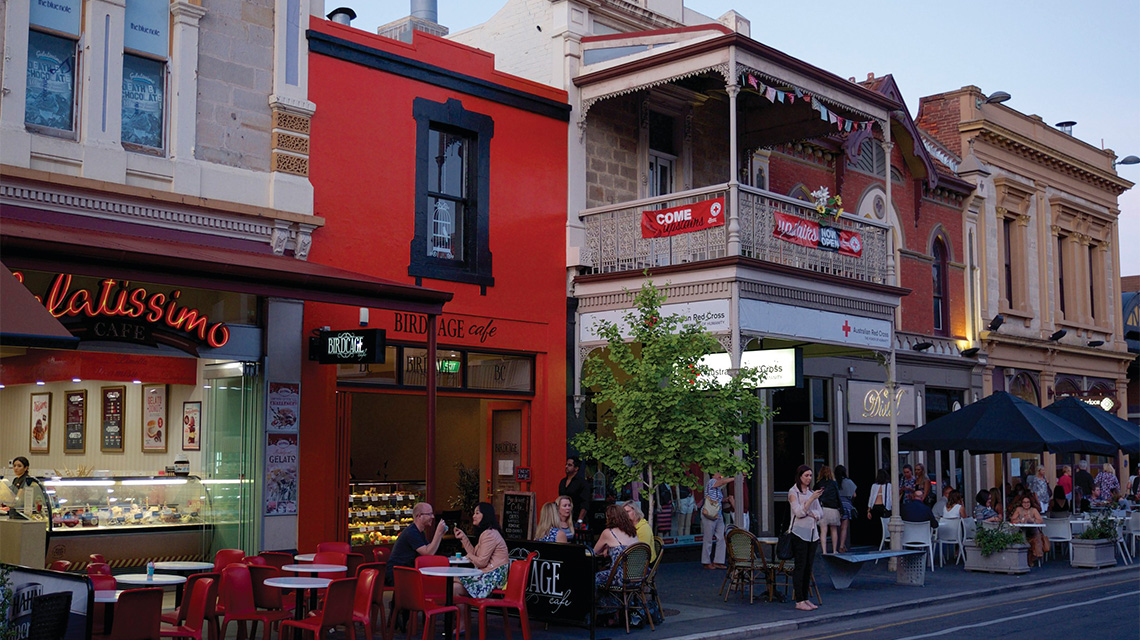 Rundle Street (Photo credit: SATC)
Where to play
Adelaide is an outdoorsy sort of place. The parklands and riverbanks are filled with people cycling, jogging and power walking – this city of sports watchers likes to work up a sweat. You can easily join in the fun by hiring a bike and tackling the Linear Park cycle trail which links downtown Adelaide to Henley Beach. The cycleway follows the River Torrens, so it's a picturesque ride with the promise of a cooling swim at the halfway point.
For something a little more challenging you can jump into a kayak and visit the river dolphins of Port Adelaide. Adventure Kayaking SA runs small group paddling tours along Port River, exploring the remnant mangroves, dolphin sanctuary and ship's graveyard along the way. There's a shuttle service from Port Adelaide to the river if you don't want to drive.
For something equally memorable, why not pull on a safety harness and climb onto the roof of the Adelaide Oval? Apart from scaling a national landmark, these expeditions also provide spectacular views of the city and Hills and some amusing anecdotes from the Oval's colourful past.
Where to indulge
Market tours? Tick. Tree lined boulevards? Tick. Amazing food and wine? Tick. Adelaide is known for many things but shopping, indulgence and pampering are not usually top of mind. However, that is changing, and fast.
Fashionistas should first head to Adelaide's bohemian East End, a precinct of grand old pubs, backstreet bars, bustling eateries and fashion outlets both edgy and mainstream. Blokes can pop into Frank's Gents Hair, an old school barber on Vardon Avenue, while their partners are getting buffed and pampered at Endota Spa.
Alternatively, take a five minute drive to King William Road in Hyde Park. Here you'll find high end fashion, elegant eateries and bumper to bumper luxury cars. Some of the best known boutiques are Wild Child Style Lab, Denim Iniquity and Husk, but it's fun just to wander before stopping for a coffee and a gelato at Cotto Espresso. Or simplify the process and let Adelaide's resident style guru Sarah Shanahan show you around. Sarah has created personalised shopping tours in Adelaide and the Hills where you can meet local designers, find hidden gems and enjoy a delicious lunch.
Where to stay
After slumbering through the 1990s, Adelaide is now is construction overdrive. The city of churches is now the city of cranes – many of them building new hotels. For something bright, clean and central book a room at the newish 311 room Ibis Adelaide on Grenfell Street. Standard rooms are pretty compact, but offer expansive city views and the latest mod cons. The hotel has a bar, and a fantastic breakfast buffet. If money is no object, head across town to the Mayfair Hotel, an upmarket establishment with luxurious rooms, impeccable service, a sexy cocktail bar and rooftop beehives.
NRMA members can also save on car hire in Adelaide at SIXT with 15% off daily rental rates.
Get more out of your getaway
Download the my nrma app to find attractions and exclusive Member benefits nearby