Where red pindan earth contrasts with bright turquoise waters, and diverse cultures and classes make up a heady mix — Broome is a surreal feast for the senses.
Discover dinosaur footprints at Gantheaume Point

Norman Lindsay Gallery and Museum

Sip a mango beer at Matso's Brewery

Take a camel ride on Cable Beach

Witness the Staircase to the Moon
Broome is full of postcard perfect moments, with natural wonders and endless stretches of Indian Ocean coast. But there's more to this remote town, a whopping 2240km from Perth, than meets the eye. With a rich pearling history that has attracted a melting pot of cultures, it's a curious fusion of glitter and grit. Prized pearls share retail space with tacky souvenirs, ritzy resorts neighbour dilapidated shanties, and designer clad race goers mix with barefoot backpackers. Welcome to the real Wild West.
Where to eat
Long the domain of resort restaurants, the dining scene in Broome has evolved into a force to be reckoned with. Inspired share plates and a lengthy cocktail list at 18 Degrees, and tapas and fine wine at The Aarli, give the town a cosmopolitan edge. The Good Cartel, a Mexican pop up so good it stayed, has excellent breakfast burritos and cute roaming dogs – the cafe helps rehabilitate strays.
At Wharf Restaurant you'll want to linger over your long lunch until the sun goes down over the water. Matso's Brewery is another Broome institution – swill a frosty mango or chilli infused beer to take the edge off the scorching sun. There's a great restaurant with Asian inspired fare, and plenty of options for the kids.
For a taste of old school Broome, head to local favourite Tongs, a third generation Chinese restaurant. The décor may not be cutting edge (it hasn't changed since the 80s), but the food more than makes up for it, thanks to fresh, authentic flavours.
Gantheaume Point (Photo credit: Tourism Western Australia)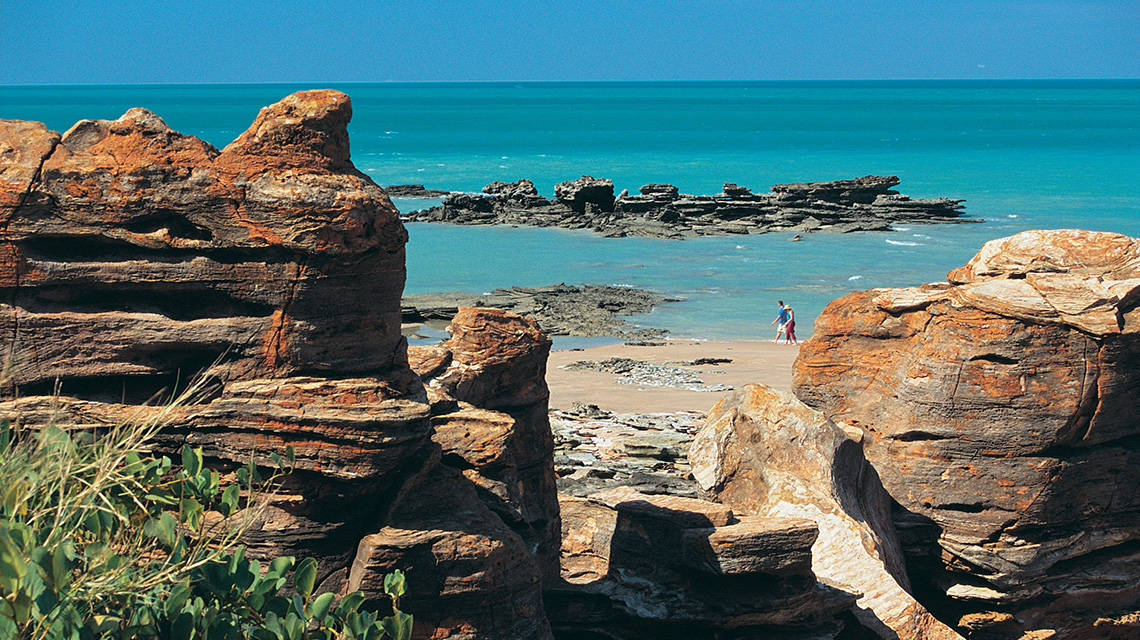 Reddell Beach (Photo credit: Tourism Western Australia)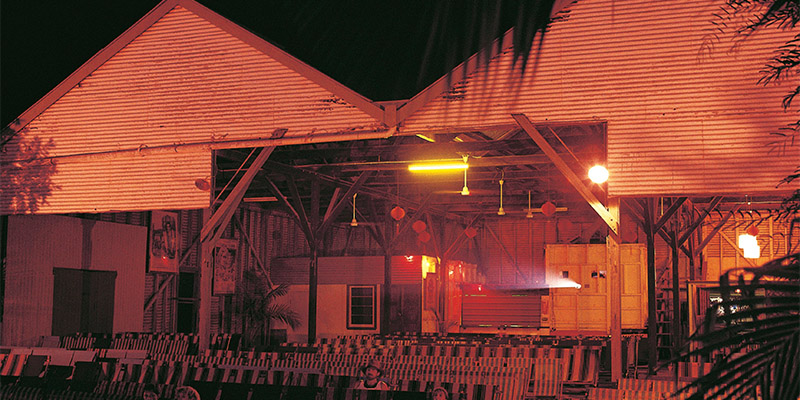 Sun Pictures, Chinatown (Photo credit: Tourism Western Australia)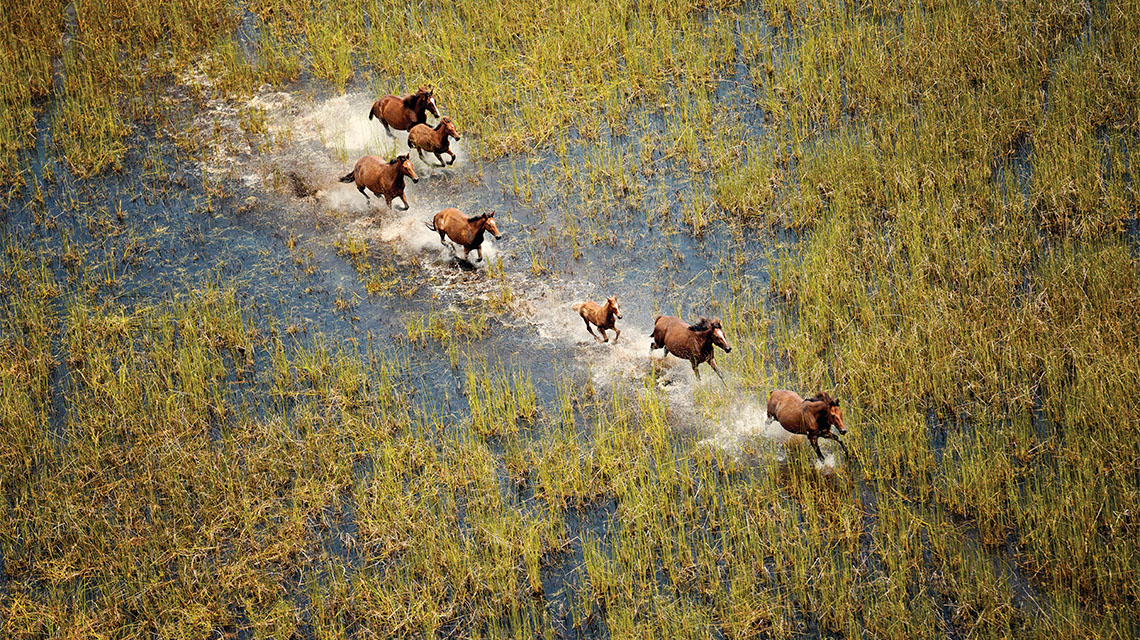 Wild horses near Willie Creek Pearl Farm (Photo credit: Tourism Western Australia)
Where to play
While everywhere you look in Broome is pretty magical, some of the most spectacular sights are actually hidden away. At very low tides, the ocean around Gantheaume Point and Reddell Beach rolls back to reveal dinosaur footprints, a vestige of the prehistoric creatures that roamed the area some 130 million years ago.
And when there's a full moon and the tides are low, a patch of the Kimberley coast transforms into Staircase to the Moon, a lunar optical illusion. The moon reflects off the sheen of the tidal mudflats, creating an effect that looks like a staircase leading into the heavens. Photos don't do it justice – it must be seen to be believed.
When it comes to the manmade sights, you can't beat the ramshackle old Sun Pictures, which has a place in the Guinness Book of World Records as the world's oldest outdoor cinema (it opened in 1916). Pull up a deckchair and enjoy the balmy air on your skin and the starry sky above – the movie will naturally play a supporting role. The races, held at Broome Turf Club between June and August, are also worth a visit, if only to marvel at the surreal sight of race goers trekking through red dust dressed to the nines.
And no trip to Broome is complete without the mandatory camel safari on Cable Beach, with the backdrop of an amber sunset explosion. Book with Broome Camel Safaris – tour operator Alison Bird is a true 'camel lady', with more than 30 years' experience. Cable Beach is also a lovely spot for a swim or a picnic, and there's a playground to keep kids entertained.
Where to shop
Shell out for the souvenir of a lifetime at one of Broome's many pearling stores. You'll be able to find a beautiful pearl anywhere along Dampier Terrace in Chinatown, which is lined with luxe showrooms and shopfronts from Kailis, Willie Creek, Allure and Cygnet Bay.
For a dose of Indigenous culture, peruse the gorgeous printed textiles at Nagula Jarndu Women's Resource Centre, run by local Yawuru women. Inside an unassuming tin hut on Short Street is the Short Street Gallery, which has a dynamic collection of contemporary Indigenous art for sale. The vast offerings at Magabala Books, Australia's oldest independent Indigenous publishing house, are worth taking an afternoon to thumb through too.
Where to stay
It may be just over an hour's drive south of the town centre but Ramada Eco Beach Broome will have you feeling like you're in the middle of nowhere – in the best possible way. It's a spectacular beachside wilderness resort with luxury safari tents and villas, lapping distance from the ocean. Adopt your best tree pose with complimentary yoga, take a dip in the waterfront swimming pool, get whisked away on a helicopter tour, or have a mud wrap with restorative mangrove mud from Jack's Creek. Make sure to indulge in a meal at Jack's Bar & Restaurant, which provides delicious and inventive seasonal fare.
Image credit: Tourism Western Australia
Get more out of your getaway
Download the my nrma app to find accommodation and exclusive Member benefits nearby