Local's guide: Portland Bay and Discovery Coast
At the western end of the Great Ocean Road – one of the world's great drives – you'll find the thriving coastal town of Portland, and an astoundingly rich trove of history, natural wonders and fine food.
Stop to smell the flowers at Portland's 160 year old botanical gardens

Admire the view from Victoria's highest coastal cliff

Ride a lovingly restored pre war cable tram

(Safely) admire a model of a locally caught 5.7m shark

Drink in the views, and the coffee, at the awarded Bridgewater Bay Cafe
A four hour drive from Melbourne and less than an hour from the South Australian border, Portland is both a destination in itself and the gateway to the Discovery Coast, which stretches to the west. Founded as the state's first permanent settlement in 1834, the deep water port is today a thriving town of about 10,000, their number regularly bolstered by visitors drawn to its well preserved history, stunning coastline, wildflowers and abundant sea life.
Where to eat
The Richmond Henty Hotel's stylish Edwards Waterfront Restaurant & Cafe offers all day dining overlooking Portland's harbour. Head in for satisfying meals, good coffee or T2 teas and gourmet cakes.
When a Melbourne couple wanted to bring a slice of their city to Portland, the result was Cafe Bahloo, a quirky eatery with an emphasis on organic ingredients and an added tapas menu on Friday and Saturday nights. Extended outdoor seating areas take full advantage of harbour views.
Ten minutes' drive from Portland at the Cape Nelson Lighthouse, you'll find the eclectic Isabella's Cafe in a bluestone building that once served as the lighthouse's stables. In addition to spectacular views, the cafe has coffee, cakes and lunches during the week and adds breakfasts to the weekend offering.
A further five minutes' drive away is Bridgewater and the Bridgewater Bay Cafe, an old style beachfront kiosk that's been transformed into a cafe serving Modern Australian food. The eatery was named the Victorian Cafe of the Year in 2014.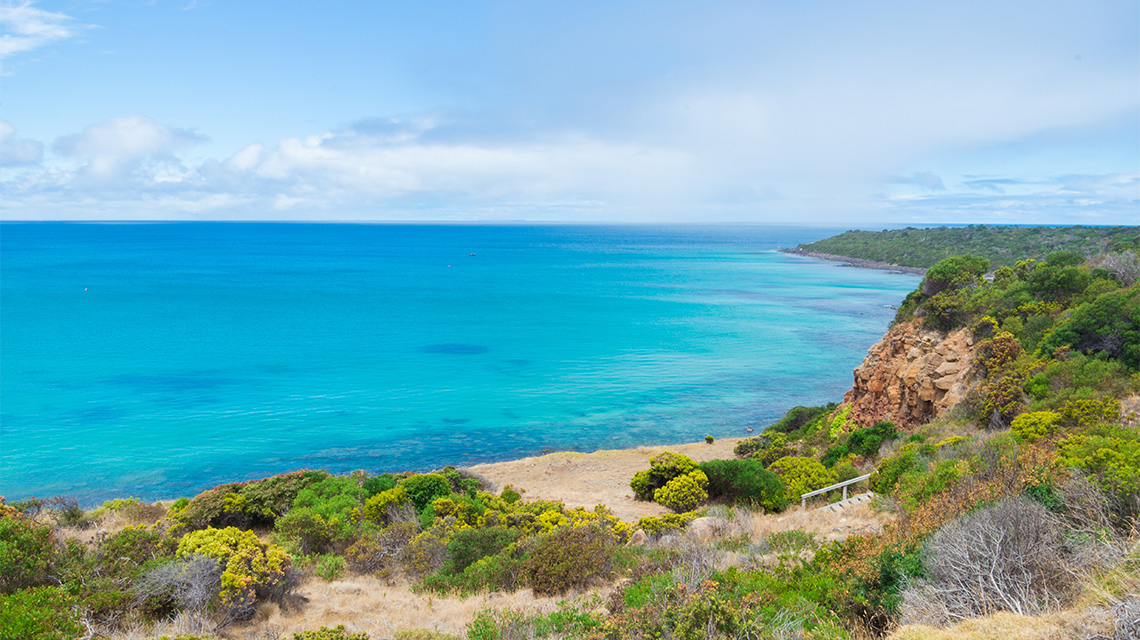 Portland Bay coastline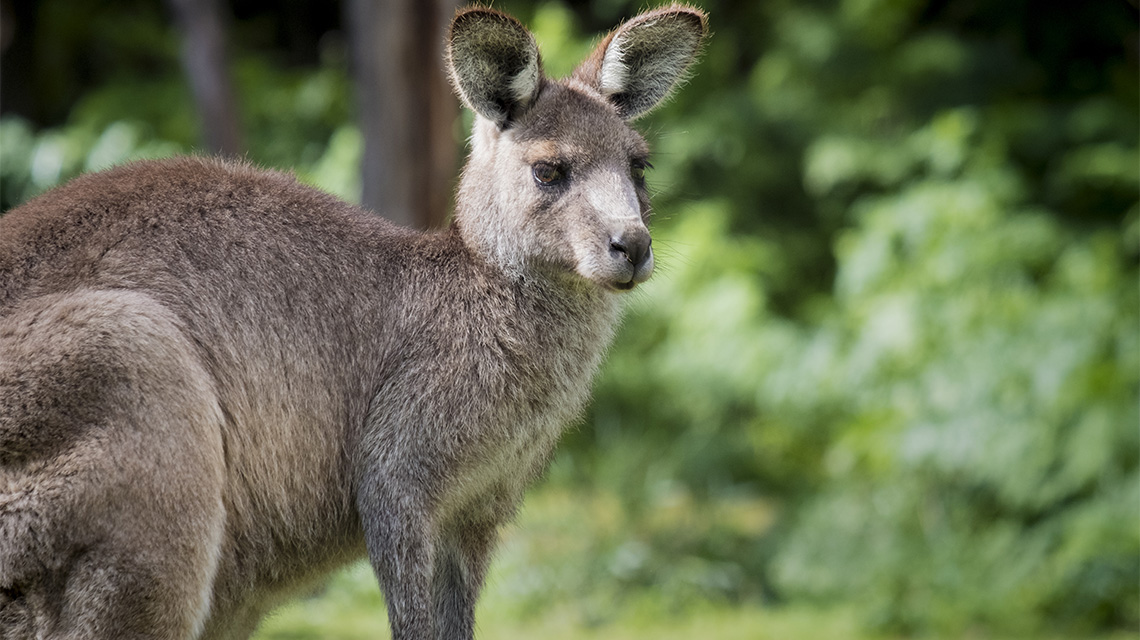 Kangaroo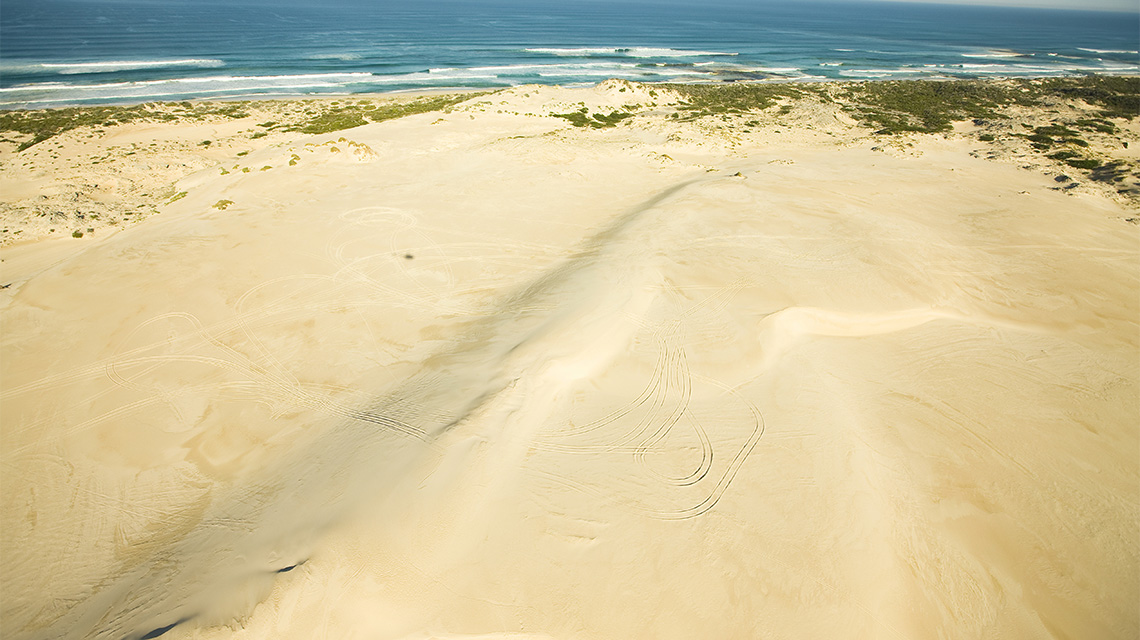 Portland Bay sand dunes (Photo credit: Visit Victoria)
Where to play
Portland's Botanic Gardens were first planted in 1857 and today feature more than 300 varieties of roses and 130 varieties of dahlias, making for a blaze of colour that reaches its zenith in late summer and autumn. Among the rare trees, picnic tables and barbecues you'll also find 150 year old croquet lawns and the former curator's cottage, now a museum operated by the local historical society.
The spectacular Princess Margaret Rose Cave near Nelson was originally accessed by a 17m vertical shaft, until a stairwell was constructed that took five years to dig through the limestone. Treat yourself to a glimpse inside an underground wonderland of stalactites, stalagmites, helictites, rimstone pools and cave coral.
Spread around an extinct volcano, Mount Richmond National Park is where 50 varieties of orchid have been discovered among spring wildflowers and abundant wildlife that includes koalas, echidnas, wallabies, potoroos, eastern grey kangaroos and emus. The park is an ideal place to enjoy a picnic, take a walk or bask in the majestic summit views of Cape Bridgewater, Discovery Bay and Portland.
Explore spectacular coastal cliffs at Cape Nelson State Park, before zeroing in on the heritage listed Cape Nelson Lighthouse, where twice daily tours could be capped off by a sighting of passing southern right or humpback whales in winter, and blue whales in summer.
At Bridgewater you can surf, swim or fish the unspoilt 4km long beach, while up the hill at the western end is the starting point of the two hour Great South West Walk to the Cape Bridgewater viewing platform, from where you can spy one of the largest colonies of fur seals on the Australian mainland.
Where to explore
Housed in the Portland Maritime Discovery Centre, the maritime museum takes you back to the town's earliest days as a whaling and sealing base. The museum features a 160 year old lifeboat, one of Australia's oldest, and the skeleton of a 14m sperm whale that was washed up on a local beach in the late 1980s.
Among the exhibits at the Portland Cable Trams Depot Museum is an 1880 horse drawn carriage owned by one of Portland's first European settlers, as well as model railway exhibitions and the largest collection of private gemstones in the southern hemisphere.
At the Portland Powerhouse Motor and Car Museum there's everything to delight a combustion engine enthusiast, from vintage and classic cars and motorcycles to tractors and an interactive exhibit displaying the internal workings of an early model Holden six cylinder engine and a Mazda rotary.
For a closer look at Portland's 200 plus heritage buildings, take the self guided Historical Buildings Walk. Among the highlights are Victoria's second oldest surviving building, the Steam Packet Inn (built in 1841) and its oldest continuously licensed hotel, The Court House (1845).
Where to stay
The clifftop NRMA Portland Bay Holiday Park, overlooking the town's bay, has sites for caravanning and camping as well as self contained two bedroom cabins, a camp kitchen, children's playground, barbecue areas, TV room, shop and free wifi. Wander down to swim or throw a line in off neighbouring Nunn's Beach, stroll up to the adjacent lighthouse, or cast your eyes to the horizon – you might just see a whale or pod of dolphins.
Get more out of your getaway
Download the my nrma app to find accommodation and exclusive Member benefits nearby