Local's guide: Rockhampton
Yes, Australia's beef capital might have the country's only pub rodeo, but there's far more than cattle to see in an area boasting unspoilt beaches, old gold mining towns, vast caves and a lively restaurant and cafe scene.
Koorana crocodile farm

Cooberrie Park Wildlife Sanctuary

Mount Archer National Park

Great Western Hotel rodeo
Eight hours' drive north of Brisbane, Rockhampton's place at the heart of the beef industry is writ large in the form of six bull statues dotted around town. But don't think that's the end of this region's story. Far from it. Just half an hour east lies Yeppoon and the Capricorn Coast, looking out over the alluring islands of Keppel Bay. Elsewhere, there are storied gold mining towns, a rich colonial heritage, caves, picturesque swimming holes and plenty for foodies to get excited about.
Where to eat
Cafe Bliss, on the ground floor of CBD Apartments in central Rockhampton, is where those in the know head for big breakfasts, barista made coffee and generous lunches. As the day ends, the cafe transforms into the Bliss by Night restaurant, specialising in tapas.
At The Waterline at Yeppoon's Keppel Bay Marina, the menu makes the most of local seasonal produce and the harvest of the sea, but the star attraction is exclusive access to the owners' Banana Station beef, normally reserved for the export only market.
The Edge restaurant on Victoria Parade does a fine job of putting modern Australian cuisine on your plate, but it's the adjoining bar, with its polished walnut bar, seaweed infused glass wall and boutique beers that really draws a crowd.
On Yeppoon's James Street you'll find Whisk restaurant, where locally sourced produce is used to create bright and beautifully presented tapas, ice creams, jams, sauces, donuts and cakes.
Behind the facade of a grand, heritage listed former warehouse in East Street you'll find Rockhampton's most lavish restaurant, Headricks Lane. Overseen by a European trained head chef, the restaurant's minimalistic interior contains both formal and casual dining areas, a cafe, bar and microbrewery showcasing some of Australia's top brewers.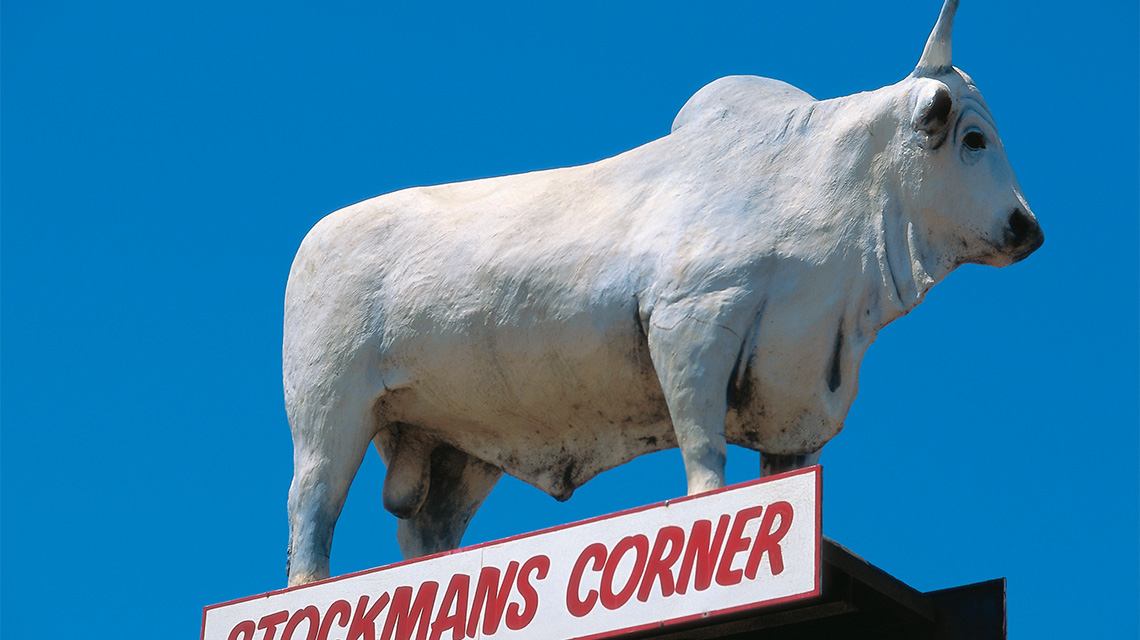 Big Bull (Photo credit: Tourism and Events Queensland)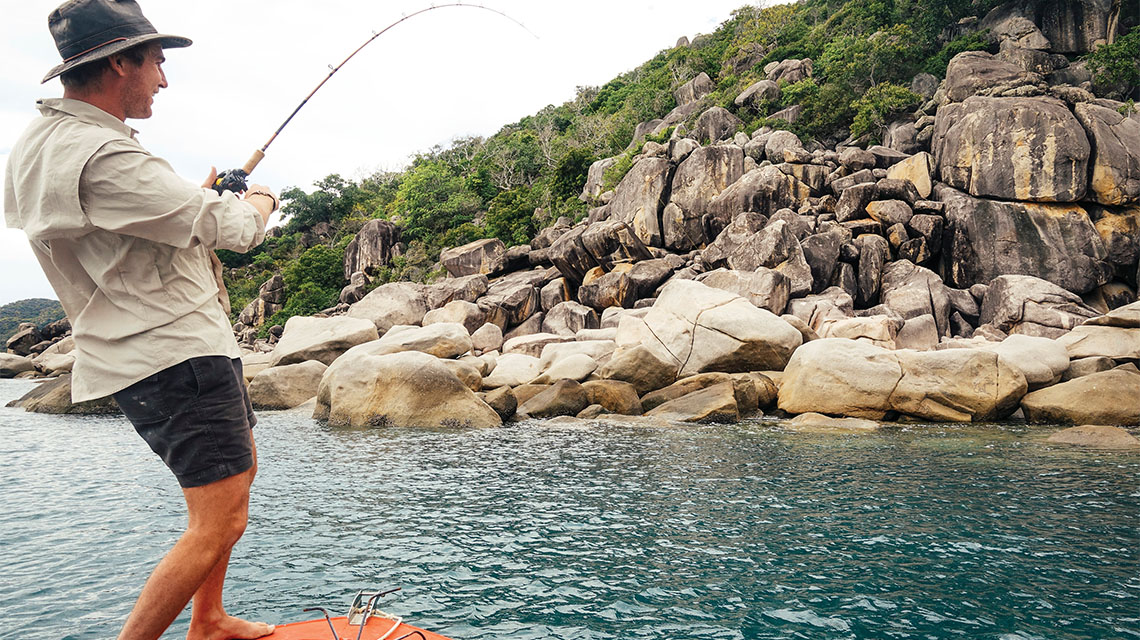 Rockhampton Net Free Zone (Photo credit: Tourism and Events Queensland)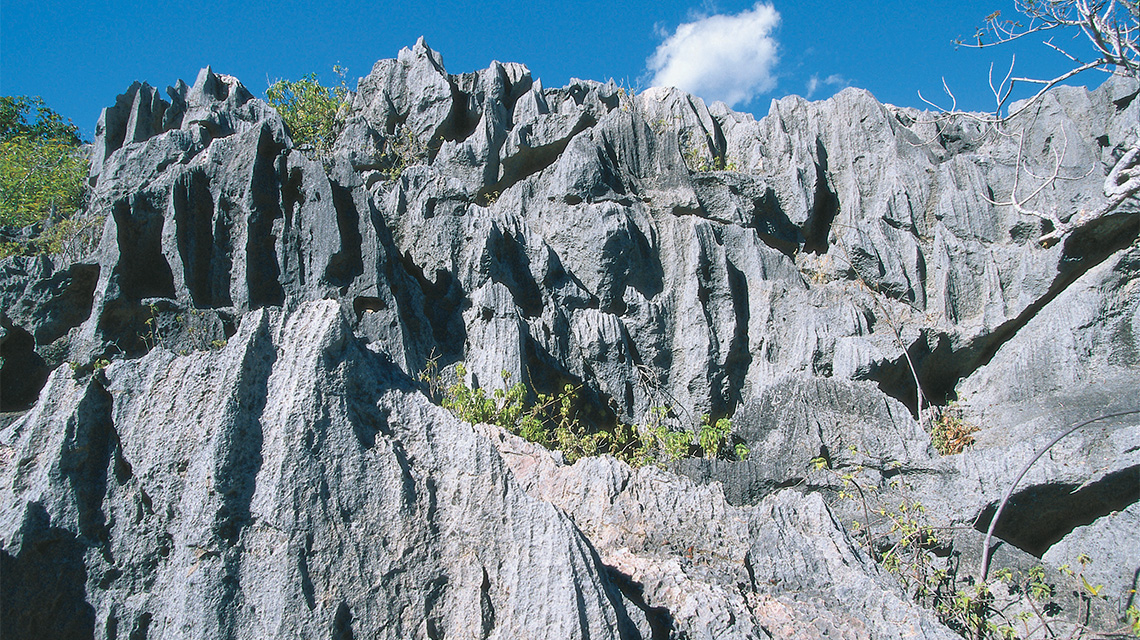 Limestone Karst Ridge, Capricorn Caves (Photo credit: Tourism and Events Queensland)
What to see
Providing an imposing backdrop to Rockhampton, Mount Archer National Park covers more than 4000ha of the Berserker Ranges, shifting between eucalypt forest and a large pocket of dry rainforest in the Moores Creek valley. Dominated by the 604m Mount Archer, the park offers an elevated view of the city, numerous walking tracks and abundant bird and animal life.
One of 18 islands in Keppel Bay, Pumpkin Island is your chance to strand yourself in luxury. The small island has five eco friendly self catering cottages and two beach bungalows for rent, all overlooking a footprint free beach lapped by waters filled with dolphins, turtles and whales in season. Swim, fish, snorkel, harvest oysters off the rocks, or simply chill.
Forty minutes' drive west of Rockhampton lies the former gold mining town of Mount Morgan. Evidence of its heyday is still on display at the Historical Museum. Over at the Mount Morgan Railway Museum, housed in a station that opened in 1898, you can get a feel for what it was like to travel on old rack rail and steam trains. And make time to visit the nearby open cut gold and copper mines.
North of Yeppoon, the Byfield State Forest contains the rare Byfield fern and ancient cycads that have survived the penetration of pine forests into what remains an undeveloped coastal stretch. Byfield is also where you'll find the tantalising, rainforest edged Upper Stony and Water Park creeks – great for swimming and birdwatching – and a diverse artistic community that has spawned a rustic cafe and artists' studio.
The above ground Capricorn Caves, 25km north of Rockhampton, are home to the remains of ancient megafauna and towering cathedral spaces filled with stalactites and stalagmites. Become a spelunker for a day, exploring caves, tunnels and shafts. Outside, you can abseil 30m down into the cave below, or tackle an 8m climbing wall.
Where to play
For Australia's only indoor rodeo – in a pub no less – get yourself along to Rockhampton's iconic Great Western Hotel on a Wednesday or Friday, where the action is fast and furious and the beer and beef go down a treat. Dating back to 1862, the hotel has undergone a major overhaul and extension in recent years to emerge as the city's main drawcard on the back of rodeos and professional bull riding.
On way to Byfield from Yeppoon is Cooberrie Park Wildlife Sanctuary, where you can encounter pythons, monkeys, koalas, kangaroos and baby crocodiles. Set on 10ha, it also has a swimming pool, bushwalks, barbecue areas and a cafe.
Half an hour's drive from Rockhampton is Queensland's first commercial crocodile farm, Koorana. Originally stocked by capturing nuisance crocodiles that were endangering people, the farm now has more than 4000 of the prehistoric reptiles.
Where to stay
Stay at the Rockhampton Travelodge Hotel, as it has a dress circle address opposite the Fitzroy River. The hotel is within easy walking distance of the city's main avenue, East Street. There's also a gym, pool, barbecue, free wifi and free parking. NRMA members can also save on car hire in Rockhampton with SIXT with 15% off daily rental rates.
Image credit: Tourism and Events Queensland
Get more out of your getaway
Download the my nrma app to find attractions and exclusive Member benefits nearby