We take a tour of those head-scratching traffic-stoppers affectionately known as 'Big Things'.

Australia is pretty big. It only seems natural, then, that we're obsessed with 'Big Things' in our big country. We have more than 150 of these traffic-stoppers in Australia. NSW has around one third of them, more than any other state, and nowhere else in the world does the saying, "If you build it, they will come," seem more appropriate.
Although the official list of big things also includes some rather small ones (we're thinking of you, Big Bench, and your measly 2.5 times the size of a normal park bench), a driving holiday here just wouldn't feel complete without encountering one or two of these roadside wonders.
The Big Banana, Coffs Harbour
Often cited as Australia's first big thing to materialise, The Big Banana was built in 1964, but was likely beaten to the punch by Adelaide's Big Scotsman, completed in 1963. Yet, from its simple banana plantation and stall beginnings, the Coffs Harbour attraction has grown into the most iconic of Australia's big things. Visitors can also now enjoy its water park, mini-golf course, laser tag arena and much more, an obligatory photo in front of The Big Banana is non-negotiable.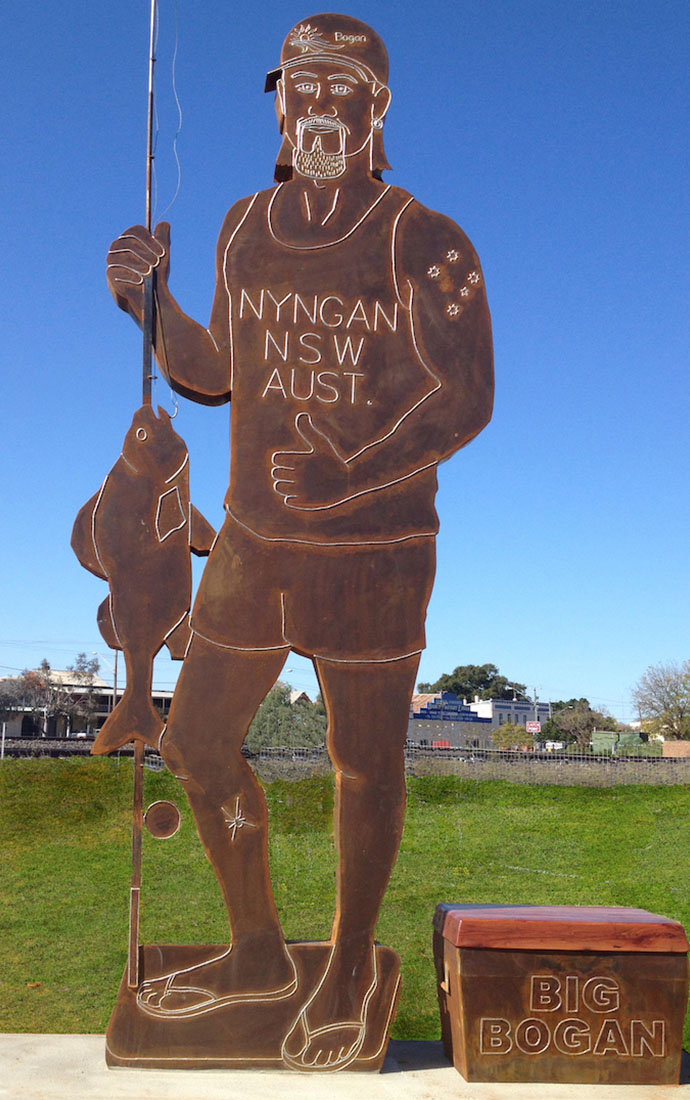 The Big Bogan, Nyngan
Unveiled in 2015, the Big Bogan is one of the newest big things erected in NSW to attract tourists. At five metres tall, he doesn't truly live up to his 'Big' prefix, but there's no doubt his thongs, esky, Southern Cross tattoo, Stubbies shorts and mullet haircut have the 'Bogan' part thoroughly covered. With around 2,000 residents, the town of Nyngan is also officially in the Bogan Shire local government area and situated on the Bogan River, so the quirky statue really is a celebration of all things bogan.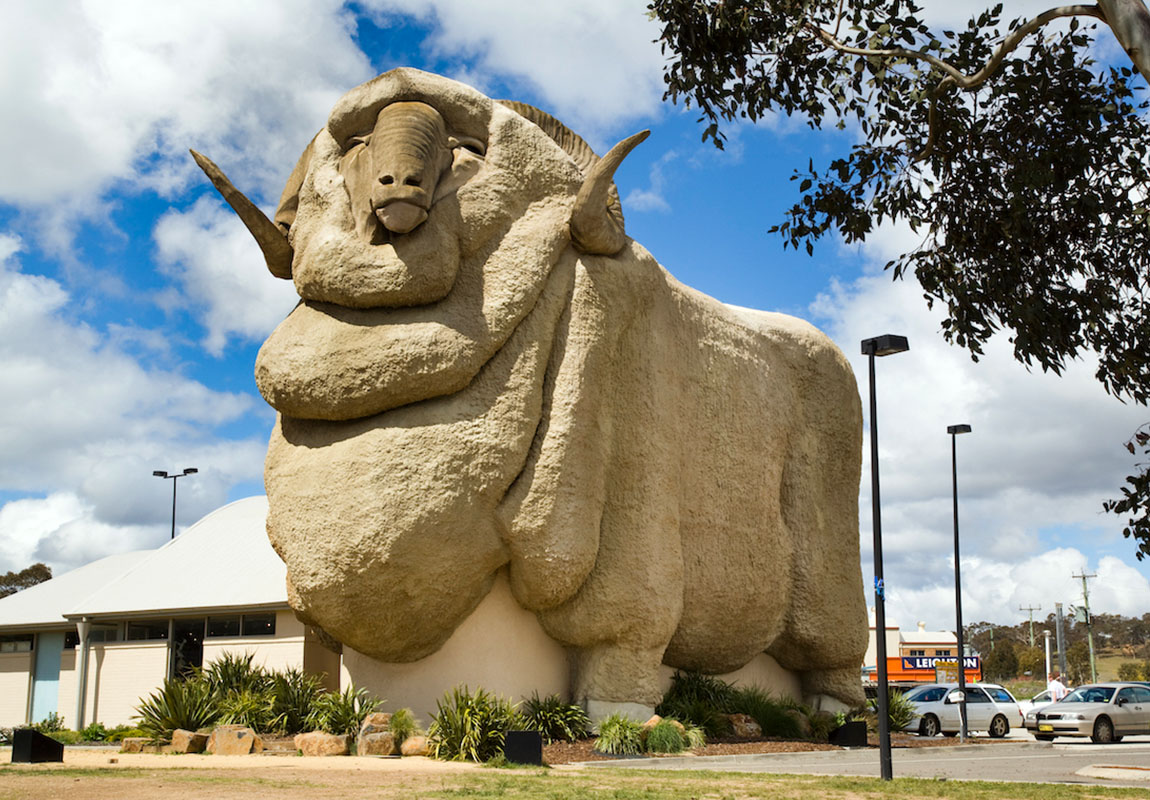 The Big Merino, Goulburn
Possibly the most impressive of all Aussie traffic-stoppers for its sheer (shear?) enormity, The Big Merino was built in 1985 and modelled on a local property's stud ram named Rambo. The three-storey structure celebrates the region's wool industry and houses an exhibition and gift shop. You can also climb the stairs to look out of Rambo's eyes. When the highway bypass for Goulburn was completed, Rambo had to be trucked 800m to a new location. He sometimes participates in good causes, too, such as when a particular appendage seen from the rear was painted royal blue to help raise awareness for men's testicular cancer in 2014.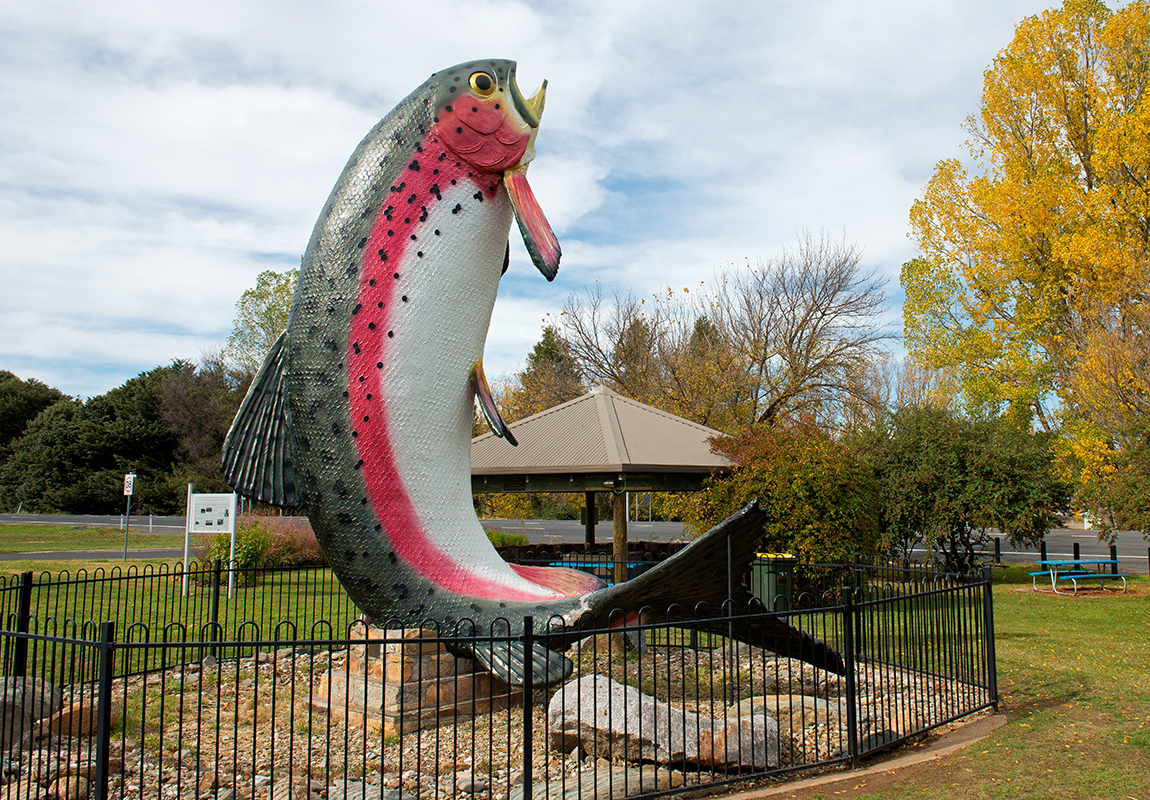 Credit: Don Fuchs; Destination NSW
The Big Trout, Adaminaby
The Snowy Mountains have much to lure visitors, with amazing scenery, quaint towns, snow resorts and outdoor activities such as fly fishing, for which the Big Trout has proudly stood and caught passing motorists' eyes since 1973. The 10m high fibreglass sculpture looked faded and old for many of those years, until a new paintjob in 2012 brought it back to glory. Apparently, its lifelike scales were produced by covering it in mesh, adding another fibreglass layer, then removing the mesh before the work hardened.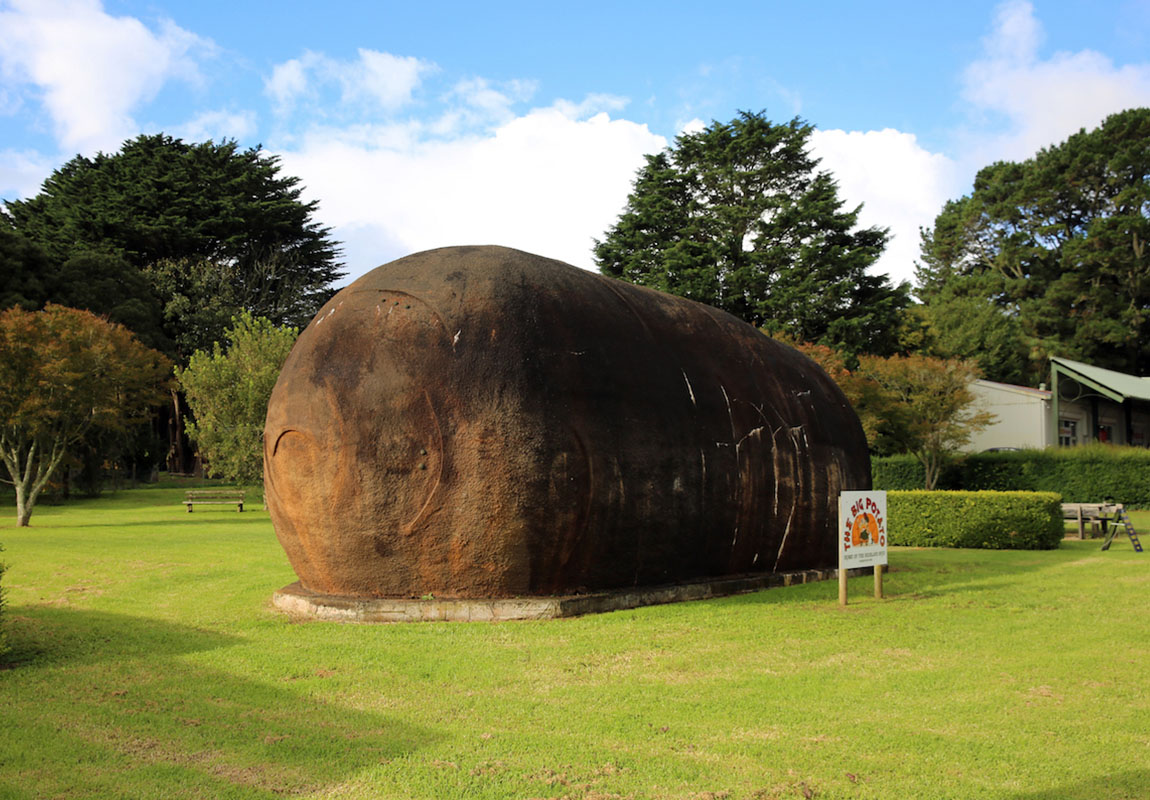 The Big Potato, Robertson
No other big thing will have you exclaiming "why, oh why" quite as much as the Big Potato. The giant vegetable doesn't make a very appealing sight, particularly in its rundown state these days, but that's all part of its charm and perhaps the reason fans of all things kitsch seek it out. Situated in the Southern Highlands, local farmer and councillor Jim Mauger brought the idea to life in 1977, though his plans for it to house a potato museum or shop never eventuated. In early 2018, the land it's on was put on the market for $940,000 and the adjacent grocery store and home was hoping to fetch over $2 million. That's a lot of money; but, then again, we're not talking small potatoes here, are we?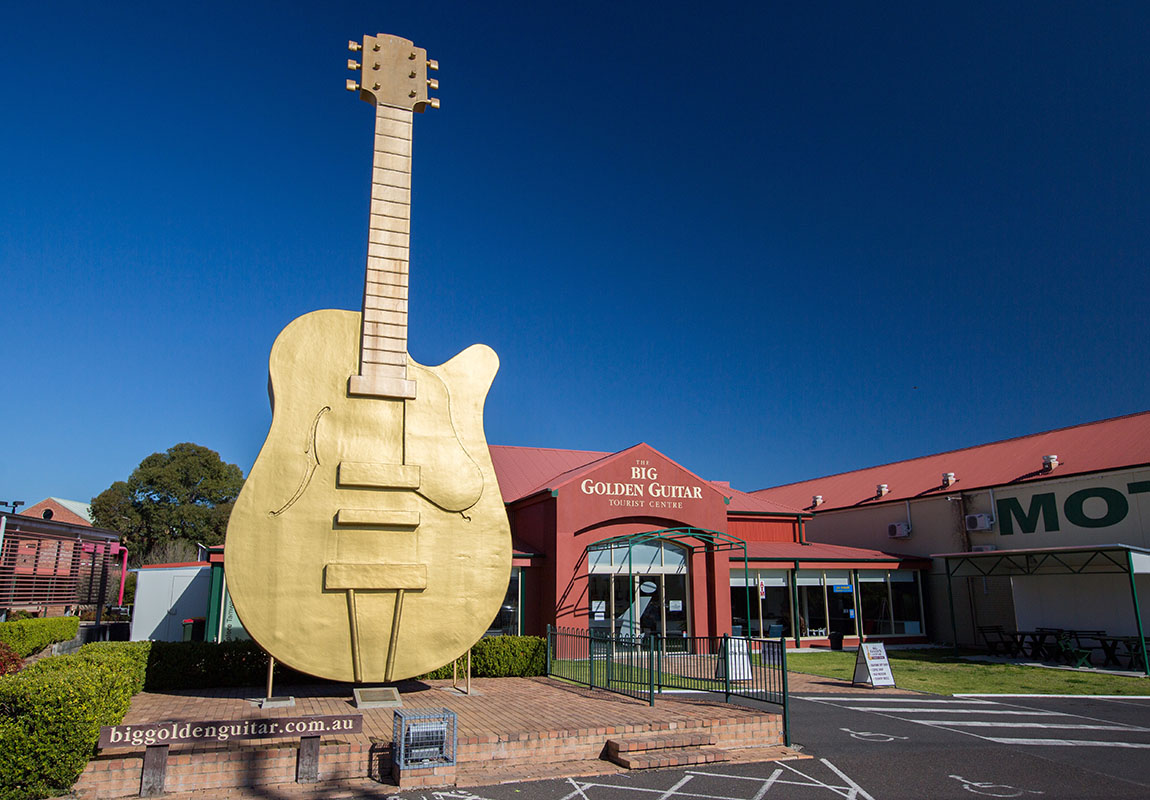 Credit: Destination NSW
The Big Golden Guitar, Tamworth
Gleaming in gold brilliance, Tamworth's monument to country music is modelled on the trophies given to the winners of the Country Music Awards of Australia, hence the no strings. The annual Tamworth Country Music Festival culminates in the awards every January. But you can get in the toe-tapping spirit of things all year round at the Big Golden Guitar, with its tourist centre, wax museum of country music stars and museum featuring the largest privately-owned collection of Donald Bradman cricketing memorabilia.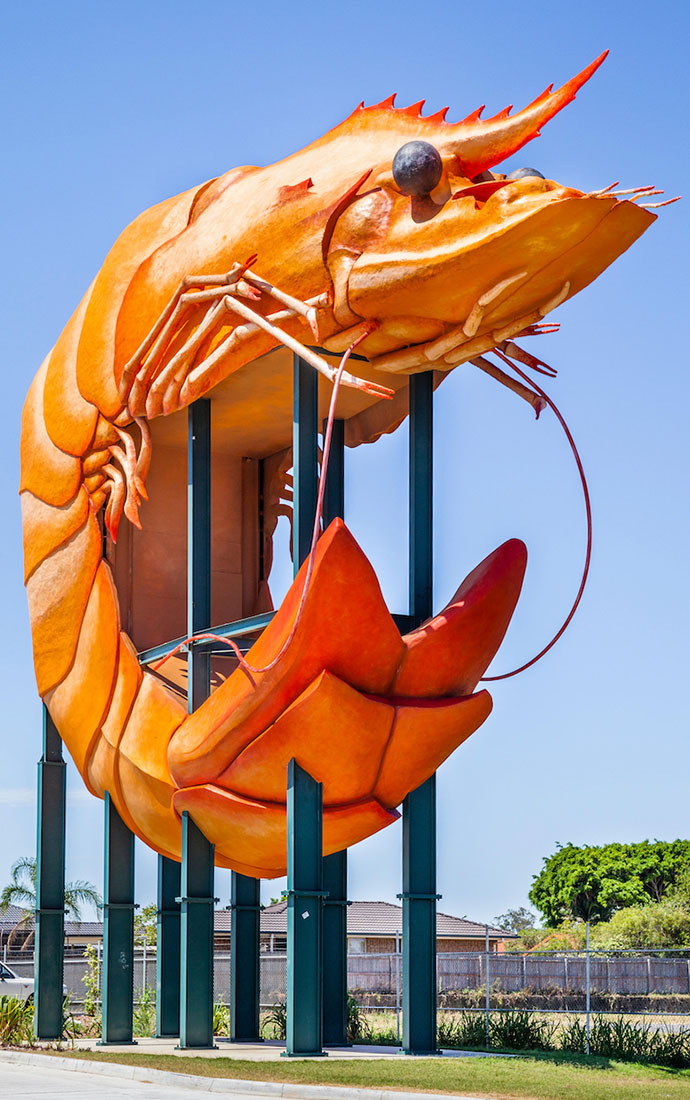 The Big Prawn, Ballina
As kids, we were able to ascend a staircase up into the beady eyes of the Big Prawn, then grab a roadside snack at the service station below. These days, Ballina's tribute to its fresh seafood industry has been moved from its original site and the stairs are gone. It now sits rather unceremoniously outside a Bunnings store. Yet the company did garner praise for saving the icon, spending $400,000 on adding a tail and sprucing it up in 2013, even after the council voted to allow its demolishment. At 30,000 times the size of a real prawn, it's a far more impressive sight than the smaller Big Prawn in Exmouth, WA.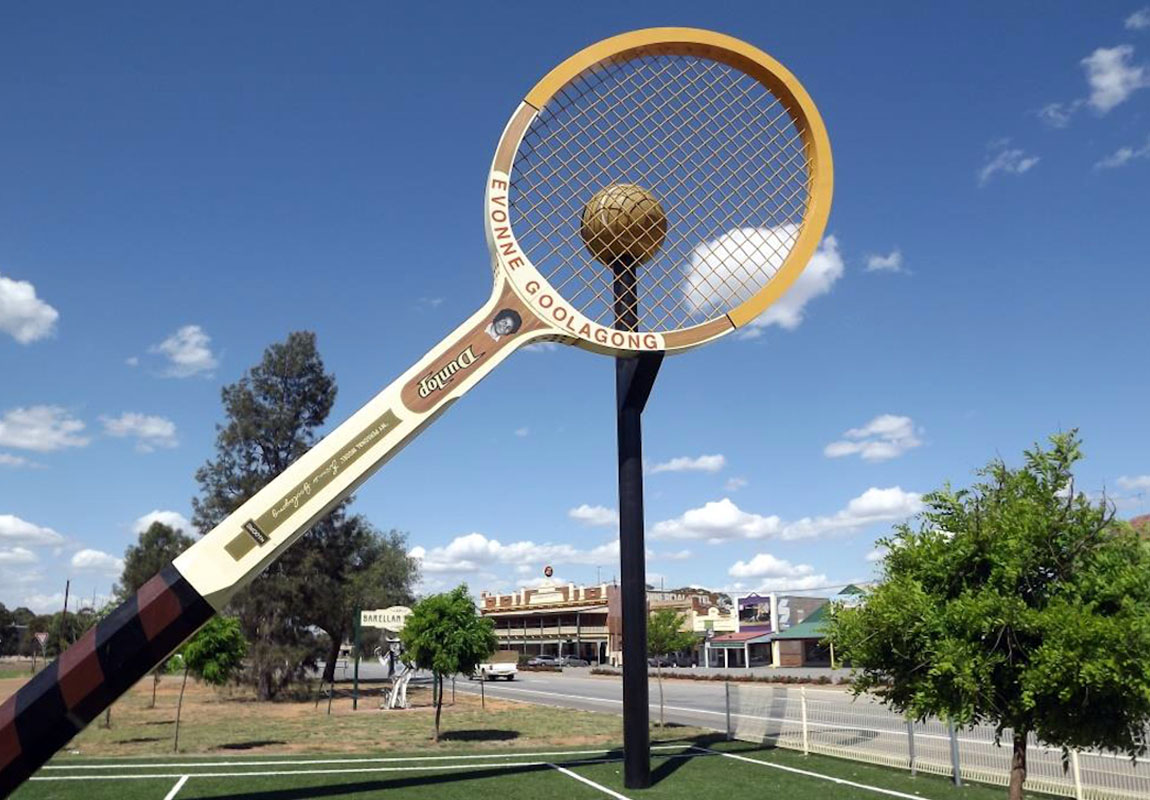 The Big Tennis Racquet, Barellan
Anyone for tennis? You just have to be 60m tall to handle this 20:1 scale replica of tennis legend Evonne Goolagong Cawley's signature wooden Dunlop racquet. It was unveiled during Barellan's centenary celebrations in 2009 and pays tribute to the local girl who went on to win seven Grand Slam singles tennis titles. While you're in town you can also hone your tennis skills on the practice wall at Barellan War Memorial Tennis Club, where, as a small child, Goolagong Cawley trained and dreamed of one day winning Wimbledon.