By Dorian Mode
There is something quintessentially Australian about Big Things. Perhaps it's the kitsch, dagginess of this Australiana that so endears us to these edifices.
Although the official list of big things also includes some rather small ones (we're thinking of you, Big Bench, and your measly 2.5 times the size of a normal park bench), a driving holiday in NSW just wouldn't feel complete without encountering one or two of these roadside wonders.
America has Big Things, too. But they're not held with anywhere near the same affection. Perhaps it's the emptiness of Australia that gives Big Things such unique staging on any long road trip. Or is it because Australians have a unique sense of irony and a Big Thing tickles our sense of Australianess?
Whatever secret cultural magic they possess, from the 150 Big Things in Oz, NSW has about one-third of them. Here's our Top 11.
1. The Big Banana, Coffs Harbour
We need to start at the 'Stonehenge' of Big Things in NSW. Built in 1964, The Big Banana squats conveniently on the Pacific Highway. So it's essential for any northern road-trip to pause here for a chocolate-coated banana or banana Paddle Pop.
Original owner John Landi needed something eye-catching to jag passing traffic for his roadside banana stall. He'd heard of a "Big Pineapple" in Hawaii and thought….why not? So with 1200 quid and a local engineer, it became the biggest banana in the world and Australia's first "Big Thing" (though the Big Scotsman in SA might have squashed this claim in 1963).

These days the once humble roadside stall has become a kind of banana-themed Disneyland (how Australian is that?). Now families enjoy its waterpark, mini-golf, laser-tag arena and wait for it…ice-skating rink. An all-day pass is fifty-nine bucks and represents good value. And being Coffs Harbour, be sure to pack your ice-skates.

2. The Big Bogan, Nyngan
Unveiled in 2015, the Big Bogan is one of the newest big things erected in NSW to attract tourists. With local names such as Bogan River, Bogan Street and Bogan Way, this Big Thing in the Bogan Shire makes perfect sense. However, the Australian National Dictionary defines a 'bogan' as: "an uncultured and unsophisticated person; a boorish and uncouth person." So the Big Bogan in Nyngan is a controversial edifice.
Complete with all the bogan tropes: trucker hat, Southern Cross Tattoo, thongs, esky, mullet, goatee, you are slightly disheartened that this steel silhouette is only five-metres tall. It should be called The Mid Bogan.

So we ask you, is this rusting "Mid Thing" a celebration of redneck values? Or a shrine to egalitarianism? Either way, it's a brave move by Nyngan Council as 'bogan' is used in the pejorative in Australia. While some Nyngan denizens abhor our man, if you're poking around out this way, it's a must-see!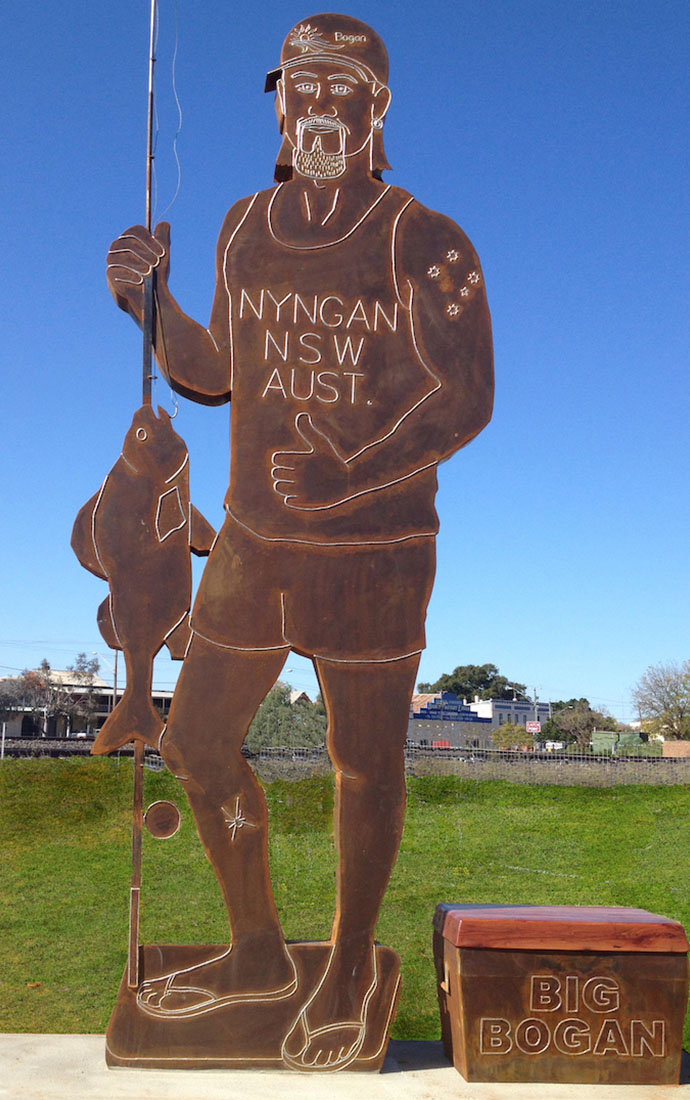 3. The Big Merino, Goulburn
Possibly the most impressive of all Aussie traffic-stoppers for its sheer (shear?) enormity, the Big Merino was built in 1985 as a celebration of Goulburn's fine wool industry. As tall as a 12-storey office block, and weighing in at 97-tones, our woolly chum is modelled on Rambo, a stud ram from a local property, "Bullamallita".
When you ascend the stairs into the bowels of the giant ram to the observation area to look out from its eyes, you'll see sweeping views of a Bunnings car park. However, the best pic is from behind the giant ram where Australia's biggest scrotum is often painted bright blue by the local council to raise awareness for testicular cancer. A fun family photo for Granny. And very Australian, don't you think?

The site also house an exhibition and Big Merino gift shop, where they sell a fabulous, warm Chiko Roll tea towel.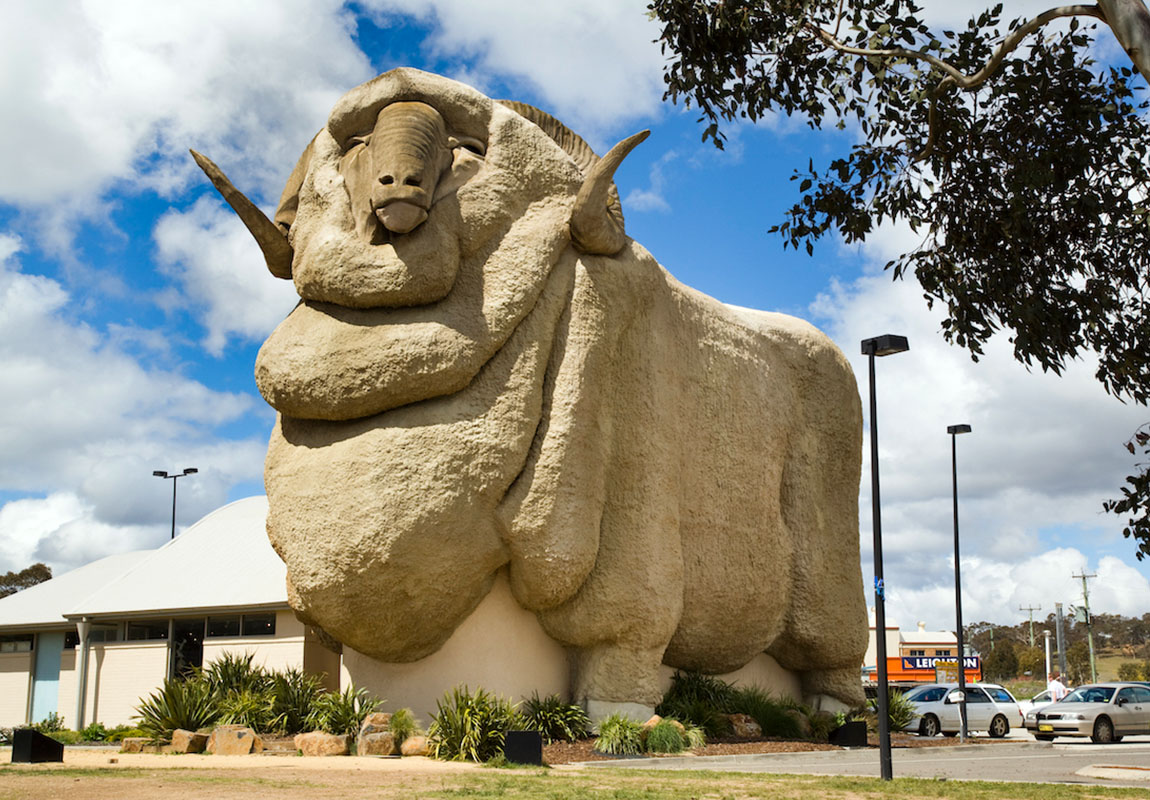 4. The Big Trout, Adaminaby
Created by local artist Andy Lomnici, the 10m high fibreglass sculpture is an icon for the pretty mountain town of Adaminaby. Apparently, its lifelike scales were produced by covering it in mesh, adding another fibreglass layer, then removing the mesh before the work hardened.

It was faded and going off for years until recently resuscitated in oxygenated water by The Friends of the Fish Committee. For instant 'Insta' likes, take a photo of this Big Thing with a fishing rod (as if you've hooked it).
The Snowy Mountains have much to lure visitors, with amazing scenery, quaint towns, snow resorts and outdoor activities such as fly fishing, for which the Big Trout has proudly stood and caught passing motorists' eyes since 1973. Only a lazy fly-cast across the road is the Snowy Scheme Museum (worth a visit - even with its challenging opening hours: 10am-2pm on weekends).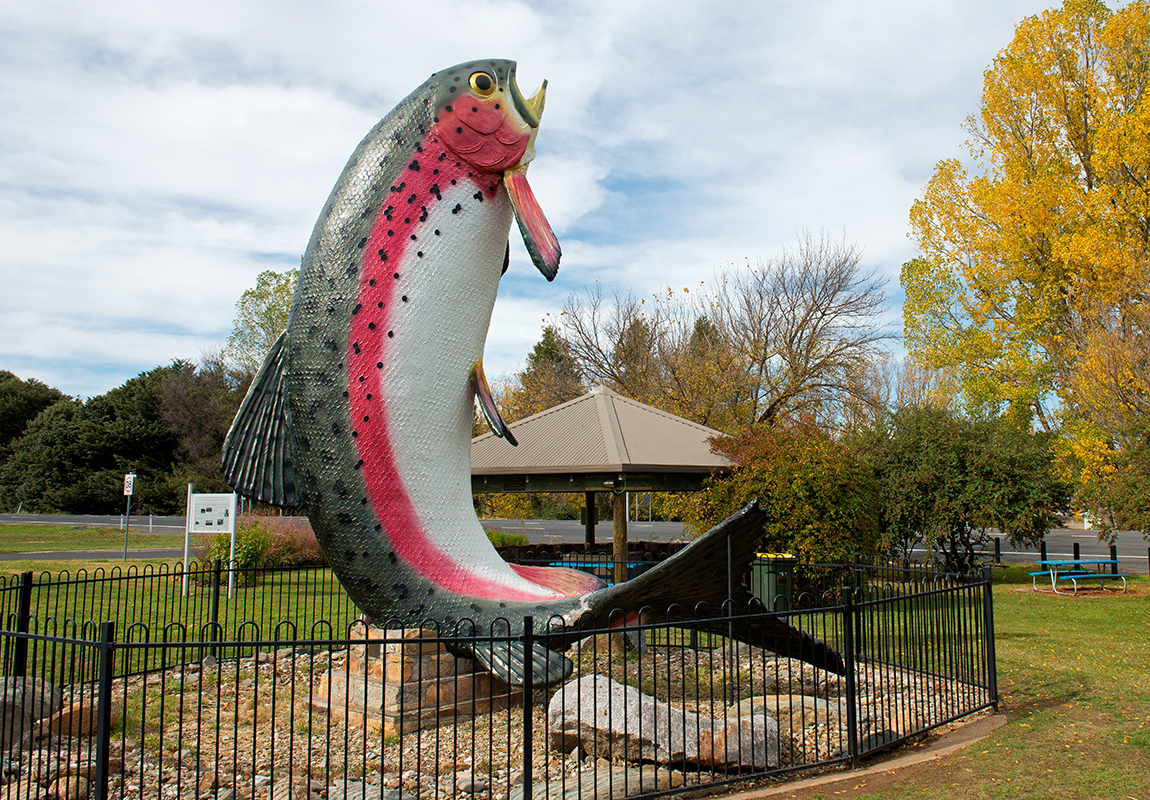 Credit: Don Fuchs; Destination NSW
5. The Big Potato, Robertson
The unofficial moniker of Robertson's Big Potato's is exactly what you think when you first see it: 'The Big Pooh-tato'. Local councillor Jim Mauger brought the idea to life in 1977 and this giant rusting stool has been underwhelming visitors for over 35 years. It's so utterly lame it will make you laugh out loud. But this is why you're here. You see, this is actually a wonderful Big Thing.

However, perhaps the giant tuber needs a rethink. A dollop of sour cream? A sprinkling of chives? And what are the mysterious doors hidden at the rear? Do they hold a Big Chip? Plans for it to house a potato museum never eventuated. Shame. Wouldn't you love to turn to your partner at the wheel, "If we don't get our skates on, we'll miss the potato museum?"
In early 2018, the land it's on was put on the market for $940,000 and the adjacent grocery store and home was hoping to fetch over $2 million. That's a lot of money; but, then again, we're not talking small potatoes here, are we?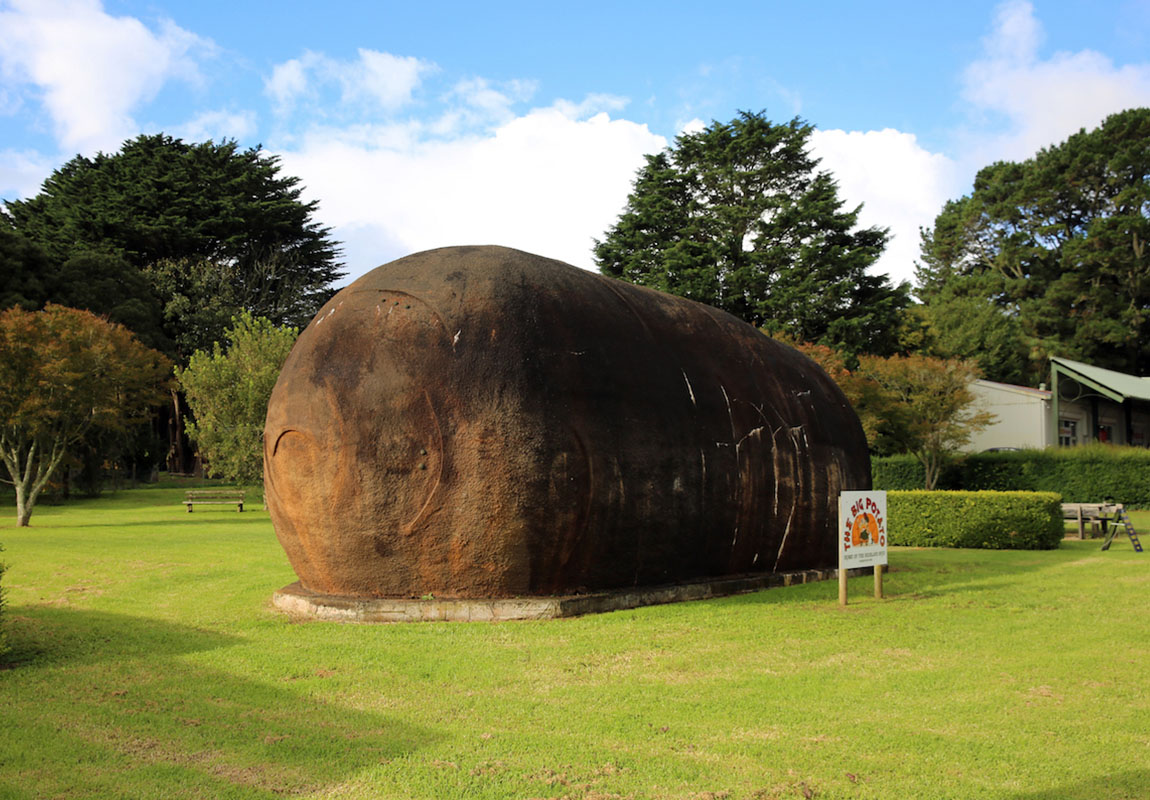 6. The Big Golden Guitar, Tamworth
Nothing says Tamworth more than an oversized golden guitar flanking the golden arches of a McDonalds. Gleaming in gold brilliance, Tamworth's monument to country music is modelled on the trophies given to the winners of the Country Music Awards of Australia, hence the no strings.
The annual Tamworth Country Music Festival culminates in the awards every year. But you can get in the toe-tapping spirit of things all year round at the Big Golden Guitar, with its tourist centre, wax museum of country music stars and museum featuring the largest privately-owned collection of Donald Bradman cricketing memorabilia.

The Country Music Wax Museum is a fun celebration of Australian kitsch. Post waxing lyrical, the National Guitar Museum directly behind it is worth a visit. Naturally geared towards country pickers, you'll also find KISS-star, Paul Stanley's axe and The Beatles Rickenbackers.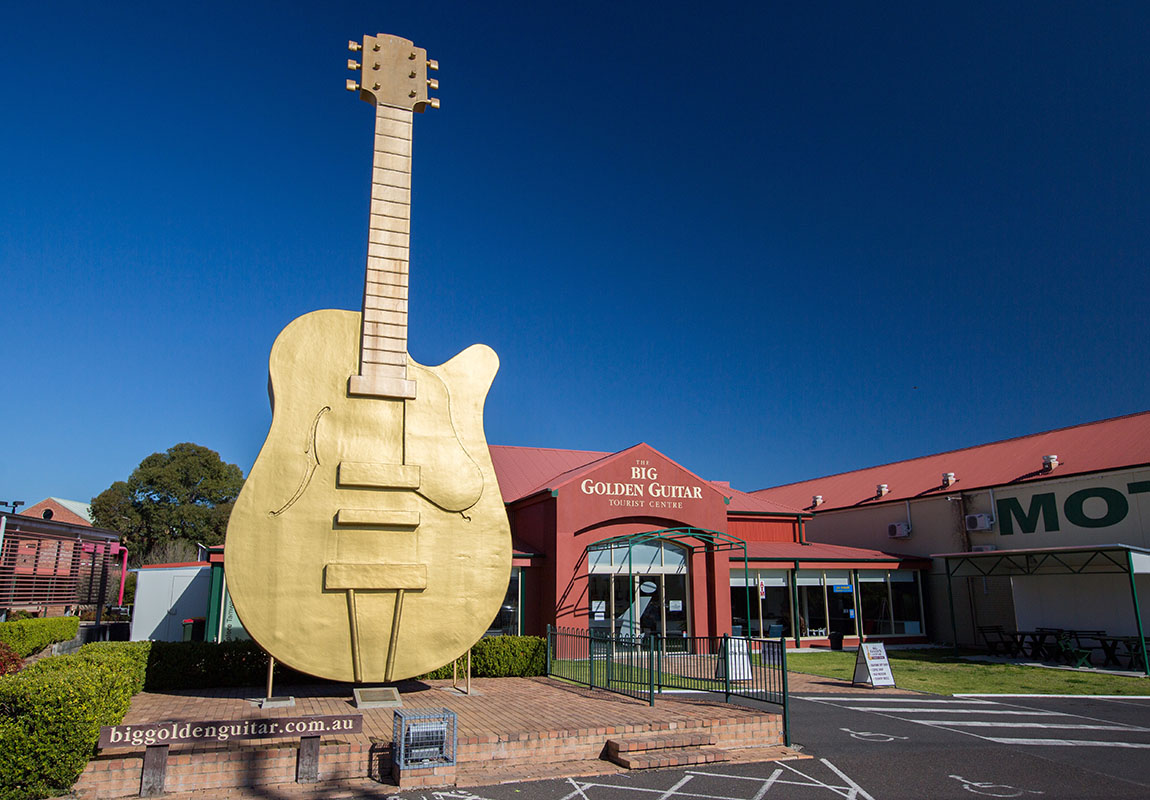 Credit: Destination NSW
7. The Big Prawn, Ballina
A celebration of the local prawning industry in Ballina, this (tail-less for some reason) whiskered crustacean drifted over a Ballina servo for yonks. You used to be able to ascend a staircase up into its beady eyes. But after 30 years of rotting in the elements, it looked tired. You could almost smell it going off in the sun.

That is until - ta-da! - the local Bunnings rescued it. They coughed up an astonishing $400k (now that's a hellva lot of sausage sizzles) restoring the 35-tonne shrimp. It now holds pride of place in the Bunnings carpark. At 30,000 times the size of a real prawn, it's a far more impressive sight than the smaller Big Prawn in Exmouth, WA.
But wait…there are two Big Prawns in NSW!
The Big Prawn, Catherine Hill Bay was modelled from a frozen prawn from Tasmania, for some reason. For years the thawing shrimp drifted over (yes, again) a petrol station, flanking the local fish co-op in Catho. Pre M1, it reminded motorists to stop and buy fresh prawns. But post M1 it became one of those incongruous Big Things.
But it's a tough crustacean. Made from fire-resistant fibreglass resin, locals were astonished when it was the lone survivor of the 2013 bushfire that demolished the petrol station beneath it. It didn't melt! There's talk about moving up the road to Swansea but try telling the Catho locals.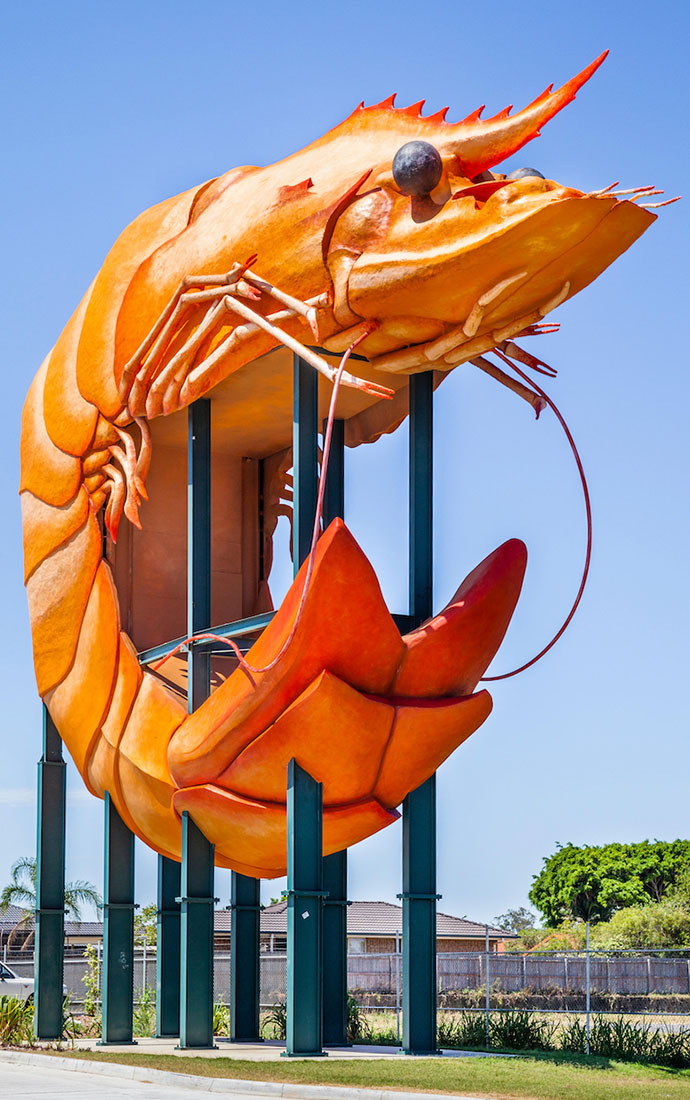 8.
The Big Lawn Bowl, Port Macquarie

Popular legend has it that in 1588, Sir Francis Drake was playing lawn bowls when sightings of the invading Spanish Armada were brought to him. He famously coolly turned to the anxious messenger and said, "what time is Bingo?" Listed as the world's largest Big Bowl (is there a register?), Lake Cathie Bowling and Recreation Club introduced this oversized blue orb one year after it opened in 1975. At said bowlo, you'll find killer $10 lunchtime specials. One to tick off your 'Big Things Bucket List'.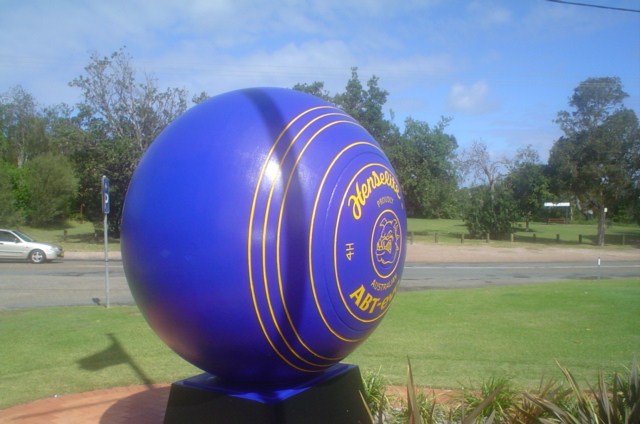 Credit: Wikimedia commons
9.
The Big Ugg Boot, Maitland

These iconic sheepskin boots began life on the Hang-10 toes of Australian surfers. But their global popularity has seen Uggs clad the tootsies of A-list Hollywood celebrities. Deckers Outdoor Corporation, a US footwear giant, controversially claims ownership of the UGG brand. But try telling that to the thousands of road trippers making a pilgrimage to a pair of giant fibreglass Uggs in Maitland. These fee-fi-fo-fum winter thongs, look impressive in any photo. The Uggs were erected in April 2015; the day before the Hunter was smashed by the equivalent of a category-2 cyclone. But in true Aussie fashion, the Uggs held their ground and there they remain. A metaphor?
10.
The Big Oyster, Taree

Erected in 1990 to celebrate Taree's oyster industry, this orphaned mollusc began life as a themed restaurant, then a gift shop, and now sits perched above a car dealership. (I don't know about you, but I always think 'oysters' when buying a new car.) So if you want to look inside the Big Oyster, you may need to test-drive a Nissan Leaf.

Needless to say, it's awkward getting your Big Thing photo without being photo-bombed by new and used cars. Indeed, the handful of pics online is simply aspirational people bragging about their new car to friends on Insta while the gigantic bivalve is hovering over the dealership like the Starship Enterprise. This is why it's my favourite Big Thing.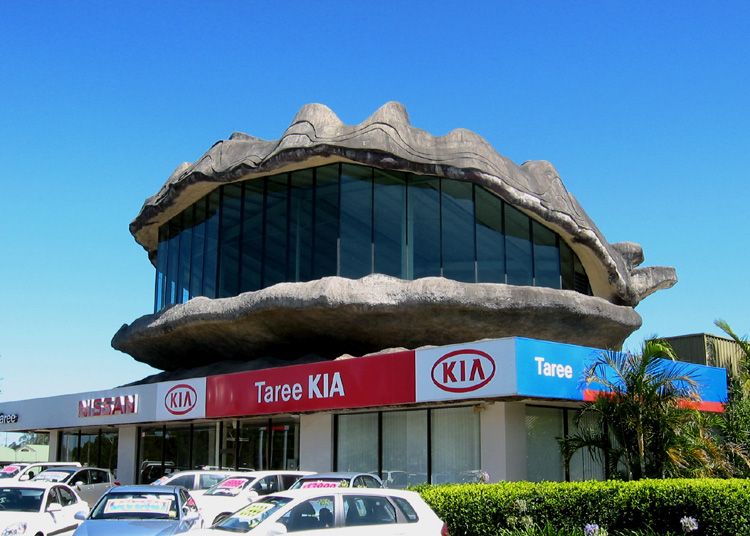 11. The Big Tennis Racquet, Barellan
Anyone for tennis? You just have to be 60m tall to handle this 20:1 scale replica of tennis legend Evonne Goolagong Cawley's signature wooden Dunlop racquet. It was unveiled during Barellan's centenary celebrations in 2009 and pays tribute to the local girl who went on to win seven Grand Slam singles tennis titles. While you're in town you can also hone your tennis skills on the practice wall at Barellan War Memorial Tennis Club, where, as a small child, Goolagong Cawley trained and dreamed of one day winning Wimbledon.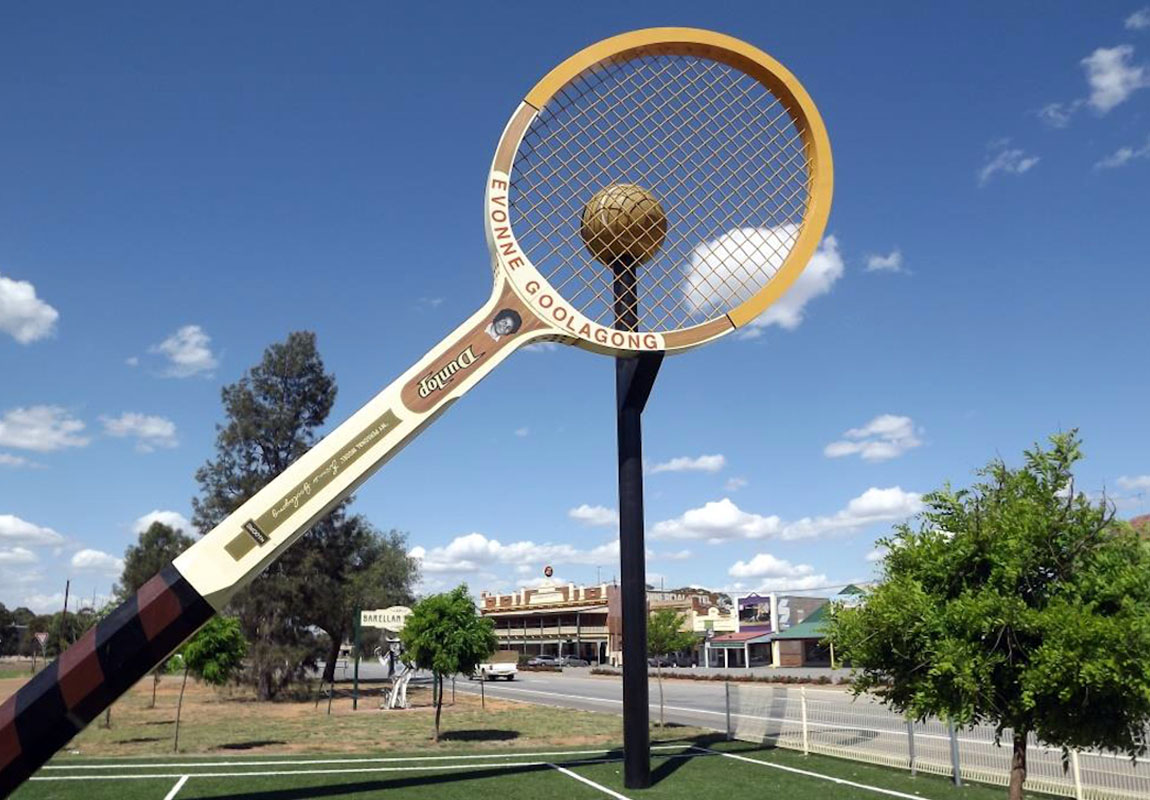 So there are 11 of the finest Big Things NSW has to offer! You see, Big Things are brilliant because they are so utterly
not
. That
'
s what makes them
brilliant
. Have we left off any that you think demand inclusion! Let us know on
Facebook
.