EV Road trip: Jugiong to Parkes 
Enjoy the gastronomic delights, explore the rolling hills, vast plains and rich cultural heritage as you traverse through the Riverina and Central West of New South Wales on this custom-made road trip.
And what's more, you can now take this road trip in the comfort of your electric vehicle – all thanks to NRMA and its network of fast chargers. We've taken the guesswork out and planned the journey for you - including charging stops (say goodbye to range anxiety), places to eat, sleep, discover and enjoy.
Day 1: Jugiong
Before embarking on this trip don't forget to charge up at the NRMA's fast charger in Jugiong on Riverside drive, located near the Great Hume Hume Visitor Information Centre – allowing you to charge your car in about 30 minutes all up.
Stop 2: Start your day at Long Track Pantry 
While there's no shortage of places to kick- start your day with a coffee shot in Jugiong, Long Track Pantry is a neat coffee shop which also sells a delicious selection of handmade relishes and jams. There's also a homewares store within the café selling décor and knick-knacks.
Jugiong is the gateway to the Hilltops Region, where you'll find some of the best wines in the country. Upon leaving, pick up some local drops from the Jugiong Wine Cellar – there's a wide selection to delight the red, white and rose drinkers.
Day 2: Jugiong to Wagga Wagga
1hr 26min | 127km
Stop 1: Explore the Wagga Wagga art scene
Perched on the banks of the Murrumbidgee River, Wagga Wagga is a place where the produce is as fresh as the country air.
If you're a fan of the arts, you'll be stoked with what's on offer in Wagga Wagga. A trip to the Regional Art Gallery is a must, where a range of artwork from outstanding Riverina artists are hosted - as well as plenty of other exhibitions. It's also home to the National Art Glass Collection which houses a world class, nationally significant collection of contemporary art glass.
Stop 2: Get some R&R at the Mantra Pavilion Hotel
You'll find the Mantra Pavilion Hotel is in the perfect location for all things recreational. Exuding quality, style and warmth – its European influence offers a taste of magic for all its guests. An awe inspiring 109 foot fabric roof – the largest of its kind in the world – towers above one of the finest à la carte restaurant in the region. Offering unrivalled quality and flexibility whether you're staying in a studio, family suite or a fully self-contained one and two bedroom apartment, you'll be relaxing in style and comfort.
Day 3: Wagga Wagga to Narrandera
1hr 6min | 99km
Stop 1: Pay a visit to some furry locals
Enriched by historic buildings and cedar-lined streets, Narrandera is the next stop on your Riverina journey.
Known to the locals as Koala reserve, Narrandera Nature Reserve is part of the Murrumbidgee Valley National Park and is home to over 200 koalas. Here, you and the family will see hundreds of these iconic Australian animals in the wild.
Don't forget to charge at the NRMA fast charging station, located in the Narrandera's Visitor Information Centre – available to motorists 24 hours a day.
Stop 2: Play the Big Guitar
Make a pit-stop at the Big Guitar – Australia's biggest playable guitar on display at the Narrandera Visitor Information Centre. Made from plywood and measuring 5.820 by 2.019 metres, it was built to help promote the Country Music Club of Narrandera.
After a day of discovery, you'll have worked up an appetite. Get your food fix at the Lazy Lizard – a family friendly licensed restaurant where you can order a country style meal in a seventies style restaurant.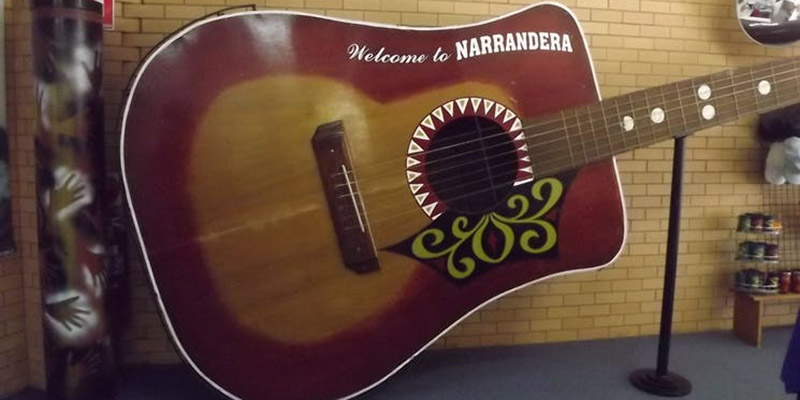 Day 4: Narrandera to West Wyalong
1hr 22min | 135km
Stop 1: Discover the goldmining heritage
Often a missed treasure on the Mid-Western Highway, West Wyalong is a picturesque town with a wonderful meandering main street.
Discover the town's goldmining heritage by paying a visit to the Wyalong Museum and at the 25-metre True Blue Mining Poppet Head – the structure above a mine shaft – at Cooinda Park, a popular picnic spot.
Stop 2: Stop by Thom, Dick and Harry's
Stop 3: Recharge at the NRMA fast charger
If you forgot to charge up while in Narrandera, don't fret – head over to 13 Shire Street, across the road from the Visitor's Information Centre and make use of the NRMA fast charger that's been installed there.
Day 5: West Wyalong to Parkes
1hr 35min | 138km
Stop 1: Visit an icon of Australian science
1 and a half hours journey North West lands you in the 15,000-strong town of Parkes, another gold rush settlement and home to the annual Elvis Festival.
Drive 20 kilometres north through farmlands to see the 64-metre telescope that helped broadcast man's first moon walk and has since found more than 2,000 pulsars. There's an onsite cafe, with glass walls (so you can keep looking for signs of alien life while you're eating), serving beef and red wine pies, burgers and fat sandwiches.
Stop 2: Take a trip to the '50s
Next up, you're heading into the '50s - and beyond — at the Henry Parkes Centre. This museum specialises in four things: Elvis, Henry Parkes, old cars and old machines. There's also a bunch of family photos of Tommy Emmanuel, who lived here from age 12.
Stop 3: Unwind at Hotel Gracelands
For a slick, four-star stay, check into Hotel Gracelands. This newly renovated 20-roomer is splashed in earthy tones, making it a cool retreat on hot days.
Stop 4: Recharge at NRMA's fast charger
Before you make your way home, don't forget to charge your electric vehicle at the NRMA's Parkes fast charger It's located at the Parkes Swimming Pool, on Dalton Street.
#WhyWeRoadTrip
If you are a local business or a traveller passing through, we want to hear why road trips are important to you!