EV Road trip: Mittagong to Batemans Bay
Important Safety Message
With recent wet weather and flooding across Australia's east coast, check Live Traffic to ensure the route is safe before driving to any of the destinations below. Ensure your NRMA roadside assistance is up to date before any road trip and never drive through flood water. If you are in a dangerous situation and immediately impacted by the floods, call the emergency services.
From the majestic coastline to the green hinterland, a road trip from Mittagong to Batemans Bay will surprise you with magnificent beaches, spectacular national parks and memorable animal encounters.
And what's more, you can now take this road trip in the comfort of your electric vehicle – all thanks to NRMA and its network of fast chargers. We've taken the guesswork out and planned the journey for you - including charging stops (say goodbye to range anxiety), places to eat, sleep, discover and enjoy.
Day 1: Mittagong
Stop 1: Explore the charm of the Southern Highlands
For a long time Mittagong has been the Cinderella of the Southern Highlands. Known as the 'Gateway to the Highlands' – it might not have the chic charm of Bowral or the historic integrity of Berrima, but it is as picturesque as it is peaceful. Home to tranquil vineyards and fine colonial sandstone buildings, here you can breathe in fresh country air, and explore gorgeous gardens and parks.
But before you venture off, don't forget to charge up at the NRMA fast charging station located at the Mittagong RSL.
Stop 2: Visit the many cellar doors 
The area's rich soil and high altitude are ideal for wine growing. Visit cellars doors in the hills and valleys around Mittagong, including Artemis Wines and Tertini Wines – or you could try local wines matched with a sumptuous degustation menu at the restaurant of the 1830s-built Fitzroy Inn.
Day 2: Mittagong to Kiama
1hr 6min | 68km
Stop 1: Visit the Blowhole
Famous for its blow holes, the gorgeous lighthouse view and, of course Jamberoo Action Park (where you control the action), Kiama has been known as the Illawarra's primo destination for more than one reason.
Make your first stop the Blowhole and for the most powerful action, swing by when the tide's high and the swell is rolling in. You'll get beautiful coastal views and if you're keen for a dip, there's a rockpool close by.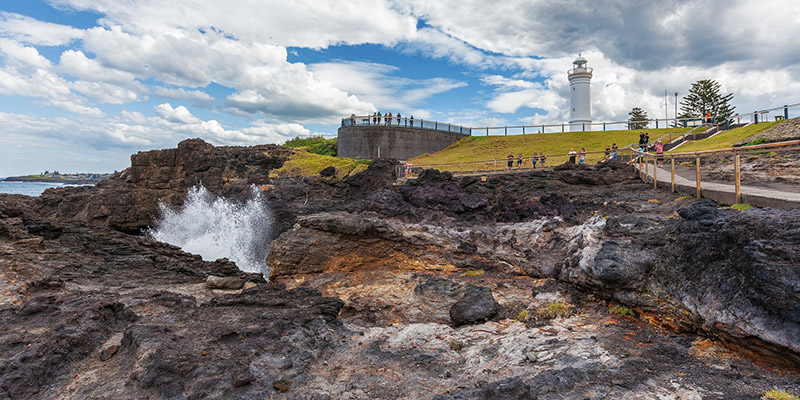 Stop 2: Conquer the Kiama Coastal Walk
Next up, you might want to conquer the Kiama Coastal Walk. All in all, it covers 22 sea-hugging kilometres, starting at Minnamurra River mouth and finishing at Gerringong. The way is dotted with beaches, headlands, basalt and patches of rainforest.
Stop 3: Put your feet up at Bellevue Accommodation
If you're after a touch of 'The Hamptons' in Kiama, head to Bellevue Accommodation. A Heritage building located on the town square, it offers six one-bedroom, fully self-contained individually designed contemporary apartments with a separate living and dining area – all opening onto wrap around balconies with beautiful views of the gardens.
Day 3: Kiama to Berry
21min | 23.4km
Stop 1: Stop by the famous Berry Donut Van
Head twenty minutes south of Kiama along the coastline and you'll bump into Berry, a stylish country town with an abundance of warmth and charm.
Pick up delicious cinnamon doughnuts from the Berry Donut Van, a local institution found on Queen Street, and if you're there in December, head along to the Fairgrounds Festival for two days of artisan food, markets and music.
Stop 2: Recharge at NRMA's fast charging station
Once you've reached the town of Berry, your first stop should be to charge up at the NRMA's fast charging station. Located at the Berry Bowling Club, you can make use of the local amenities while charging.
Stop 3: Get your gourmet food fix
At Berry Produce Markets, you can stock up on the freshest, community-grown produce. Local growers, producers and providores are at these popular markets every second Saturday and Fourth Sunday of the month. Otherwise, drop into South Coast Providores for your gourmet food fix.
Stop 4: End your day at Silos Estate
A quadruple treat, the Silos Estate makes wine, farms alpacas and has a restaurant and country-style accommodation. Nestled amongst sprawling vineyards and landscaped grounds, the accommodation at Silos Estate offers magnificent views of rolling green hills, the Great Dividing Range escarpment and of course, the vines.
Day 4: Berry to Batemans Bay
1hr 55min | 136km
Stop 1: Stop by Australia's 'Oyster Coast'
At the sparkling entrance of the Clyde River, an estuary famous for oysters, sits Batemans Bay. Well known for its coastline dotted with beautiful beaches and mangroves, it's a great place to throw in a fishing lines – or head out to sea on a fishing charter – go kayaking, stand-up paddle boarding or sailing.
Stop 2: Pay a visit to Mogo Zoo
The playground at Eurobodalla Regional Botanic Gardens (seven kilometres south of Batemans Bay, just before you get to Mogo) is also worth a visit if you're travelling with kids. It's the perfect place to let them burn off some energy on a road trip.
Don't leave Mogo without visiting Mogo Zoo — the collection includes Nepalese red pandas, white lions, snow leopards, bears and tigers. They have a range of animal encounters and you can go behind the scenes and become a keeper for the day. Alternatively, if you prefer to see Australian animals in the wild, head to Murramarang National Park, where you can often see kangaroos on the beaches and around the picnic areas.
Stop 3: Grab a bite to eat at Sam's Pizzeria
Popular with locals, Sam's Pizzeria does good food and has good water views and some of the best food in town. Also on the waterfront, Boatshed, open daily, is the place to go for fish and chips.
Stop 4: Relax and unwind at Murramarang Beachfront Nature Resort
Murramarang Beachfront Nature Resort has one- and two-bedroom villas right on the edge of the sand, as well as powered caravan sites, a licensed restaurant, playground and swimming pool. An added attraction is the resident mob of kangaroos that call the resort home. If your kids have never had the chance to see a wild kangaroo up close, this is the perfect place.
Stop 5: Recharge at NRMA's fast charger
Before you make your way home, don't forget to charge your electric vehicle at the NRMA Batemans Bay fast charger. It's The station has located in the car park at the Batemans Bay Visitor's Centre
#WhyWeRoadTrip
If you are a local business or a traveller passing through, we want to hear why road trips are important to you!