Road trip: Ballina and Tweed Head Hinterlands
While the coast road from Ballina to Tweed Heads is a tourist mecca, venturing west into the hinterlands is sure to take your breath away.
This road trip starts by taking you to the 'Rainbow Region' and deep into the Hinterland before reaching the beautiful and relaxing Byron Bay. From hauling in your own lunch, to exploring a small village and avocado farm, this trip will certainly be one to remember.
Image credit: Destination NSW
Day 1: Lismore
8hrs 10min | 738km | Sydney start base
Dubbed the Rainbow Region, Lismore is famous for its Tropical Fruits Festival: a GLBTI celebration, as well as its rich cultural life reflected in the number of art galleries, theatres, performing art spaces and markets. Discover outdoor sculptures along the riverbank on the Wilsons River Experience Walk. A great way to experience the town's galleries - and vintage and recycling markets on weekends - is on the Arts, Vintage and Retro Trail, a delightful walk that includes street art and the Lismore Regional Gallery.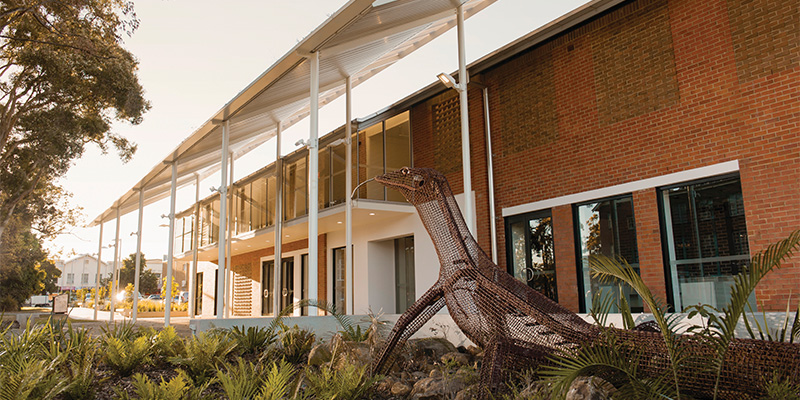 Stop 2: Lunch at Mecca Cafe
A diner almost untouched since it opened in 1932, take a trip down memory lane in the oldest cafe in town 'Mecca Cafe'. A licensed cafe offering indoor or outdoor dining right in the heart of Lismore CBD.
Stop 4: Take a trip to the cinema!
Stop 3: Elindale House B&B
With its old world charm and cosy hospitality, Elindale House B&B is a popular choice with travellers. It's located on a pretty street, in a central location making it an idyllic place to take a rest. All rooms feature a queen-size four-poster bed and large en suite bathroom, a private balcony, and tea/coffee making facilities.
Be sure to wake up in time for breakfast, Nanna's recipe for blueberry pancakes is a must-try. And of course, vegan and gluten-free breakfast options are available too.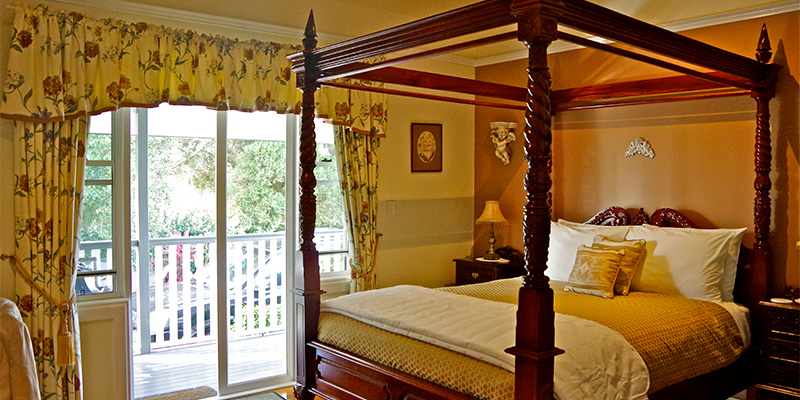 Day 2: Lismore to Eltham
16min | 15km
Stop 1: Summerland House Farm
A macadamia and avocado farm set in the rolling hills of the Alstonville Plateau, Summerland House Farm's founder, Lionel Watts, also created the House with no steps after having contracted polio and being left a quadriplegic. With the farm's stately avenues of macadamia trees, it employs mostly disabled workers. Take a tractor tour, play mini-golf and visit the museum, then follow with lunch in their café to sample the famous Macado Salad.
Stop 2: Explore the village of Clunes
Next point your car to the village of Clunes, a picturesque and laid-back town, where you'll step back into the gold rush era, with streetscapes straight out of a colonial history book. Make a pit stop at Doma Café and sip a latte to the sound of chiming bellbirds and the bush punctuation marks of a whipbird.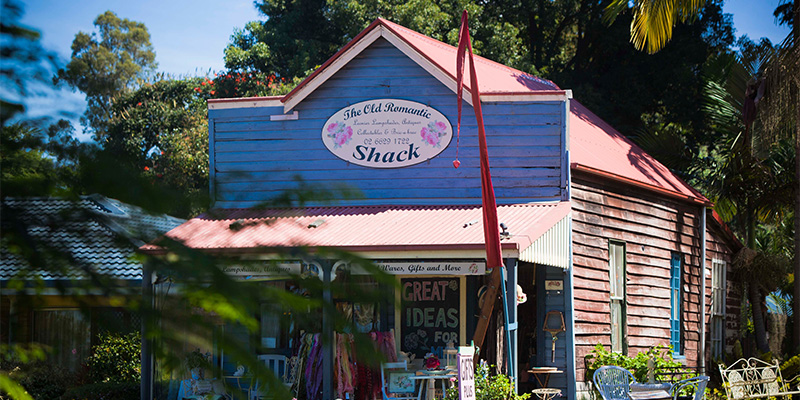 Driving deep into the hinterland and stop at the Eltham Hotel, built in 1902. Dine on slow-cooked lamb shoulder so tender it gives us goosebumps. Former school principal, Lorraine Barlow, runs this country pub. This one-horse town is worth the pit stop if you like fine dining and wine.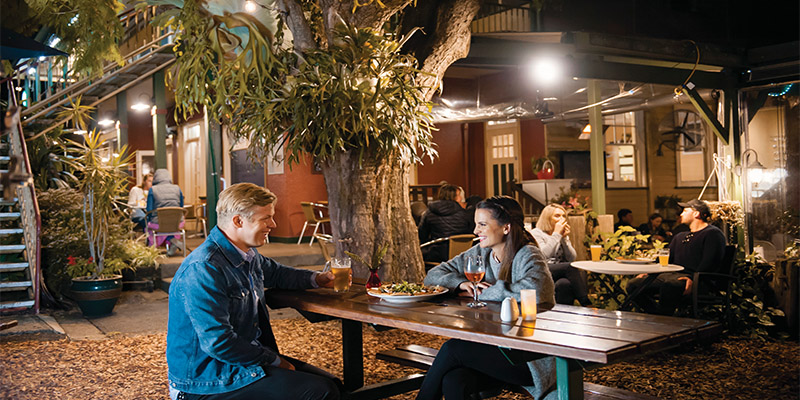 Day 3: Eltham to Byron Bay
40min | 36km
Stop 1: Stroll along the beach
Wind further up into the hinterland and then make our way down to Byron Bay. Park up and stroll to the beach to admire Byron's breathtaking beauty and the spectacular lighthouse perched above the town like a sentinel.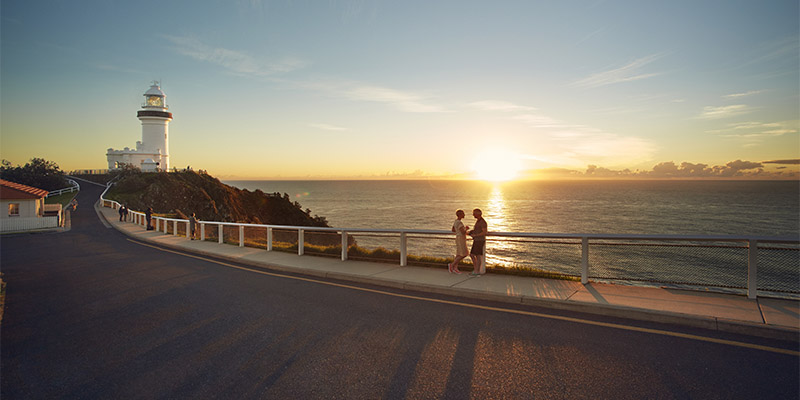 Stop 2: Haul in your lunch
Catch a Crab is a river adventure tour is a river cruise activity which sees its passengers catch crabs, pump yabbies and reel in fish, before returning to land for a seafood feast. Gorge on mud crabs as big as truck wheels and slurp freshly shucked oysters.
Discover the Northern Rivers Region
Take a detour into the sub-tropical hinterland in the Northern Rivers, where you'll find rolling hills, pristine rainforest, secluded waterfalls and spectacular views. Head to the Crystal Castle at Mullumbimby – you'll get beautiful views, awesome food, and some crystal healing. Don't forget to stop by the chic-coastal kitchen The Kingswood for a glass of natural and low intervention wine, as well as a few share plates.
Stop 4: Stay at Santai Resort
Drive on north to Santai Retreat in Kingscliff. This slick poolside resort, with its Balinese aesthetic and twitching palms, is a grand affair. We could well be in Denpasar. The rooms are uber-stylish and an endless ribbon of beach is only 50 'thong-thwacks' down the road.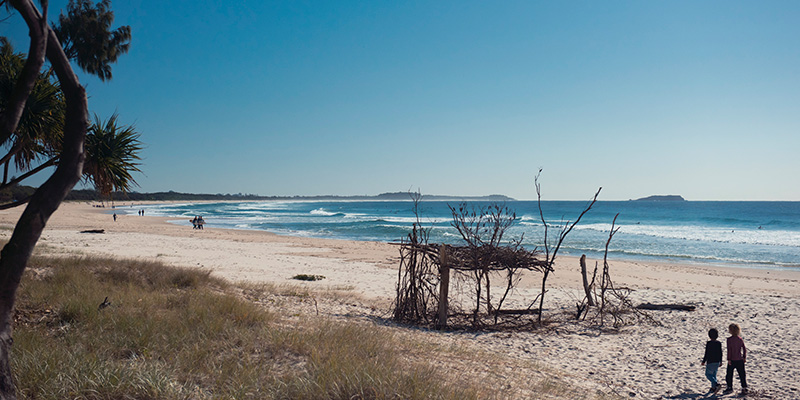 Day 4: Byron Bay to Tyalgum
1hr 7min | 75min
A lazy meandering drive away from Byron Bay is the pretty village of Tyalgum. It's a magical place with cafés, artisans, music festivals and smiling denizens. A sign above an arts and crafts shop explains: "Tyalgum is my Tuscany". At Flutterbies Cafe, with its French linen, fresh flowers and vintage crockery, enjoy the legendary flutterby cake. The turn-of-the-century tea room also houses a gift shop specialising in shabby chic.
Stop 2: Rest at Mavis's Kitchen and Cabins
When Peter and Charlie, the owners of Mavis's Kitchen and Cabins, relocated their restaurant from the Gold Coast to Mount Warning, they brought their Queenslander house with them (cut into three pieces). This picturesque ex-dairy farm has since been converted into stylish cabins. The attention to detail is impressive and the food is five-star, with fresh organic produce from their gardens. Stay in the Secret Cabin, a hideaway ideal for honeymooners or those celebrating wedding anniversaries.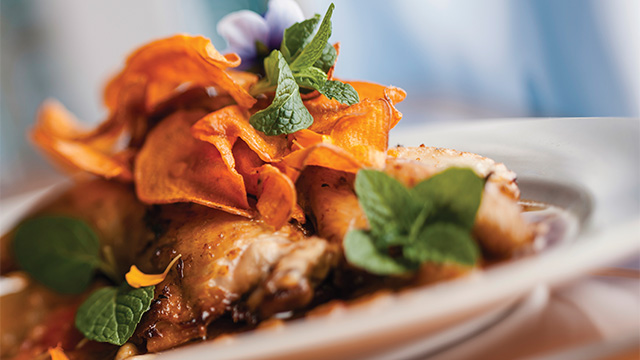 Stay 4 nights, only pay for 3
Or save 10% on shorter stays at NRMA Holiday Parks and Resorts.