This year round destination on the delightful Ovens River is a treat for the senses, with spectacular mountain scenery and produce laden orchards complemented by a vibrant dining scene and opportunities for adventure.
Dip in Ladies Bath Falls

Taste at Bright Brewery

Trek through the Mount Buffalo National Park

Wander the Wandiligong Maze
Located 3.5 hours' drive from Melbourne, Bright caters equally to families and couples with its rich mix of activities, quality restaurants and cafes, wineries and scenic splendour. An ideal base to explore Victoria's alpine region, the town of not much more than 2000 people punches well above its weight in terms of inventiveness and hospitality, setting the standard for the various beguiling townships and hamlets that surround it.
Where to eat
Sole e Luna serves up modern Italian dishes "with a twist" from owner/chef Frank, who worked at top restaurants in London and Melbourne for 13 years before returning to his home town.
Feathertop Winery at Porepunkah became the first winery in the Alpine Valleys area when it opened its cellar door in 1989, and it hasn't looked back since. Producing 22 varietals from its vineyard (from familiar shirazes and rieslings to fiano and dornfelder), it caters not only to tastings but has a restaurant, deli/cafe, accommodation, playground and cycling facilities.
Located 6km from Bright on the Murray to Mountains Rail Trail, Porepunkah's Mexican inspired Rail Trail Cafe dishes up breakfast burritos, chicken quesadillas and nachos, along with home made cakes and scones and locally roasted coffee. There are sand play areas and gardens for children to explore.
At Bright Brewery, kick back with award winning craft beers from 24 taps, all brewed on site. Better still, select dishes from the brewery's restaurant that are paired with its beers. How about southern style smoked pork ribs matched with Staircase Porter?
Bright's riverside Ginger Baker cafe and wine bar starts the day with delicious breakfasts and coffee before switching to its signature seasonal share plates for lunch and dinner.
Bright
Ladies Bath Falls Mount Buffalo (Photo credit: Visit Victoria)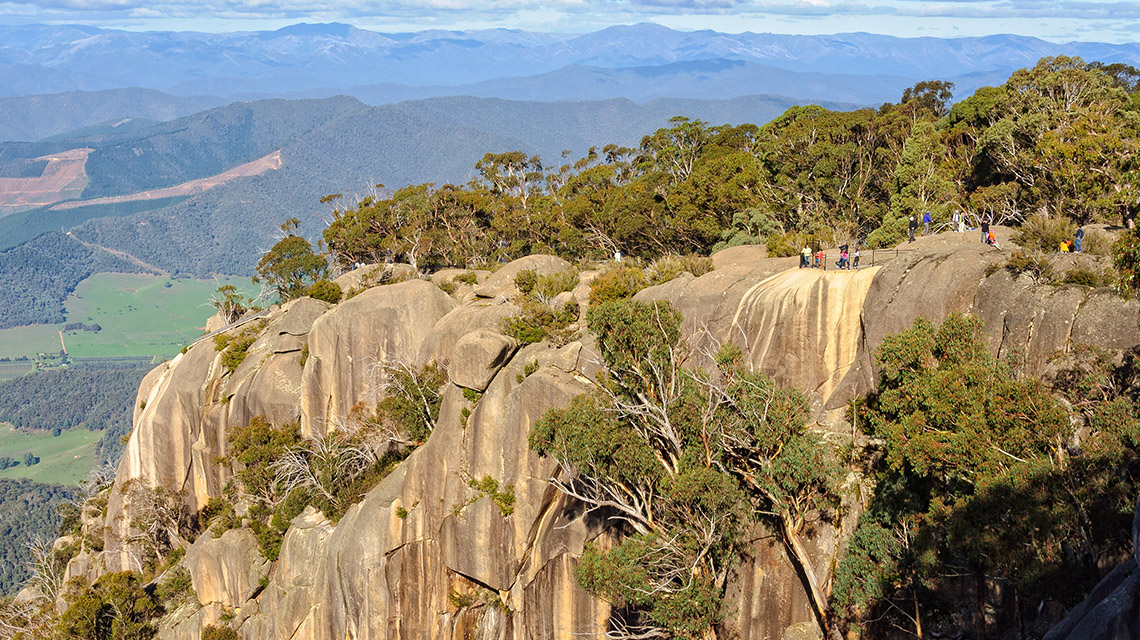 Mount Buffalo (Photo credit: Visit Victoria)
Where to play
Wandiligong Maze and Cafe – five minutes from Bright in the National Trust classified Wandiligong township – is host to Australia's largest living hedge maze, with 2km of pathways posing a Herculean challenge for all incomers. Race the clock or take your time to smell the garden's heritage roses before enjoying a famed Wandi sponge cake at the licensed cafe.
At Bright's Cloud 9 Cinema & Bar, arthouse titles and foreign movies are shown alongside latest releases in a sumptuously restored bluestone cottage. Take a seat at the bar, too, to linger over cocktails and local wines.
Twenty minutes from Bright in the Mount Buffalo National Park you'll find one of the area's most magical spots. Reached by a 400m track, Ladies Bath Falls offers visitors a refreshing dip under clear waterfalls flowing from the mountain's granite peaks. Pack a picnic and spread yourself over the boulders by the pool's edge.
Arguably Bright's easiest sell, the Bright Chocolate Factory has tastings every day as well as short tours covering the bean to bar process. Afterwards, refuel with a hot chocolate, cacao tea and freshly baked goodies.
Where to move
The Ovens and Buckland Rivers are a kayaker's delight for floating down pristine streams or tumbling down rapids. Local operators can lead you on short trips through calm waters, or instruct you on how to tackle the more challenging sections.
The family friendly Canyon Walk along the banks of Ovens River can be completed by either 45 minute or 1.5 hour loops. Clearly signposted, the walk starts from Howitt Park and takes you past interpretive signs telling the story of the area's gold mining history.
The Murray to Mountains Rail Trail linking Bright to Beechworth, Rutherglen and Wangaratta traverses bushland and farmland, through hidden valleys and beneath towering mountains. Suitable for cyclists and walkers of all ages, the trail has more than 100km of sealed trails along which to discover the region's many charms.
Mount Buffalo National Park is a natural playground, with more than 90km of walking tracks, 14km of marked ski trails, canoeing on Lake Catani in the summer months, sheer cliffs, granite tors, waterfalls and wildflowers.
At Bright Mystic Mountain Bike Park there are trails suitable for everyone from beginners to "heroes". New to the game? Head to the Pump Track or Play Ground, where you can still get your heart racing without straying too far from your comfort zone. Cross country more your speed? Take on Corkscrew or Caros. Then there's the park's jewel, the Hero Trail, with its berms, tabletop jumps and ramps.
Where to stay
NRMA Bright Holiday Park, set on Morse's Creek, offers a range of self contained cabins, villas and spa cabins, as well as ensuite, powered and unpowered sites for caravanning and camping. A short stroll from all Bright's main attractions, the park's family friendly facilities include a barbecue area, heated pool, camp kitchen, children's playground, mini golf, lounge and TV area, go karts and free wifi.
Get more out of your getaway
Download the my nrma app to find attractions and exclusive Member benefits nearby