Getting to know the people of outback NSW can paint a very different picture of this seemingly inhospitable region.
From the giant mullock heap looming over its residents to the Khrushchev-era workers' murals dotting the streetscape, Broken Hill is a fascinating place. This tough union town once boasted over 70 pubs. Indeed, when I was here 25 years ago, I wouldn't have dreamt to walk into a pub and order a Campari and soda. But the Hill has grown up and now has 20 art galleries, and only four pubs.
One of those establishments is the Palace Hotel. What strikes you most about the Palace are the bizarre kitsch frescos adorning its interior. Erstwhile owner, Mario Celotto, painted a copy of Botticelli's 'Birth of Venus' on the ceiling and offered anyone £1000 to match his stellar brushwork. Indigenous artist Gordon Waye won the challenge and went on to paint the remaining murals. The only mandate given to him was that each of the frescos had to contain a water scene to project the pub as an 'oasis in the outback'.
In 1994, the pub's iconic status grew when it was featured in the landmark Aussie movie, The Adventures of Priscilla, Queen of the Desert. On our first evening, we stay in the 'Priscilla Suite', the very room where the film's characters stayed. This cheesy setting is utterly hilarious and, if it doesn't bring a smile to your face, you're dead from the neck up. I slip into one of the pink dressing gowns provided for guests and sip on a G&T, as the strains of the pub's drag show emanate from downstairs.
Over a delicious dinner, we chat with one of the pub's owners, Esther La Rovere. She grew up in Broken Hill but left for the big smoke at 18 years old, before returning to partner in the business when it needed a lifeline. I ask her about the pub's role in Broken Hill celebrating diversity. Esther, still sweeping up a rainbow of glitter from the recent Broken Heel Festival that attracted record crowds this year, says, "We had people coming from all around Australia and the numbers are growing every year."
The following morning, we enjoy a fabulous brekkie at The Caff, with its funky bus seats and killer lattés, before meeting Tri State Safaris' Indigenous guide, Mark Sutton. As we drive to Mutawintji National Park, Mark stops the car to talk about a tree or lizard, or to drag a dead roo the size of an NRL front-rower off the road. This is to protect wedge-tailed eagles, he says, who have poor uplift ability to avoid oncoming SUVs like ours.
That afternoon we arrive at Silverton, 30 minutes outside Broken Hill, to make a nitro-fuelled beeline for the Mad Max Museum, which celebrates the area being the shooting location for much of the second film in the franchise. The museum is a must-see for any fun-filled post-apocalyptic road trip. We meet its owner, eccentric Englishman Adrian Bennett, who tells us in his heavy Yorkshire drawl: "As an eighteen-year-old living in Bradford, I saw Mad Max and Mad Max 2 in a double feature. I'd never seen anything like it in my life. So my mates and I chased the film all over Yorkshire."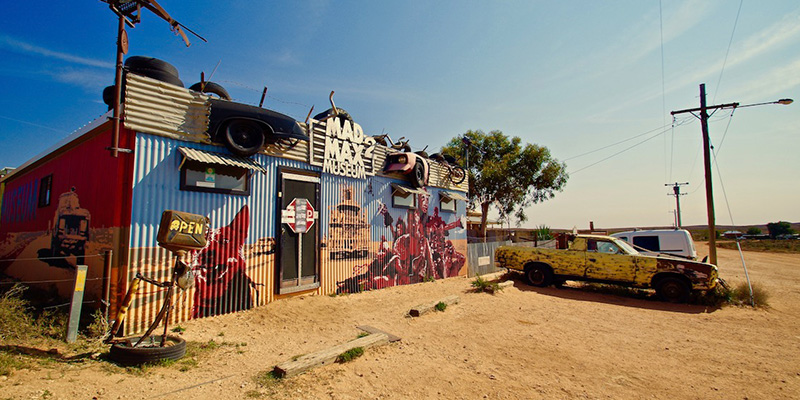 When, 20 years later, Adrian moved halfway around the world to set up his museum, his wife Linda was unimpressed. But, he says she has since fallen in love with Silverton. That evening we stay at the Silverton Hotel, one of the most iconic pubs in Australia. It was on this site that, in a quiet backroom, seven miners were said to have formed the Broken Hill Proprietary Company Limited (BHP).
Perched at the bar, I look up to see politically incorrect signs on the ceiling – most are unprintable. Over a frothy schooner, I meet Adrian Marshal, who's here for the Outback Challenge. This gruelling 4WD event takes place over a week. Outside, he shows me his bloated vehicle in which its previous 4.2-litre diesel engine has made way for a supercharged 355 Holden V8.
We later join Silver City's tour of the town. Depending on your outlook, the bus is either half-full or half-empty. Our fabulous septuagenarian driver, Eric, is a fount of knowledge about the town's every aspect. As we pass one derelict pub, Eric says from the corner of his mouth, "In that pub you'd a get a fight quicker than a drink." The passengers chuckle. It's almost a religious experience when we alight atop the mullock heap overlooking the town. Eric gestures an arthritic finger to the rusting cage where he descended into the bowels of Broken Hill for 22 years. He walks us over to a memorial for dead miners and it suddenly puts the town's giant workers murals in perspective and highlights the valuable role unions have played in our mines.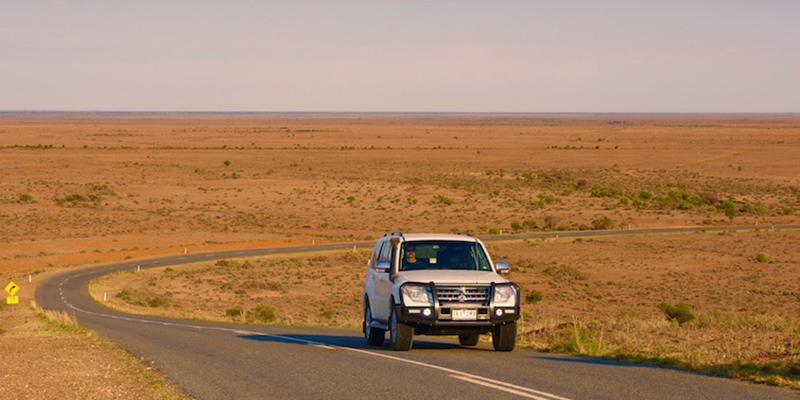 Our final night is spent at ibis Styles Broken Hill. It's aptly named as it's more upmarket than other ibis hotels we've nested in previously. On the drive out of Broken Hill, we pass an endless monochrome of grey saltbush, framed in Mars-red soil, and can't help wondering what other changes will occur in Broken Hill over the next 25 years.
Hitting remote outback roads in central NSW and beyond can be an exciting prospect for motorists, but there are some extra factors to consider. Take water and food on your journey, fuel up where you can and pack emergency and first aid kits. Be aware of wildlife hazards that may increase at dusk or night, and slow down if you see wildlife nearby.
This story first appeared in the NRMA's Open Road Magazine - November/December 2017 Issue.