A match 97 years in the making
The NRMA and Qantas – we're two of Australia's most iconic brands. Both 97 years young, having started in the same month back in 1920, and we're both focused on keeping Australian's moving. Now we're teaming up with Qantas Business Rewards to deliver more value and more reward to our business Members on the move.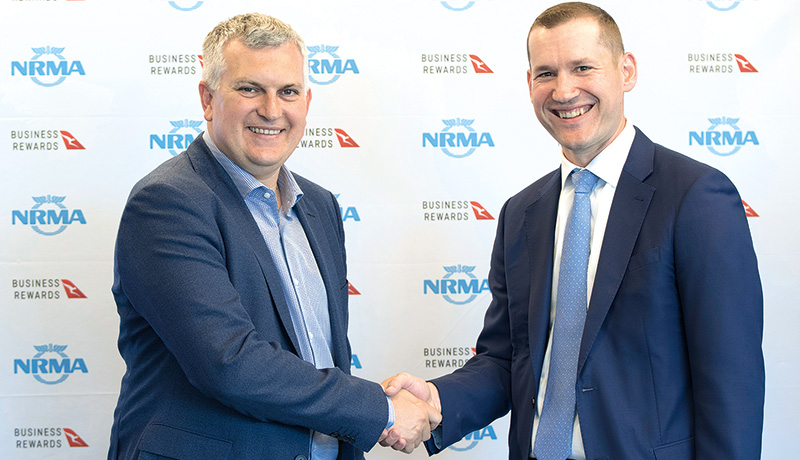 Rohan Lund – NRMA Group CEO and Igor Kwiatkowski – Executive Manager Qantas Loyalty
A big bang for smart business bucks
Keeping staff safe and customers serviced is a basic responsibility of every business, and now there's extra incentive to fulfil that responsibility.
With free Qantas Business Rewards membership and an impressive 4 Qantas Points on offer for every dollar spent on roadside assistance for business, there's never been a better time for you to make the smart decision and ensure that all your work vehicles have nationwide support on the road.
"Every business that has vehicles on the road wants to ensure that those vehicles are on the road and not at the side of the road," said Eric Jelinek, Head of Qantas Business Rewards. "And now the opportunity to earn points for that - it's a no-brainer."
What is Qantas Business Rewards?
Qantas Business Rewards is the loyalty program that rewards Australian businesses on over 50 everyday expenses including flights, fuel, workplace supplies and now roadside assistance.
Members can save on flights, and Qantas Points earned by the business can be transferred into any Qantas Frequent Flyer account and used to save on business costs, or to reward business owners or staff with flights, upgrades or products from the Qantas store.
As an idea of how far these points can get you, Qantas Business Reward members can upgrade from Sydney to Melbourne for just 5,000 Qantas Points or fly Sydney to Los Angeles Business one way for 96,000 Qantas Points plus taxes, fees and carrier charges.
And with 4 points for every dollar spent on NRMA roadside assistance, this new partnership is a great opportunity for businesses to get a big head start on their points balance.
What to do next?
To take advantage of this and the many other benefits of NRMA Membership for your business, it's time you got the protection of roadside assistance for all your vehicles. From passenger vehicles, vans and utes through to the biggest buses and trucks, we'll keep your business covered across Australia, 24/7.