Winner: Ford Focus ST
Second: Ford Fiesta ST
Third: Renault Clio RS
Winner: Ford Focus ST
Australians have always had a love affair with performance cars, and for decades Aussie muscle cars, powered by six-cylinder and V8 engines, dominated the sports car sales charts. Depending on who had won that weekend in the muscle car races in the '60s, '70s and even into the '80s, sales of Falcons or Commodores would spike on the Monday.

However, with Holden and Ford closing operations in Australia, and the Commodore and Falcon badges now destined to adorn products from other parts of the globe, comes the news that no Aussie car enthusiast wanted to hear: there are no plans for the replacement models to house V8s. This means that the four-cylinder turbo-charged models that dominate the Sports Cars Under $50,000 category will become a lot more popular.

For the second year running, Ford Focus ST has taken out this class, which is no mean feat given this is highly competitive segment which carries a varied line-up of affordable hot hatches, sedans and coupes.

The ST has been slightly overshadowed by its fire-breathing brother, the RS, which has created quite a stir in the hot hatch market. But its higher price tag separated the pair in this competition.

With a 38-point gap between the ST and the second-placed Ford Fiesta ST, there was no denying the Focus offered the best bang for your buck. The ST is a clear winner in the area of design and function, helped, in part, by boasting the best seats in the class. They are well bolstered and provide good comfort and support whether you're on the track or a country drive. Fords' clever Sync2 system, combined with the eight-inch touch-screen that incorporates satellite navigation, saw the ST also voted the class leader for ergonomics.

The ST was equal class-leading for performance and braking with the Holden Astra VXR – not surprising given its 2.0-litre turbo engine pumps out 184kW of power and up to 360Nm of torque. Performance enthusiasts rejoice as the ST comes with a six-speed manual transmission for a better sports car feel.
The ST is more about straight-line performance supported by good handling, rather than excellent handling supported by good performance, as is the case with the Fiesta and Renault Clio. Ford has upgraded the ST's overall dynamics which improves front suspension, steering and overall handling but the ST can't match the other finalists for point-to-point precision.

The ST starts life as a regular Focus, which has always been at the top end for handling in the small car stakes. However, apart from the more powerful engine, the ST gets lots of extra goodies and go-fast bits such as sports-tuned suspension, Recaro sports seats (driver and front passenger), sports body kit, bi-xenon HID headlights, LED daytime running lights, dual centre exhaust, 18-inch alloy wheels, sports alloy pedal covers, Ford SYNC emergency assistance and an alarm. In fact, its standard features list leaves daylight between it and all but one other contender in this class, the Subaru WRX.

For less than $50,000, the ST offers a lot at a reasonable price, and back-to-back wins further cement its credibility as a hot hatch in this extremely competitive market.
Second: Ford Fiesta ST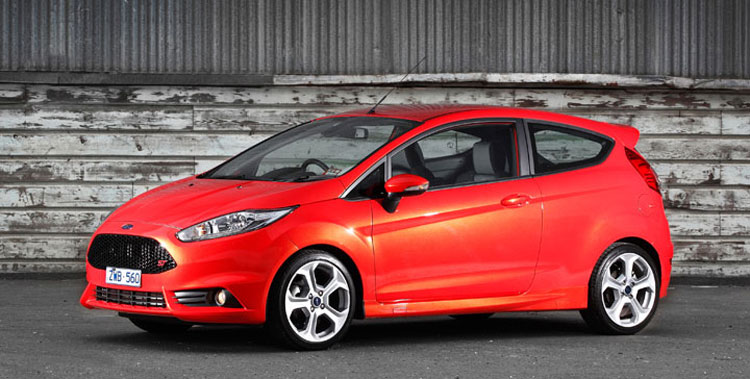 Fun, Fun, Fun with a capital "F". The baby Fiesta always brings a smile to the judges' faces when it's put through its paces at testing week.

We really need a 'Seat of the Pants' criterion,' one judge said. "The Fiesta is not the fastest or best handing but it is just so much fun. No matter how much you throw it around, it's just balanced, composed and predictable."

The Fiesta ST's 1.6-litre engine produces 134kW of power and 240Nm of torque and is well-matched to the six-speed manual gearbox. The sports suspension has been tuned to emphasise the car's sure-footed behaviour and sharp turn-in.

At a fraction under $30,000 on the road, the ST is the third cheapest in the class. This, combined with good fuel economy and low running costs, see it one of the top scorers in the value for money criteria. It's not strong for standard equipment but there is a whole swag of cars in this category that fare worse. It still comes with some nice touches such as rain-sensing wipers and automatic headlights, daytime running lights and single-zone climate-control air-conditioning. And it's good to see a driver's knee airbag in a car of this price.
Third: Renault Clio RS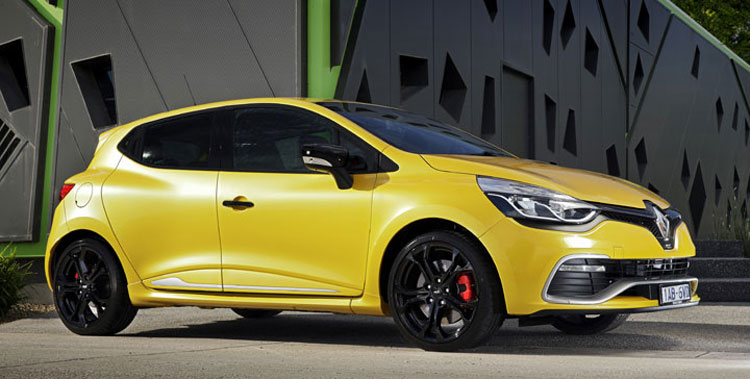 Renault's baby hot hatch was down the list last year, with its bigger brother Megane RS snatching the silver medal in 2015. However, movement in the class (four models dropped out and there were changes across the field) has given Clio a big boost.

The sports Clio has a strong 1.6-litre, turbo-charged engine that produces 147kW of power and 240Nm of torque. It is a great-handling hatch with good safety, performance and ride comfort.

Clio's quirks worked against it, with things such operating the cruise control (you have to switch it on via a button down near the centre console and the buttons are hidden behind the steering wheel) and its slightly irksome dual-clutch gearbox (there is no manual available) hurting the little French hatch when it came to ergonomics, performance and smoothness and quietness.

The RS didn't score well against its rivals for standard features but it still has a good equipment list with items such as launch control, "Cup" chassis, RS Drive with three modes, a limited slip rear differential, heated Renault Sport leather seats with red stitching, climate-control air-conditioning, digital speedo, a rear camera, satellite navigation, seven-inch touch-screen and 18-inch alloy wheels.

The RS is also covered by a five-year factory warranty.