Would you knowingly let your child behind the wheel of a car if you knew they'd be four times more likely to die in the event of a head-on collision? What about your elderly parents?

It's a chilling thought.

Yet, recent findings from crash testing body, ANCAP, reveal that older vehicles - built in the year 2000 or earlier and representing one in five cars on our roads - are involved in one-third of fatal crashes. It begs the question if our most vulnerable drivers and their passengers at risk every time they hit the road?
Old versus new comparison car crash test
In a bid to demonstrate the improvements in vehicle and passenger safety over the past 20 years, ANCAP engineered a collision between a 1998 Toyota Corolla hatchback and its 2015 counterpart, in the first-ever comparison crash test of its kind.

Sending the cars into each other at 64km/h, the results were dramatic.

While the newer model received 12.93 out of 16 points and a 5 star rating according to ANCAPs 2016 standard, due to its stronger safety cell and modern technology, such as airbag deployment to protect the driver and passengers, the older vehicle didn't fair so well.

Scoring a 0.40 out of 16 points for front occupant protection - a zero star rating, the 1998 Toyota Corolla was described as suffering "a catastrophic structural failure" by ANCAP, with an extremely high risk of serious head, chest and leg injury to the driver.
The risk for the inexperienced and senior drivers
The test clearly shows the benefits of being behind the wheel of a modern car in a head-on crash, with further analysis of Australian fleet vehicles showing newer vehicles (those built 2011-2016) make up 31 percent of the fleet yet are involved in just 13 percent of fatality crashes.

It was also found the average age of a vehicle involved in a fatal crash is 12.9 years, while the average age of all vehicles on Australian roads is 9.8 years old.

As we tend to see our most at-risk drivers – the young and inexperienced, as well as the elderly and more frail – in the most at-risk vehicles, the figures go some way to explaining why deaths of 17 to 25 years olds and elderly road users (those and 65 and over) are over-represented in fatal crashes when compared to other age groups.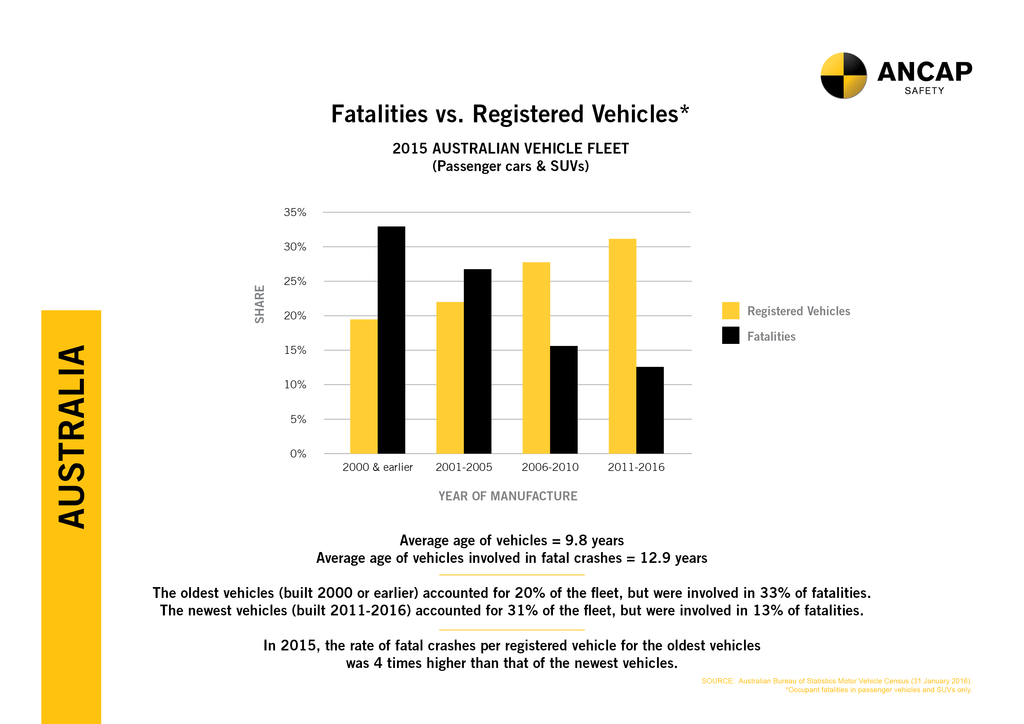 Identifying potential problems before they become real ones
Not everyone can afford a brand new vehicle however, and the good news is you don't need to spend a fortune buying or maintaining a 'safe' car.
Paying a visit to your mechanic or local car service centre can ensure critical vehicle components, such as your braking system, don't let you down when you need them most. Regular car servicing could also potentially save you money by identifying issues early on that could later become costly and expensive to rectify.

If you're in the market to buy a used car, we encourage you to check out our car reviews and used car safety ratings, which are calculated using data from millions of police reports on actual crashes.

Some of the earliest '5 star' cars are almost 15 years old, and if you find a vehicle you like, a mobile vehicle inspection can ensure you're not buying a lemon.
Looking to buy a new car?
Use the ANCAP Safety App. Recently launched in October 2017, the new app lets you compare the safety rating of your current car with that one you're looking to buy, whether it is used or a brand new vehicle from the dealer. You can store notes on potential cars, keep details on hand in the unlucky event of a crash and stay posted on the latest ratings and vehicle safety news.