Situated on Trial Bay at the mouth of the beautiful Macleay River north-east of Kempsey, the sleepy seaside village of South West Rocks is home to unspoilt beaches, pristine bushland and lots of great fishing.
Getting there: South West Rocks is located 460km north of Sydney, 313km from Newcastle or just over 100km south of Coffs Harbour.

South West Rocks is a great destination if you're into outdoor adventure, but is equally suitable for those just wanting some peace and quiet. The town features a protected bay beach, some beautiful stands of Norfolk Pines, and is surrounded by mangrove swamps and the channels, islands and creeks of the Macleay River estuary.
Where to eat in South West Rocks
South West Rocks' popularity with holidaymakers means it's no surprise you'll find an array of quality café, bakery and restaurant offerings.

The Heritage Beachside Café's vintage charm makes it the perfect spot for a Devonshire tea and selection of savoury and sweet treats. For coffee or a generous big breakfast, head to Malt and Honey or visit Back Creek Café for a milkshake and stay for lunch. You won't be disappointed.

The Seabreeze Beach Hotel is amongst one of the favourites in town. You'll find classics like chicken parmis, wagyu steaks and the fisherman's basket here, along with daily specials too. The local SWR Surf Life Saving Club is also a hit and backs onto Main Beach so you're guaranteed a great atmosphere with locally sourced produce too.
When it comes to takeaway options, Thai on the Rocks or the Cantonese Inn are favourites for visitors and just a short stroll into town. You can't go past Pilot Station Pizza, where owners Lance and Bec Laws use the freshest ingredients and like to create their own flavour combinations. Dine-in or take-away is available, but be sure to book or order early to avoid any disappointment. If you have room for dessert, take a walk down to Chillati Gelato and try the strawberry sorbet or mint choc ice cream.
What to see in South West Rocks
There's lots of history at South West Rocks. A great place to start is the Boatman's Cottages, which are now housed with historical artifacts and local information. Be sure to ask about the shipwreck on main beach and take some time to look at the local arts, crafts and jams for sale. There's also the historic single-screen cinema at the School of Arts Community Hall, built in 1926, that shows the latest films and occasional live performance too.

Just east of town is Arakoon State Recreation Park, one of the only spots on NSW's eastern coastline which faces due west. You can laze on Trial Bay Beach and watch the sun set across the water.
The bay beach is sheltered from cool southerly winds and the fine white sands slope gently into crystal waters, providing good swimming for children. There are great stands of banksias that attract scores of colourful parrots and honey-eaters, whilst the occasional kangaroo bounds across the sand.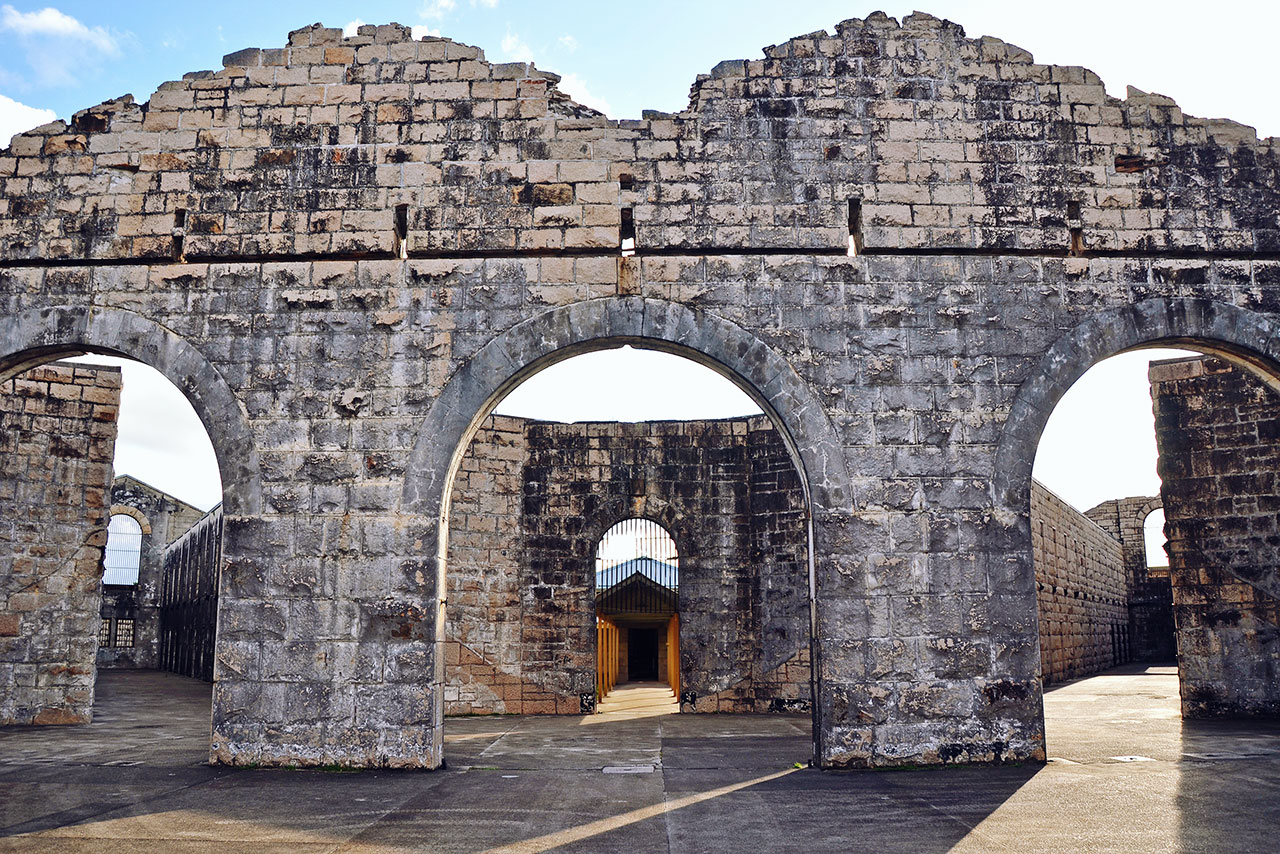 For a completely different holiday experience, leave the sun and sand and visit Trial Bay Gaol in Arakoon. The first 'public works' prison, Trial Bay was built in 1886 to house prisoners who were bought there to build a new breakwater, essential for a new harbour, but the project was defeated by a rapacious sea. The ruins are still there.
The Gaol was later used in World War I for the internment of 500 men, mostly Germans. The culture they brought to their prison – crafts, opera costumes, orchestras – is faithfully recorded in excellent displays in the gaol's museum. Make sure you catch the video – it's an excellent insight into the gaol's history, the life of its inhabitants and inmates who escaped.
If you enjoying exploring, pack a snack and head from the gaol to Little Bay, a short, one-kilometre walk to the east. You'll find picnic areas with a spectacular view and plenty of kangaroos resting on the grass. A well-structured track takes you to the German graves monument, in memory of the gaol internees. The view is magnificent.

If you are energetic, tackle the tough three kilometres around the headland to Smoky Cape Lighthouse, a magnificent landmark, popular with whale watchers in winter and early summer. It can also be reached by road. Further south in the national park is Hat Head, and Hungry Hill camping area - both great spots for walking and picnicking. You'll see large areas of unspoiled dunes and lots of interesting native plants and birdlife.
On the second Saturday of every month, you'll find the Beachside Markets down at Horseshoe Bay Reserve. The markets are open from 8am–1pm, with local food, homewares, clothing and hidden treasures.

Image credit: Destination NSW

South West Rocks is also a great destination for avid divers, boasting one of Australia's top-10 dives – Fish Rock Cave – under Fish Rock Island. You can learn to dive and hire gear at local dive centres. For novices, great snorkelling spots with a vast array of colourful fish can be found by Back Creek or around the bay.

If you prefer to stay above the water, there's several boat-hire and fishing charter companies in town. Or take your pick of water fun with wave skis, catamarans and body boards available for hire.
Fishing is a big deal in the area
A monthly fishing competition held by the Seabreeze Beach Hotel attracts anglers of all ages. Year-round enthusiasts can hook jewfish or shovelnose sharks off the breakwater, or bream, flathead and whiting from the river estuary. Fishing charter boat can also be hired to head out to sea for a chance at hooking snapper, taylor, pearl perch or mackerel.

If the fish aren't biting (and you're keen on a seafood barbie), visit the Macleay River District Fisherman's Co-op in Jerseyville for fish and prawns straight off the trawlers. If you're after oysters, try the Oyster Barn on Clybucca Creek.
Where to Stay in South West Rocks
A pleasant 30-minute walk along Main Beach from South West Rocks, Arakoon is a camper's paradise with beach-front camping and caravan sites, secluded grassed sites and barbecues, a children's playground, picnic areas, a restaurant, water activities and spectacular coastal scenery.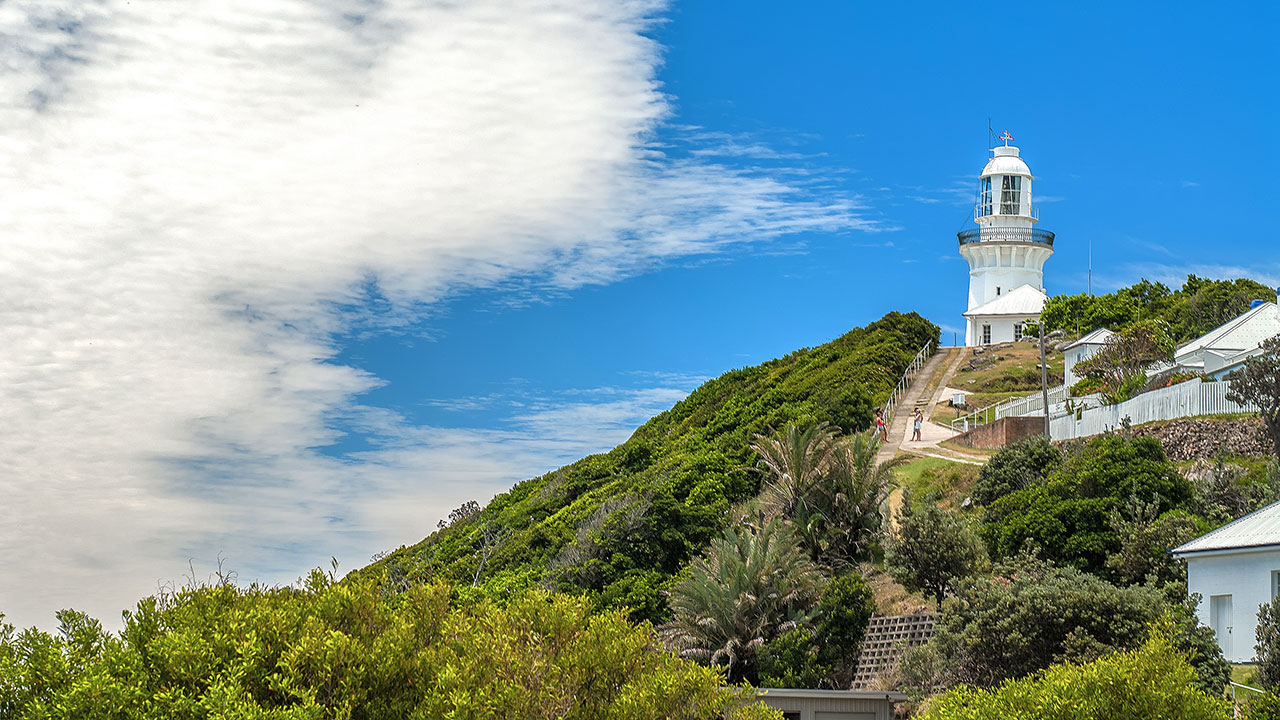 NRMA South West Rocks Holiday Park is also nearby and offers a range of accommodation from 3-bedroom villas, to glamping tents right through to a camping and caravan park area. Combine this with a kids club, huge waterpark plus an onsite café and quick walk to the beach. If you are looking at staying closer to town, Horseshoe Bay Holiday Park is a great spot for camping or caravaners and a short walk from Horsehoe Bay and Back Creek.
For something a little different, there's a camping area, B&B and cottages for hire at the Smoky Cape lighthouse - which is Australia's highest above sea level and has breathtaking views.