Situated on Trial Bay at the mouth of the beautiful Macleay River north-east of Kempsey, the sleepy seaside village is home to unspoilt beaches, pristine bushland and lots of great fishing.

Getting there: South West Rocks is located 460km north of Sydney, 313km from Newcastle or just over 100km south of Coffs Harbour.

Weather: 18-25°C in January and 7-18°C in July

South West Rocks is a great holiday destination if you're into outdoor adventure but it's equally suitable if you just want some peace and quiet. The pretty town features a protected bay beach, some beautiful stands of Norfolk Pines and is surrounded by mangrove swamps and the channels, islands and creeks of the Macleay River estuary.
There's lots to eat and do
With it's quant cafes, restaurants and bakery's in town, to the local surf club overlooking Main beach, Seebreeze Beach Hotel and dining opinions; there's plenty to choose from here. Take the family for a sit down meal or just enjoy the scenery with fish and chips down by Horsehoe Bay. The Beachside markets held the 2nd Saturday of each month will also tempt with fresh local produce, homemade goods and gourmet foods.
If you are feeling a little more competitive, check out the 18 hole golf course at the Country Club and stay for a meal. The Roxy Cinema is also in town situated in the historic 1926 School of Arts Community Hall and operates Friday – Sunday with the latest films and occasional concerts.
There's also the Boatman's Cottages, which are now housed with historical artifacts and local information. Be sure to ask about the shipwreck on main beach and take some time to look at some of the local arts, crafts and jams for sale.
Fishing is a big deal in the area
There's a monthly fishing competition held by the Seabreeze Beach Hotel, that attracts anglers of all ages. Year-round enthusiasts can hook jewfish or shovelnose sharks off the breakwater or bream, flathead and whiting from the river estuary. Or you can hire a fishing charter boat and head out to sea for the chance at hooking snapper, taylor, pearl perch and mackerel.

If the fish aren't biting and you're keen on a seafood barbie, visit the Macleay River District Fisherman's Co-op in Jerseyville, for fish and prawns straight off the trawlers. If you're after oysters try the Oyster Barn on Clybucca Creek.
The area is also a great destination for avid divers, boasting one of Australia's top 10 dives - Fish Rock Cave - under Fish Rock Island. You can learn to dive and hire gear at local dive centres. For novices, you can also find some great snorkeling spots with a vast array of colourful fish, down by Back Creek or around the bay.

If you prefer to stay on top of the water, there's several boat-hire and fishing-charter companies in town or take your pick of water fun with wave skis and catamarans available for hire on the main beach in town. Head to the local surf shop to hire a body board.
Arakoon and Trial Bay Gaol
Just east of town is Arakoon State Recreation Park, one of the only spots on our eastern coastline which actually faces due west. You can laze on the beach and watch the sun set slowly across the water. A quick walk from BIG4 NRMA South West Rocks Holiday Resort or a pleasant 30-minute walk along Main Beach from South West Rocks, Arakoon is a camper's paradise with beach-front camping and caravan sites, secluded grassed sites and barbecues, a children's playground, picnic areas, a restaurant, water activities and spectacular coastal scenery.

The bay beach is sheltered from cool southerly winds and the fine white sands slope gently into crystal waters, providing good swimming for children. There are great stands of banksias that attract scores of colourful parrots and honey-eaters, whilst the occasional kangaroo bounds across the sand.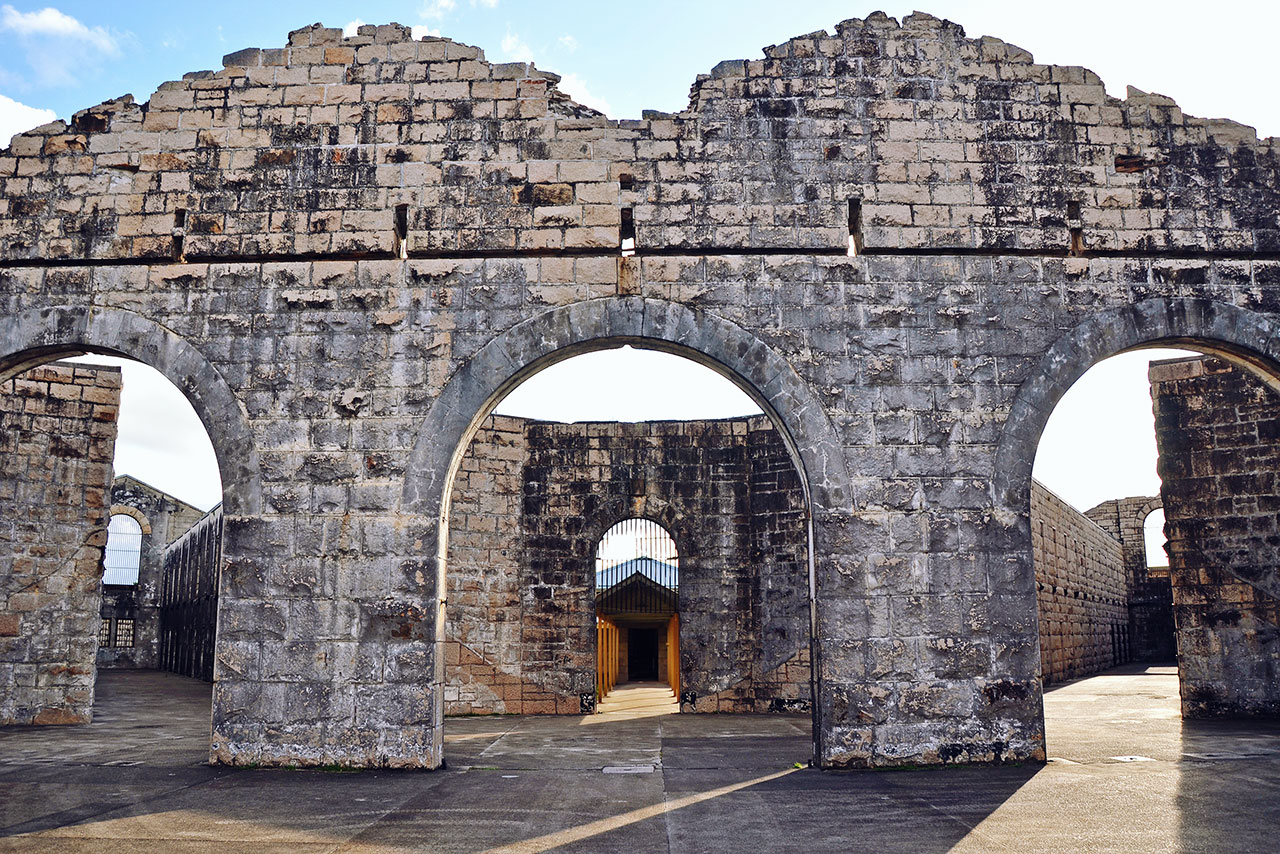 For a completely different holiday experience leave the sun and sand and visit Trial Bay Gaol in Arakoon, for a cell with a view. The first 'public works' prison, Trial Bay was built in 1886 to house prisoners who were bought there to build a new breakwater, essential for a new harbour, but the project was defeated by a rapacious sea. The ruins are still there.

The Gaol was later used in World War I for the internment of 500 men, mostly Germans. The culture they brought to their prison - crafts, opera costumes, orchestras - is faithfully recorded in excellent displays in the gaol's museum. Make sure you catch the video - it's an excellent insight into the gaol's history and the life of its inhabitants. It's a popular spot, visited by more than 70,000 visitors each year so plan ahead.

If walking is your thing, pack a snack and head from the gaol to Little Bay, a kilometre to the east. It has picnic and barbecue areas with a splendid duck pond. A well-structured track takes you to the German graves monument, in memory of the gaol internees. The view is magnificent.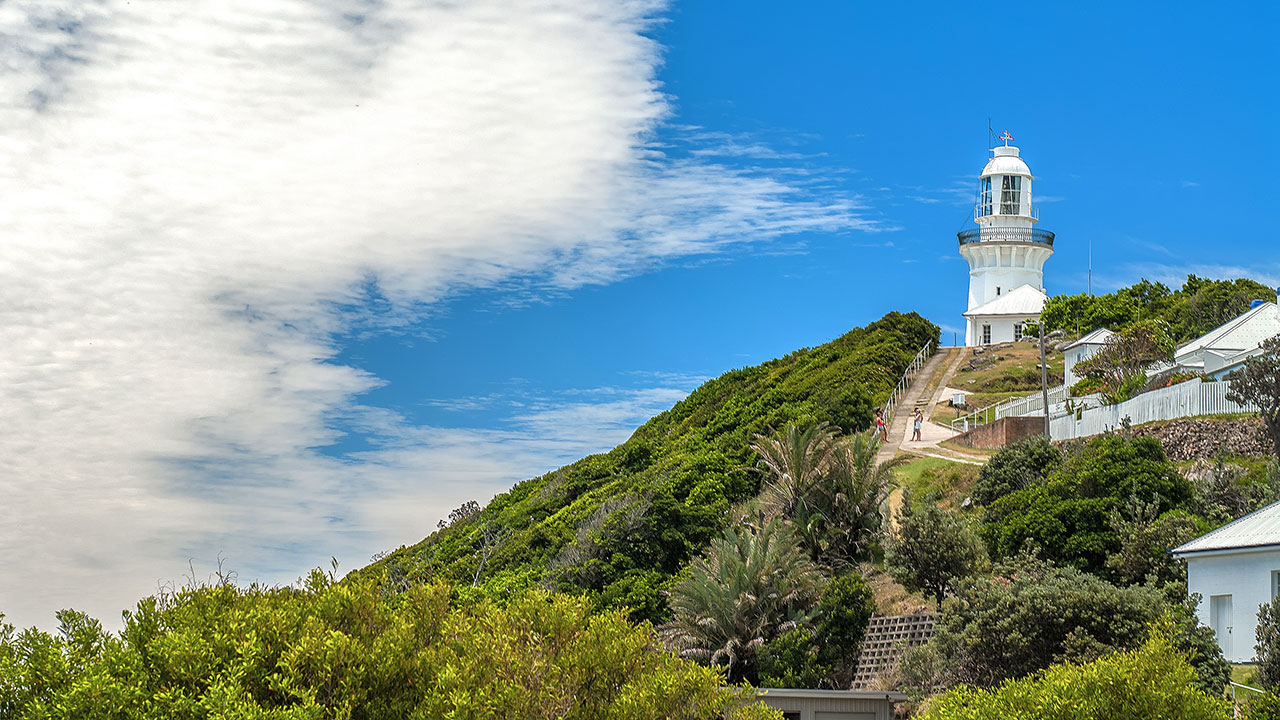 Return past the Old Powder Magazine or press on through adjacent Hat Head National Park, 7006 hectares of coastal bushland containing one of the largest dune systems in New South Wales, to Gap Beach and marvel at the profusion of spring wildflowers and the power of waves thundering on rocks below. If you are energetic, tackle the tough three kilometres around the headland to Smoky Cape Lighthouse, a magnificent landmark, popular with whale watchers in winter and early summer. It can also be reached by road.

There's a camping area, B&B and cottages for hire at the lighthouse - which is Australia's highest above sea level and has breathtaking views.

Further south in the national park is Hat Head, and Hungry Hill camping area - both great spots for walking and picnicking. You'll see large areas of unspoiled dunes and lots of interesting native plants and birdlife.

If you want to continue your northern adventure, Stuarts Point and Grassy Head are just up the coast from South West Rocks and offer more sun, sand, sea and small town charm.
Lead image credit: Destination NSW