Things to do in Southern Highlands
People have always been drawn to the Southern Highland's natural beauty. The combination of picture perfect views, immaculate cafes and an ecclectic mix of shops, has created a popular retreat away from the city's hustle and bustle.
Berrima Markets

Eden Brewery

Bradman Museum and International Cricket Hall of Fame

Fitzroy Falls
Berkelouw Book Barn, Berrima
Located on Berrima's Bendooley Estate, which has been established almost as long as modern Australia itself. It passed through a number of hands before a fifth-generation antiquarian book dealer, Leo Berkelouw, moved his family and book collection there in 1977. These days there's an attached winery and café, but it's still a bookshop and you can eat amongst the brimming shelves if you like. With both new and antique books, it's almost too much temptation for most bookworms. The Australian literature section is especially impressive; we manage to resist buying a hardcover edition of Henry Lawson's collected fiction, but only just.
The Mushroom Tunnel, Picton
Take a tour with Dr Noel Arrold from Li-Sun Exotic Mushrooms, a microbiologist who has looked after the tunnel and its produce since 1987. It's humid inside and a constant 16°C, making it ideal for mushroom growth. Eucalyptus sawdust is put into plastic, like link sausages, and then each 'sausage' becomes a home for the spores that will sprout into mushrooms. Species from all over the world are cultivated in a lab and then left to grow in the tunnel. They are then sold to Woolworths and other large chains, as well as Asian grocery shops. The tunnel is heritage listed, so the mushrooms will have a home for a long time to come.
Dirty Janes, Bowral
You won't be able to visit the Southern Highlands without passing an antique shop, and if you only visit one, make it sure it's Dirty Janes. In the centre of Bowral and surrounded by a fantastic array of cafes and shops, Dirty Jane's brings together an eclectic mix of retro enthusiasts and collectors. It's the perfect place to pick up a unique piece for your home, from any time period you could think of. There are a number of stalls and shop sellers inside the compound as well, so you can grab a coffee, browse the plant shop before heading inside to find youself a vintage gem.
Katers Restaurant, Sutton Forest
Come upon Katers Restaurant and you'll be greeted by a grand manor house against a charming country setting. Open log fires, Bentwood chairs and double-clothed tables look out over the well-kept gardens, creating an elegant ambience reminiscent of a bygone-era. The head-chef is passionate about local produce, even utilising their own kitchen garden vegetables, herbs and flowers, so expect fresh and flavoursome Modern Australian fare with roots in traditional Mediterranean and Asisan cuisines. And better yet, Members receive 20 percent off the total bill up to $25.
Eden Brewery, Mittagong
Mittagong's Eden Brewery is the brainchild of a young couple, Deb and Jacob Newman. Jacob originally hails from the American state of Texas and began brewing his own beer when he was 18 years old after realising he couldn't legally buy beer but could buy the ingredients. Before he and Deb turned their hands to professional brewing, they travelled the world doing social work, so it's no surprise that 10 per cent of Eden Brewery's profits go to Oxfam. The beer menu is seasonal and, if one brew from the tasting board takes your fancy, you can take home 1.89 litres of it in a large thermos known as a 'growler', then bring it back another time for a cheap refill.
Farm Club Café, Werai
The Farm Club Café has become a favoured destination among car clubs – and not just because of the food and coffee. It sits at the intersection of Greenhills Road and Mount Broughton Road, making it the perfect stop for those who have been piloting their vehicles along Old South Road and are heading for the region's southernmost towns. In fact, the Southern Highlands has some of the best scenic driving roads anywhere in NSW; the 25km loop formed by Kangaloon Road, Kirkland Road and Tourist Road offers views of the Wingecarribee River and plenty of tarmac to delight the sort of driver who thinks manual transmissions should be compulsory.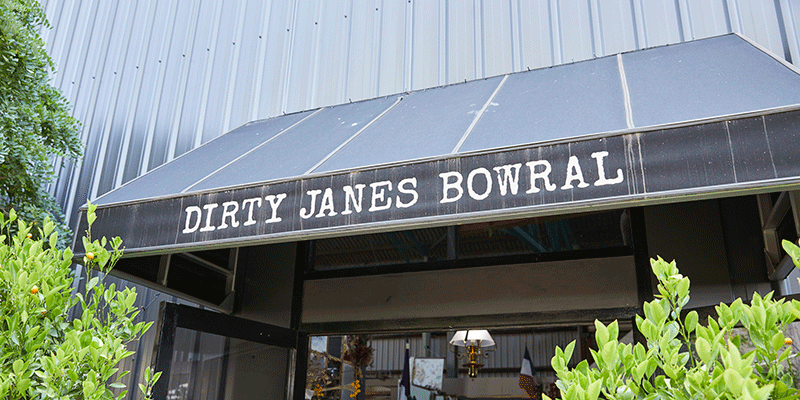 Dirty Janes, Bowral (Photo credit: Destination NSW)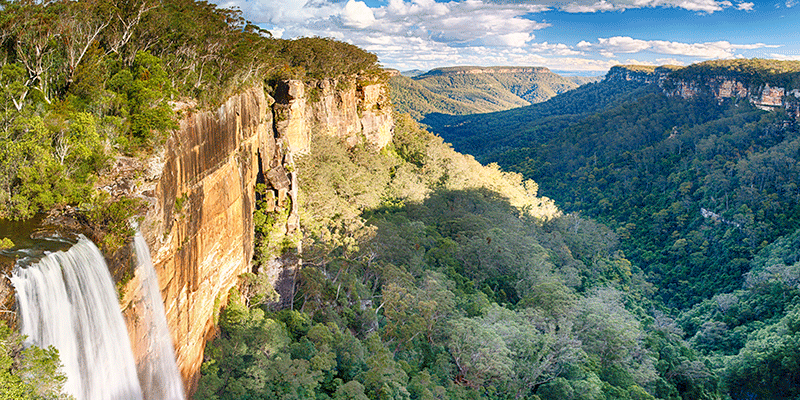 Fitzroy Falls, Wingecarribee Shire (Photo credit: Destination NSW)
The Bradman Museum, Bowral (Photo credit: Destination NSW)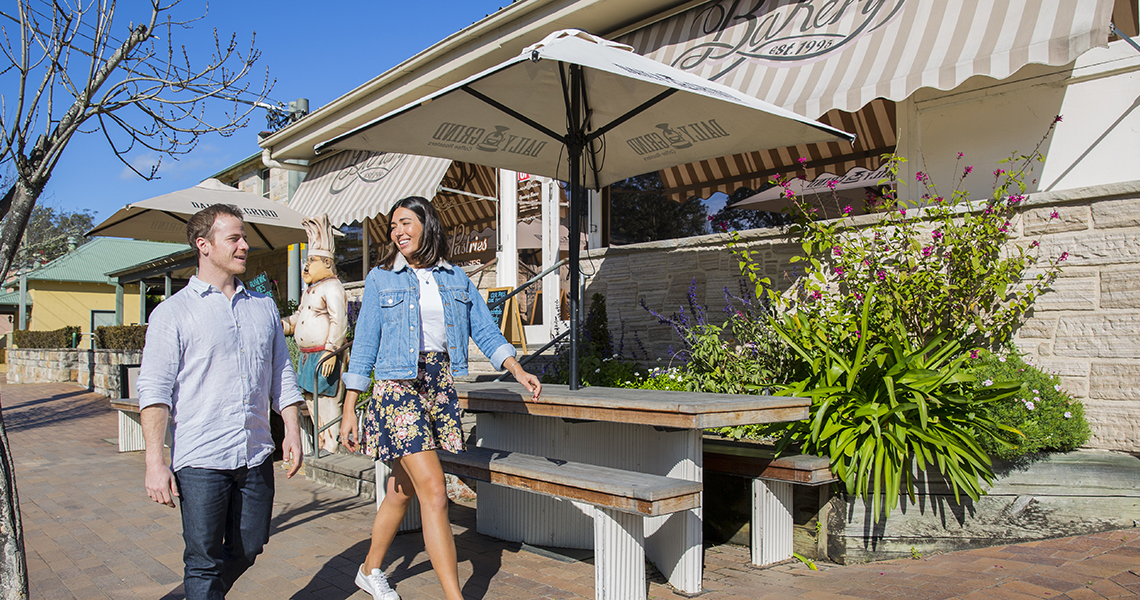 Title: Kangaroo Valley Bakehouse, Kangaroo Valley (Photo credit: Destination NSW) 
Bradman Museum and International Cricket Hall of Fame, Bowral
If you look forward to the Boxing Day Test match more than Christmas, best set aside two or three hours to get through the Bradman Museum. What was once primarily devoted to the 'Boy from Bowral', Sir Donald Bradman, is now a seemingly endless trove of cricket history, memorabilia and trivia. Fun fact: cricket was thriving in parts of America until the Revolutionary War in the 1770s, after which all things British were discouraged, and it died out.
Bernie's Diner, Moss Vale
In 1925, E. 'Bernie' Bernardo emigrated from Greece and opened the Central Café in the Highlands. Two years later he founded a 'refreshment room' on the site of what is today Bernie's Diner in Moss Vale. In the 1950s, Bernie sold it and for nearly 50 years the café was no longer in the hands of the Bernardo family. But then Bernie's great-grandson Ioanni, who has a background in hospitality and fine dining restaurants, bought it back and revitalised it with a 1950s American diner theme.
Fitzroy Falls, Wingecarribee
The good thing about these falls is that if you're in a hurry, you can walk 200 metres to the main lookout, take a photo, and head off again. If you have more time, there are several walks that take in wildflowers, a better view of the falls, and much more. If you live in south-west Sydney, a breezy 50-minute drive down the Hume Motorway will get you to the Southern Highlands information centre in Mittagong. Not only is it a region that rewards return visits, it's one where it's easy to do so.
Artemis Wines, Mittagong
Wineries are a fairly new development in the Southern Highlands and Artemis Wines, established in 1996, was among the first. Located at the end of a short dirt road in Mittagong, it has a dog welcoming committee, none of the stuffiness that plagues bigger wineries, and some lovely spots to enjoy a tipple and tasting plate.
Berrima Markets, Berrima
Much like Berry on the NSW South Coast and Leura in the Blue Mountains, the Berrima Markets have become a victim of their own success, at least on weekends. But if you can visit midweek, as we did, you'll discover exactly why this long row of shops, cafes and galleries has become so popular.

Pie Time, Southern Highlands ( 1 - 30 June )
Whether you are a fan of classic pie flavours or keen to try something a little different such as a Birch Winter Pear Pie from Dawning Day Farms, the "Southern Pie Lands" annual Pie Time runs from 1 – 30 June. Visitors can take the 'Pie Trail' which features over 30 pie outlets across the Southern Highlands, and includes inventive pie combinations such as Duck Confit Pies from Les Gourmandise, located in the heart of Bowral. For true pie lovers with a big appetite and love for the classic beef mince pie, there's also the Great Pie Eating Competition held at Samuel Gee Pies and Pastries, with a first place prize of $500.
Image credits: Destination NSW
Members save on dining in the Southern Highlands
Download the my nrma app to find and save on cafes, restaurants and takeaways