Road trip: Long weekend in central NSW towns
The treasures to be discovered in central NSW's colonial mining towns are not just those hidden underground.
Take advantage of the wide range of tastes and sounds on offer as you travel through Central NSW. Whether you're a foodie or prefer to explore the old mining towns, there's something for everyone on offer.
Image credit: Destination NSW
Day 1: Lucknow to Mudgee
2hr 8min | 174km
Stop 1: Visit Lucknow mining town
A mining town with a most appropriate name: Lucknow, it's home to the Wentworth Mine, one of the best-preserved mining concerns to be found anywhere in the state. Gold was discovered in Lucknow soon after the first strike in Ophir and the Wentworth Mine remained a going concern on and off until the 1950s. In recent years, however, its buildings and equipment have become a successful tourist drawcard.
Continue on to Gulgong, a town just north of Mudgee. Henry Lawson, never one to dwell on the brighter side, described Gulgong as "a wretched remnant of a town on an abandoned goldfield". Perhaps he was right at the time, but these days it's a vibrant little place.
The irony of Henry Lawson's comment on the place is that those in the know believe a great deal of Gulgong's glistering riches still remain in the earth – they just happen to be under the town itself. The new Gulgong Gold Experience on Red Hill offers an audio-visual history of the town. The plan was to create a replica mineshaft that met up with the real shaft, but an unexpectedly high water table halted construction. So it's still a work in progress, but there are photographs from Gulgong's heyday during the 1870s gold rush, and pointers to other restoration projects.
A must-see is the Gulgong Pioneers Museum. It looks modest from the outside but once you're inside one room leads to another in a seemingly endless warren of Australian history and artefacts. There's almost nothing it doesn't touch upon – everything from stationary engines to firearms and computers (even the Amiga 500 I had as a teenager, which now qualifies as an 'antique').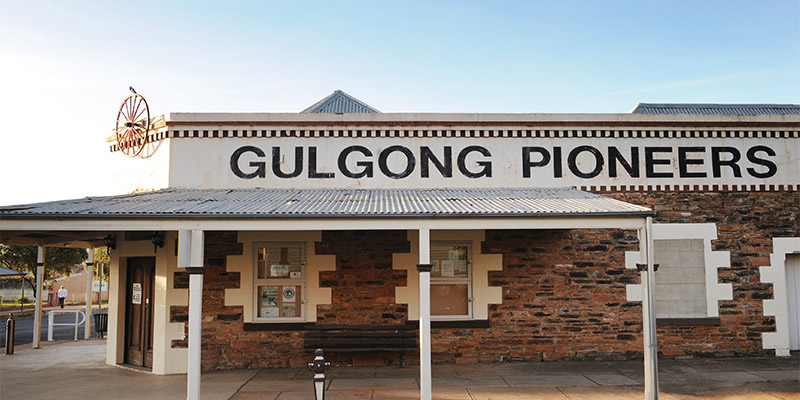 Stop 3: Butcher Shop Cafe 
This former butchery has been converted into a comfortable and inviting café called The Butcher Shop Cafe. Offering a friendly service and high quality food, it's a great place to stop for lunch.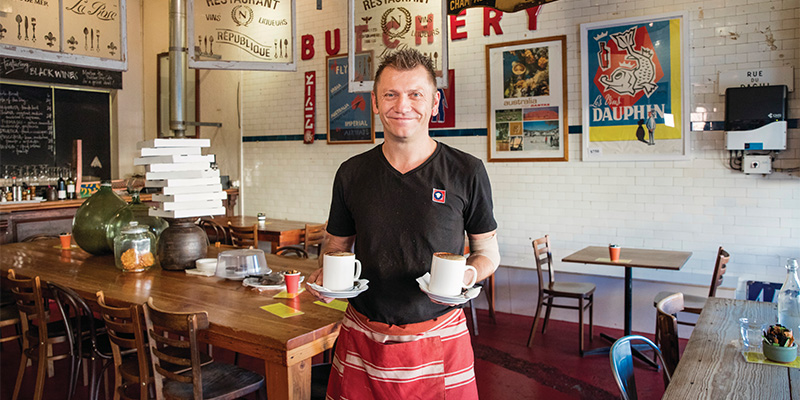 Stop 4: Enjoy a rest at Owl Head Lodge
A nondescript frontage conceals this spacious accommodation, which features vaulted ceilings, a huge bathroom, comfy beds and a backyard where an energetic three-year-old can stretch her legs. Owl Head Lodge is also in walking distance from just about everything in Gulgong.
Day 2: Mudgee to Hill End
1hr 7min | 75km
Mudgee is a small town known for it's colonial buildings, and wineries surrounding. Ensure you your day with a visit to Eltons Eating + Drinking and the Robert Oatley Vineyards. Eltons is set in a heritage building and has been a favourite destination for locals and tourists since it closed in 2014. After reopening later that year, it continues to be the place to go! The cellar door here, 'Craigmoor', was founded in 1858 and is the oldest winery in the region.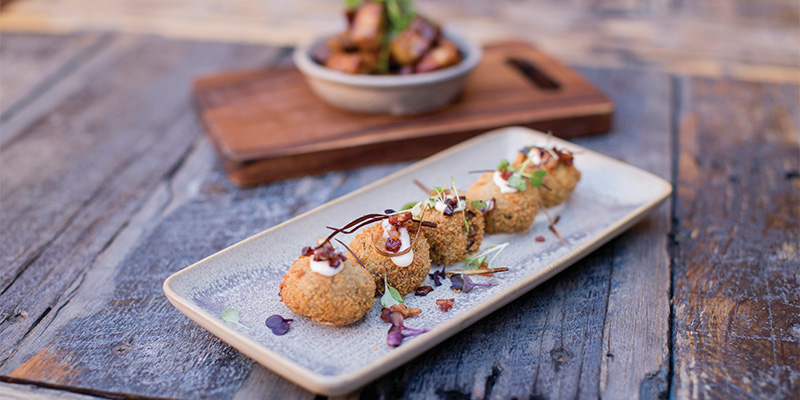 Stop 2: Explore Hill End on a Walking Tour
Go on a walking tour of the town's buildings; many are still businesses or residences but, since 1968, the centre of the village has been an historic precinct under the care of the National Parks. Hill End is said to have had "the richest quarter mile in the world" during the 19th century gold rush. The world-renowned 286kg 'Holtermann Nugget' was pulled out of the ground here and there is still a professional mining concern near Bald Hill Lookout. One of the better known gold panning spots is along Golden Gully.
Golden Gully has also inspired artists over the years. Its orange earth has the texture of a termite mound and rises from the creek bed like the walls of a canyon, providing a sharp contrast to the sky blue and leaf green backdrop. Natural arches over the creek bed give it further architecture, and it's pocked with 'drives', which are narrow, claustrophobic shafts where miners would seek their fortunes.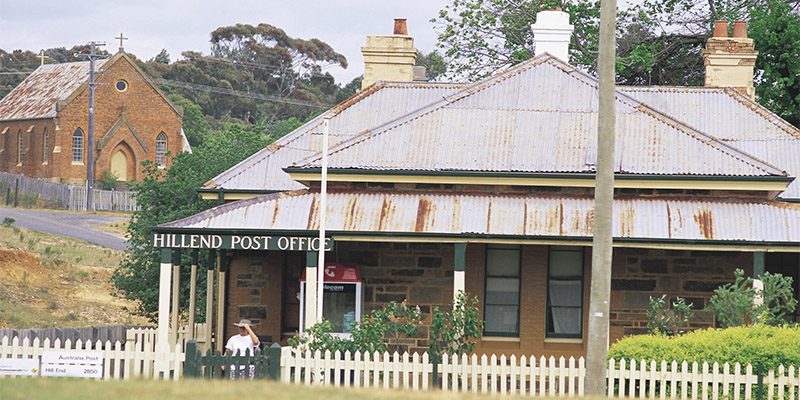 Stop 3: Two Heads Brewing
Take a visit to Two Heads Brewing. The 'two heads' are Greg and Cam Hedley, the brothers that run this brewery and eatery. It specialises in slow-cooked meats, burgers and, of course, beer.
Stop 4: Stay at Parklands Resort Mudgee
Situated just 1km from the centre of Mudgee, and set on 30 acres of land, Parklands Resort Mudgee offers a four star accommodation experience. A variety of room types are available from Standard Queen Rooms and Deluxe Rooms to One Bedroom Suites and Family Suites. All rooms have access to private balconies offering views of the manicured gardens and surrounding Mudgee Hills. Resort facilities include restaurant, indoor pool, spa and sauna, tennis court, gym, BBQ area, bike hire and free WIFI. Parklands Resort Mudgee also makes a great base to explore the nearby wineries. And don't forget, Members can save up to 20 percent on the best available room rate with late check out, as well as 10 percent off food and beverage at Parklands Resort Mudgee. Simply use the promo code: 'NRMA' when booking. *T&C's apply.
Or if you prefer to stay in Hill End, secreted away on the aptly named High Street, the Hill End Holiday Ranch has both cabins and re-purposed train carriages that serve as accommodation. Kangaroos abound morning and night and there are a number of campfires where guests can gather for a chat in the evening.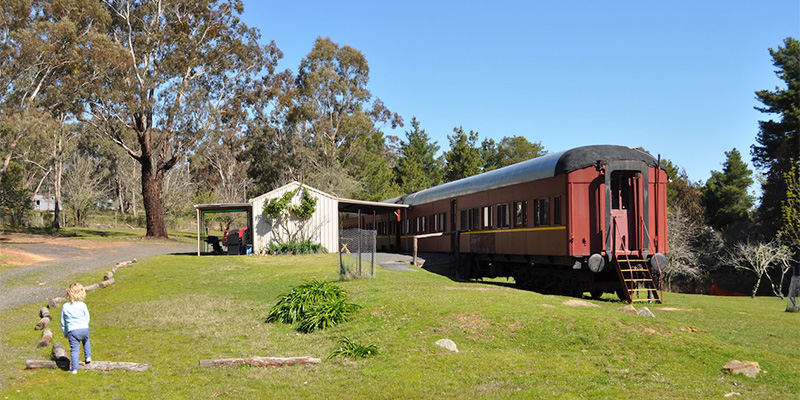 Save up to 20% on accommodation at Parklands Resort Mudgee
Members save up to 20% on the best available room rate with late check out, as well as 10% off food and beverage.