Road Trip: Tea Gardens to Port Macquarie
Replete in national parks, lake forests, five lake systems, 11 major rivers and more than 300km of beaches, there's more to the Pacific Highway than the legendary Pacific Coast. Go inland and discover the beauty of the Mid North Coast hinterland.
Wind your way from the seaside villages through to the Great Lakes region to discover the largest freshwater lake system in NSW. Learn Gloucester's gold rush history before exploring UNESCO World Heritage-listed Barrington Tops National Park. Stroll through Manning Valley's oldest town, see the longest single drop waterfalls in the Southern Hemisphere, and visit a 200-year-old Red Bloodwood tree.
Hero image credit: Inas


Myall Lakes National Park

Barrington Tops

Ellenborough Falls

Old Bottle Butt tree
Before you embark on your journey, check the my nrma app for your nearest and cheapest fuel. There are plenty of fuel stations to choose from.
Day 1: Tea Gardens to Myall Lakes
1h 11m | 62.3km


Stop 1: Visit the Singing Bridge at Tea Gardens
76km north-east of Newcastle and 11km from the Pacific Highway lies Tea Gardens, a small township separated from Hawks Nest by the Myall River and joined by the Singing Bridge – a nickname that derived from the musical sounds its railings generate during strong south-westerly winds. Amble along the structure surrounded by pristine waterways toward Myall Lakes National Park, or set for the Lion's Park Lookout for a higher vantage point over Tea Gardens and Hawks Nest and the headlands at the mouth to Port Stephens.
Stop 2: Take the ferry from Bombah Point
The Bombah Point Ferry runs daily to and from Myall Lakes National Park every half hour between 8am to 6pm and includes various fees depending on your vehicle type i.e. $6.50 per car. If you don't fancy the ride, you can also reach the national park via the Lakes Way (through Buddelah and Forster).
Stop 3: Explore Myall Lakes National Park
Home to rich plant communities and wildlife and boasting more than 40ha of headlands, forests, swamplands, beaches and rugged escarpments, Myall Lakes National Park is the centerpiece of the largest freshwater lake system on the NSW coast. Stroll the Mungo Brush Rain Forest Walk to grab some beach time. It's an easy 2km return walk off Mungo Brush Road at the northern end of the Mungo Brush Camping Area, with a sidewalk that leads off to Blackfellows Beach.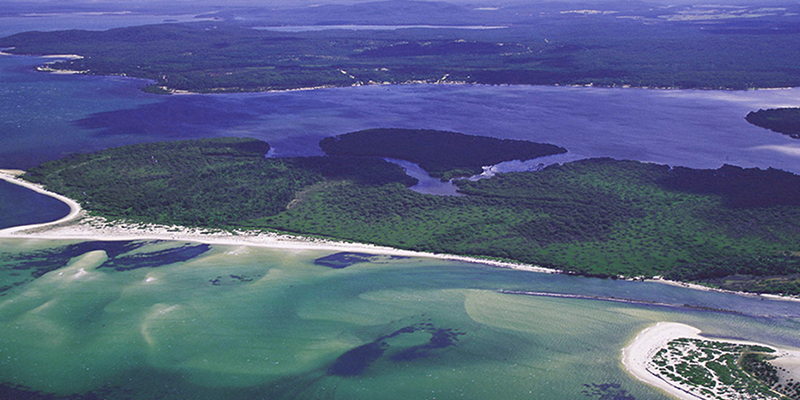 Stop 4: Stay and eat at NRMA Myall Shores Holiday Park
Set along 1.5km of pristine lakefront, the NRMA Myall Shores Holiday Park is situated in the centre of the Myall Lakes National Park. Choose from camping and caravan sites set within the gardens and on the shores of the lake, or one of the unique lakeside safari tents or a stylish villa. Facilities include a swimming pool, barbecue areas, a kiosk, and the Barefoot Café & Pizza Co, which is open from 10am to 7pm daily.
Day 2: Myall Shores to Gloucester
4hrs 27m | 212km

Stop 1: Rove around Bulahdelah and refuel
Bulahdelah derives from the language of Worimi Aborigines and is thought to mean 'meeting place of two rivers'. It's surrounding forests and lakes making it easy to mooch around for the day. Fuel the car and then tummies at Cafe on Main or Myalla Magic Cafe, before heading north to visit Australia's tallest tree -- the Grandis Flooded Gum. The huge 400-year old is 76.2m in height and 11.5m in diameter.
Stop 2: Discover the history of Gloucester
The Gateway to the World Heritage-listed Barrington Tops, Gloucester is a charming country town made famous for its gold rush in 1872. Make your way to Gloucester Visitor Centre to pick up brochures to for the best walking routes. Gloucester Boomerang Discovery Walk is a great way to get to know the town and its attractions in an hour, while kids will enjoy the Mosaics Walk, which displays the history of Gloucester through a collection of mosaics on walls and footpaths around the town. Once you've worked up an appetite, choose from a delicious range of teas from the Crepe Myrtle Tea & Coffee Rooms, before stocking up on delicious meat pies, pastries or cakes at Hebby's Bakery for your next stop.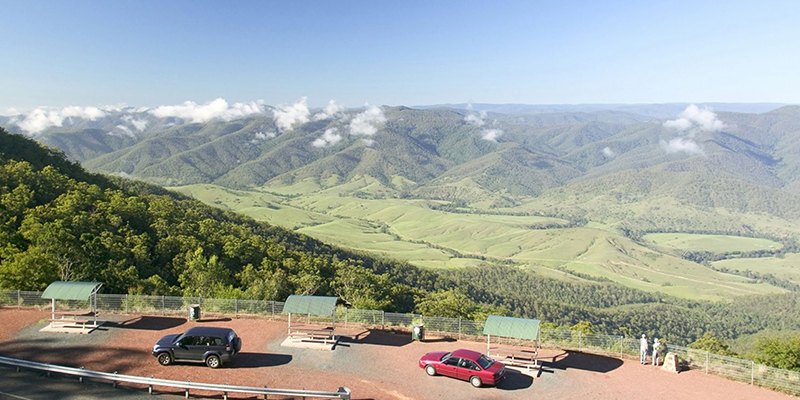 Stop 3: Ascend to Barrington Tops
No trip to Gloucester is complete without a visit to Barrington Tops. The 115km scenic drive takes you to the 400m walk to Thunderbolt's Lookout. For the adventurous, the 7km Gloucester Tops walking circuit includes rainforests, high-altitude wetlands, snow gum meadows and Gloucester Falls which has a great swimming spot at its base, so don't forget to pack your swimmers.
Stop 4: Dine and stay in Gloucester 
If you're looking for idyllic and peaceful rural setting, the 3.5 star Gloucester Country Lodge Motel is ideal. Just two kilometres south from the centre of Gloucester, all rooms provide a view of the Bucketts Mountains which the motel sits at the base of. It's also conveniently adjacent to the Fairway Restaurant and Bistro of the Gloucester Country Golf Club, which has an extensive menu of pastas and seafood dishes, to steaks and north-Indian curries, and also what's claimed to be the best chicken parmy in town. Kids are also well catered for, and there's even a games room to keep them entertained. For a more luxurious stay, end the day relaxing on your private veranda at Barrington Hideaway – River Cottages, where each cottage is nestled in a pristine area of lush sweeping valley and the tranquil bush.
Day 3: Gloucester to Port Macquarie
4hrs | 227km

Stop 1: Stop for a coffee in Wingham
Showcasing the best of the local region, grab a seat in the kitchen garden at Bent on Food, a multi-award winning speciality cafe and food store. Follow up with a tasty treat from McKeoughs Cake and Pie Shop.
Stop 2: Stretch your legs on the Wingham Brush bushwalk
Dense with lush vegetation and wildlife, including flying foxes and 100 species of birds, the Wingham Brush is one of the last surviving pockets of subtropical flood-plain rainforest in NSW. Pack your swimmers and take the 1.9km wheelchair-friendly boardwalk to the nearby swimming area.
Stop 3: Chase waterfalls at Ellenborough Falls 
Forty-five minutes' drive from Wingham, located on the Bulga Plateau at Elands, you'll find Ellenborough Falls. At 200m, it is one of the longest single drop waterfalls in the Southern Hemisphere. Take the 10 minute walk to The Knoll for a vantage point directly across the falls, or the 641 steps (30 minutes with rest stops) to the bottom of the falls.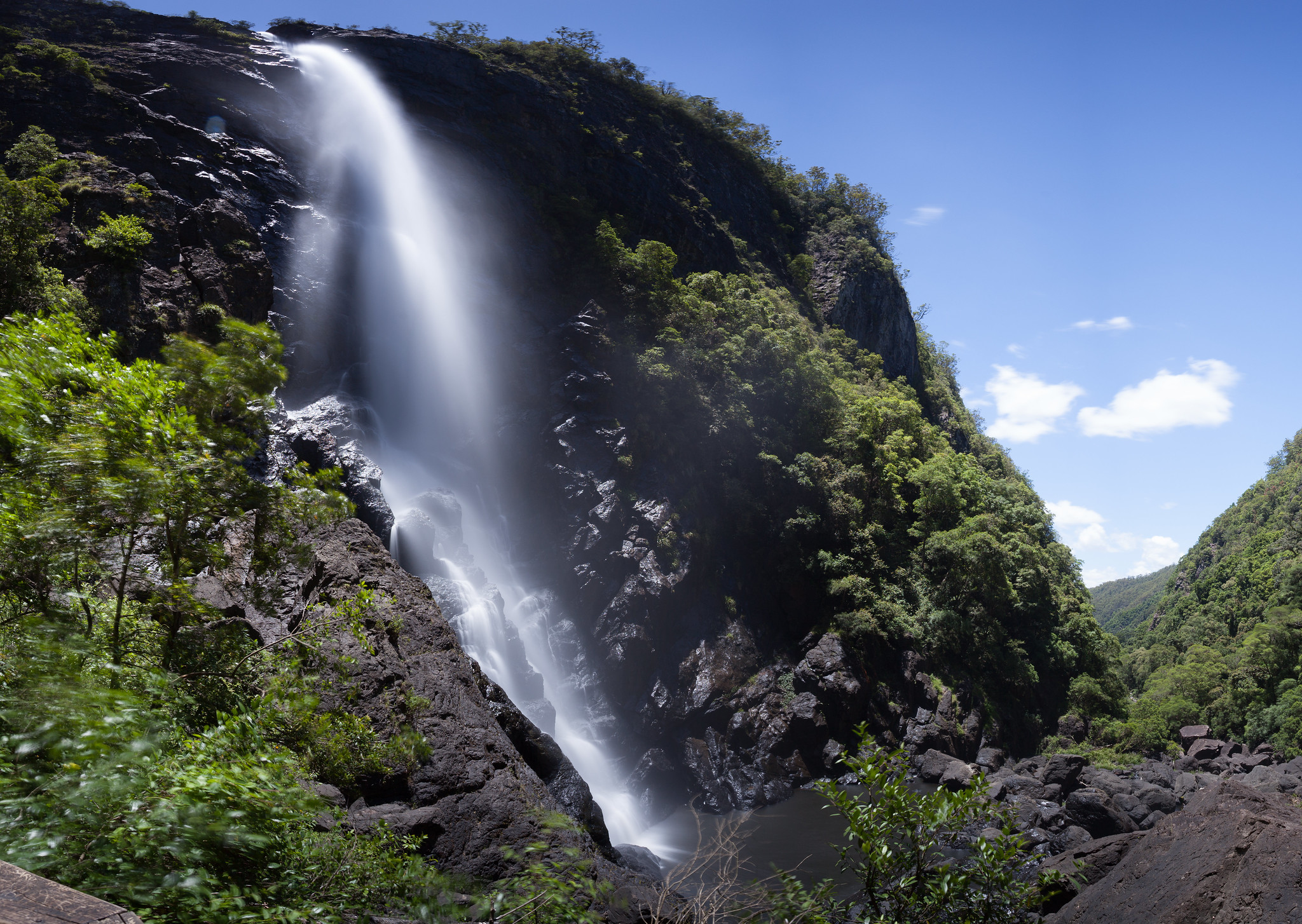 Stop 4: Stop for a late lunch in Bybarra
From Wednesday through to Sunday, the Byabarra Cafe and Bar offers hearty food with spectacular views of the Hastings Hinterlands, and ample space for the kids to play.
Stop 6: Visit Old Bottlebutt tree
Grand and ancient, Old Bottlebutt is a 200-year-old Red Bloodwood tree located in Burrawan State Forest. Its 16m wide base makes it the main feature on a beautiful 600m loop walking track, beginning and ending at the Burrawan picnic area.
Stop 7: Stay at NRMA Port Macquarie Breakwall Holiday Park
NRMA Port Macquarie Breakwall Holiday Park, is a beautifully landscaped waterfront property, centrally located in Port Macquarie, bordered by the beach, the city centre and the Hastings River. Facilities include swimming pool, camp kitchen and barbecue areas and kids club, and accommodation suit every type of budget.
Exclusive discounts on fuel, parking and accommodation
And so much more with NRMA Blue for just $5 a month