Local's guide: Myall Lakes
Water, water everywhere... Discover a vast system of coastal lakes and postcard perfect beaches that wind their way through unspoiled national parks on the New South Wales Mid North Coast.
Seal Rocks

The Green Cathedral

Sugarloaf Point lighthouse

Great Lakes Food Trail
Just a few hours north of Sydney and close to the town of Forster, Myall Lakes is a water playground. It's part of the wider Great Lakes region, a huge network of interconnecting lakes and rivers flanked by some of the best beaches in the state. Things move at a pretty slow pace around here, so expect lazy days fishing from a houseboat, farm gate hopping along a local food trail and sunset drinks with the best views around.
Where to eat
Start your day with a great coffee and a leisurely breakfast at the Frothy Coffee Boatshed, right on the waterfront at Smiths Lake. The menu is short and sweet, although you'll usually find specials on during the school holidays. After you've eaten, hire one of their tinnies, kayaks or catamarans and have a potter around the lake.
If you're looking for something a little more adventurous, head to Kembali Cafe at Blueys Beach for the Indo brekkie bowl – coconut rice with peanut and herb salad, served with fried eggs, bacon and fresh chilli. This small café, just back from the beach, also offers Asian favourites like nasi goreng and coconut curry alongside more traditional burgers and salads.
Kingfisher Cafe is the closest thing to fine dining you'll find in this famously casual region. The menu focuses heavily on local producers, so you'll see grass fed meat, free range eggs, mushrooms, truffles and oysters from the Great Lakes region. Look out for the ice cream made with buffalo milk from Burraduc Farm on the edge of Myall Lake.
At sunset, the best place to be is the Pacific Palms Recreation Club with a beer in hand. Known as The Recky, it's something of a local institution and has an enviable position on Wallis Lake's Elizabeth Beach. Come on a Sunday and eat your fill of $1 oysters.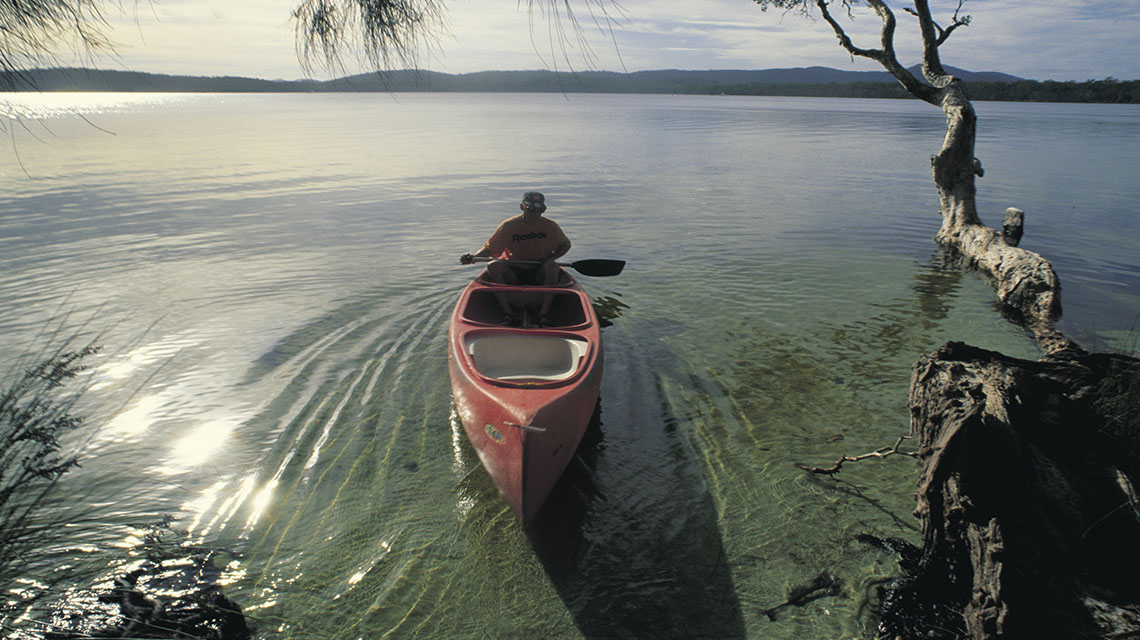 Kayaking on Two Mile Lake (Photo credit: Destination NSW)
Broughton Island, Myall Lakes National Park (Photo credit: Great Lakes Tourism)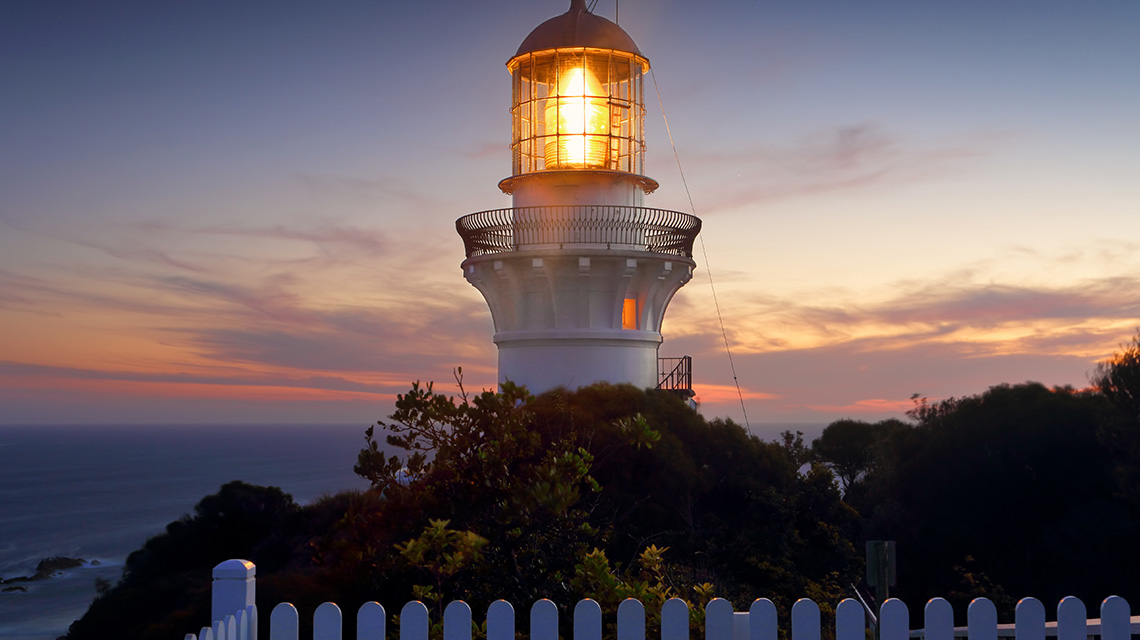 Sugarloaf Point Lighthouse Lighthouse (Photo credit: Leah-Anne Thompson)
Sugarloaf Point (Photo credit: Don Fuchs; Destination NSW)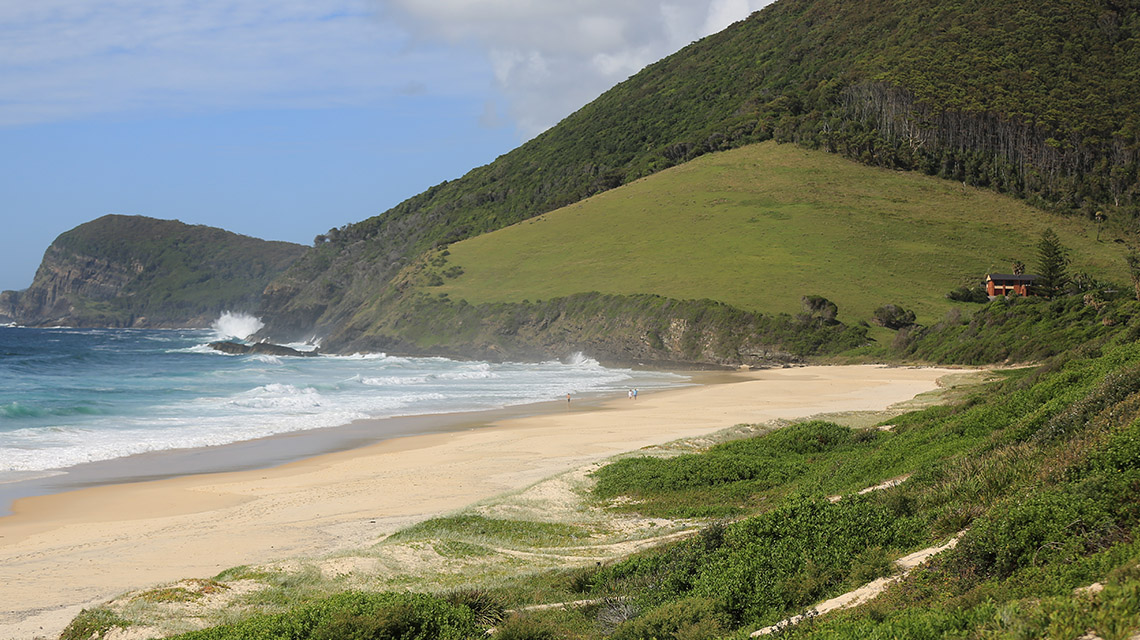 Blueys Beach, NSW
Where to play
A contender for Australia's most beautiful beach is hidden just a short drive from Myall Lakes. Seal Rocks is a carefully guarded secret and the local population of 150 or so is fiercely protective of this gently curving strip of sand sandwiched between rolling bushland and an impossibly blue ocean. It can be tricky to find, accessible only by a narrow, winding drive that takes around 30 minutes from the highway, but it's absolutely worth the hunt. Sugarloaf Point lighthouse sits at one end of the beach and has been watching over the treacherous water since 1875.
Even if you're not the religious type, a visit to the Green Cathedral will leave you feeling inspired. Built in 1922, it's an open air space under the rainforest canopy sitting on a narrow strip of land that runs between Smiths Lake and the ocean. With its roughhewn wooden pews, it's a popular place for weddings or christenings. A non denominational service is held every Sunday, but it's worth a visit any time for some peace and tranquility in nature.
If you want to really embrace the slow way of life, hire a houseboat. Luxury Houseboat Hire has boats that sleep up to 10 and can be driven without a boat licence. Swim, fish or just relax on the deck and watch the world float by.
Follow
People who live around Myall Lakes and the Great Lakes region know how good the local produce is, but it's largely unknown to outsiders. So, in early 2017, the Great Lakes Food Trail was launched, an easy to follow route that starts in Bulahdelah and runs north to Wootton, along the shores of Myall Lake to the coast at Blueys Beach. It stops at local farms, producers, cafes and wineries, all of which are committed to ethical and humane food production. The trail organises seasonal events (with a schedule on the website) and different producers take part, depending on what they have to offer.
Where to stay
Set along 1.5km of pristine lakefront, the NRMA Myall Shores Holiday Park is bang in the centre of the Myall Lakes National Park. Camp and caravan sites are set within the gardens and on the shores of the lake, or you can choose one of the unique lakeside safari tents or a stylish villa. Facilities include a swimming pool, barbecue areas and a kiosk. The Barefoot Café & Pizza Co is open from 10am to 7pm every day and you can eat on the outdoor deck or down on the jetty. The park also organises special kids' activities during the school holidays.
Image credit: Destination NSW
Get more out of your getaway
Download the my nrma app to find accommodation and exclusive Member benefits nearby