Road trip: NSW Far South Coast
The NSW South Coast doesn't stop at Batemans Bay, nor does it close down after major holidays such as Christmas or Easter. Go a little further and you'll find an abundance of cold-weather charms that lie south of the Clyde River
The cooler months are the perfect time for exploring the countryside. South of Batemans Bay, most towns haven't experienced the population explosion necessitating major road upgrades, so much of the Princes Highway still feels like a tourist drive, especially in winter, as you wind through valleys and past shimmering indigo seas. But what exactly is there to see and do in the far south coast's 'off season'? We're glad you asked.
Hero image credit: Kris Ashton
Day 1: Murramarang to Narooma
1hr 22mins | 92.6km
Stop 1: Wake up with the kangaroos at Murramarang 
Tucked away at the back of South Durras,
NRMA Murramarang Beachfront Holiday Resort
packs everything into a small and picturesque space. Its crescent of beach looks out to sea but also onto a headland to the north, which makes for beautiful sunset photos. Kangaroos and other macropods enjoy feasting on the grass and Norfolk Island pine needles that carpet the foreshore. Clustered around the park's southern end are a swimming pool, games room, a take away shop, bistro and bar. Ample seating makes it a pleasant place to discuss the day ahead over breakfast or lunch.
Stop 2: Get up close to the animals in Mogo
When it was founded almost 30 years ago, Mogo Zoo set new standards for what a small privately-operated zoo could be. It's not so small anymore, having expanded at intervals over the years, and it's undergoing another metamorphosis, with renovations on a number of enclosures. It's an altogether more relaxed and less tiring experience when the mercury isn't up over 30°C.
Stop 3: Dine and stay in Narooma
Amooran Oceanside Apartments
are set into one of Narooma's foothills and the east-facing rooms have an unobstructed view over to Montague Island. It's also a downhill stroll to the Narooma Golf Club, which makes the makes the decision on where to have dinner infinitely easier.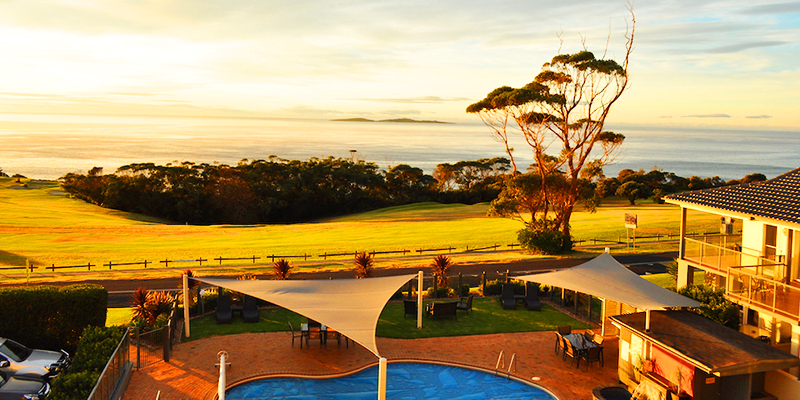 Day 2: Narooma to Mystery Bay
1hr 30 mins | 95.9km
Stop 1: Visit a working dairy farm in Bodalla
There are few things ice cream can't improve and the Bodalla Dairy Shed has added this delicious string to its bow, to accompany its famous cheese which is made with unhomogenised milk. Something a lot of companies don't do anymore. Here, the ice cream is so smooth and thick it's almost chewy. Behind the dairy is a working farm where you can sometimes watch calves being fed, while ponies, alpacas and chickens wander about the paddock beside the car park.
Stop 2: Take a stroll on Mill Bay Boardwalk in North Narooma
If you haven't done this boardwalk, you haven't really visited Narooma. Park your car at the bottom of Centenary Drive (the turnoff is just past the northern end of the bridge) and then set off along the timber walkway, enjoying unique views of the town. Keep an eye on the water for fish, stingrays and sea lions, which are attracted to the fish-cleaning facilities at the boardwalk's eastern end. Continue far enough and you end up at Wagonga Head, where you can look across to nearby Montague Island.

Stop 3: Relax and recharge in Mystery Bay
A dog-friendly accommodation,
Oakleigh Farm Cottages
has a history dating back to the 19th century. The spacious, country-style cabins are perched on expansive hillside lawns in an enviable eyrie with views to Montague Island. A communal hut has table tennis, a yawning fireplace, cosy lounges and a barbecue and BYO bar area. Oakleigh is also a working sheep farm. Friendly horses Charmer (an ex-racehorse) and Tex (a spotted horse that looks like he's never even seen a racetrack) are in the next paddock and will entertain a pat, especially around breakfast time. Chooks are let out of their pen each morning and come running up to our cottage, clucking and pecking at the grass.
Day 3: Mystery Bay to Tathra
1hr 38mins | 107km
Stop 1: Be beside the sea in Bermagui
Simply getting to Bermagui is half the fun – whether you approach from the north or south, you have to follow a tourist drive with quaint bridge crossings, spectacular Bega Valley vistas and the occasional sea view. Once you arrive, head for Bermagui Fishermen's Wharf – a retail space that is proof a seaside town can be developed without losing its cosy seaside demeanour. Housed within its impressive timber structure is a boutique ice cream parlour, clothes shops, Asian and Italian restaurants, and the 'HarBar'. Its frontage overlooks the Bermagui River, with clear waters full of fish. Also worth seeing in 'Bermi' is the historic Blue Pool, a seawater pool that was constructed in the 1930s under the auspices of philanthropist and resident Bill Dickinson. It underwent major renovations in 2011 and is well worth a photo, even if it's too cold for a swim.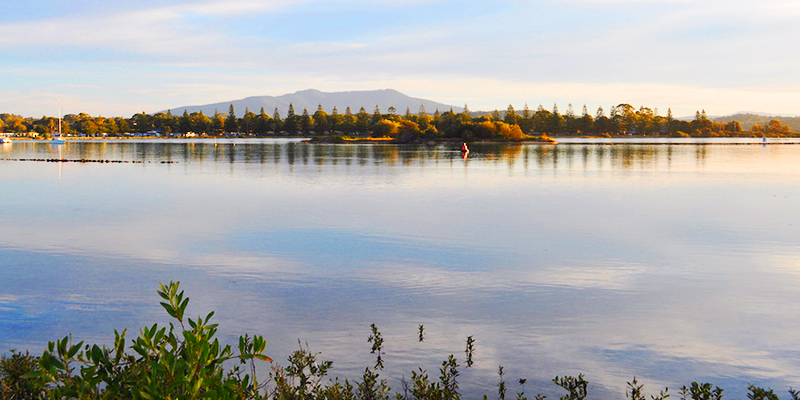 Stop 2: Pay a visit to Sprout, Eden
If you're looking for a cafe dedicated to local, healthy fare, then you'll love Sprout Eden Cafe. Offering up Eden's finest fresh produce, the food is delicious, nutritious and pesticide-free. It's dog-friendly and you can sit street-side with your dog or enjoy a more relaxed experience in the secluded back garden.
Stop 3: Visit and stay in recovering Tathra
Until recently, Tathra was familiar to mountain bikers, holidaymakers, and pretty much no one else. It hit the headlines for all the wrong reasons back in March, when the town came under threat from bushfire and subsequently affected tourism, with some business owners believing the town is doing about half the business it normally would. A total of 66 homes were lost to the bushfire, and more than 150 were damaged in the blaze, including an old motor park that was entirely destroyed.
One property damaged was
Tathra Beachside Holiday Park
, which belongs to renowned entertainer Frankie J. Holden. From its grounds, you can look up the hill to the ridge, where brown leaves and blackened trunks still stand testament to the conflagration. It reached the shoreline on fireballs that rocketed down on 100km/h winds. Although the park lost a couple of cabins, Frankie doesn't dwell on it or add to the negative media reports, focusing instead on how Tathra is bouncing back and very much open for business. "This is a great time to come to the Sapphire Coast," says Frankie. "A lot of people still have the misconception that, 'Oh, the South Coast is cold!' But we call a typical winter's day 'blue sky winters'. You need your jacket on when you first get up, but by ten o'clock or ten-thirty you take it off, then you put it back on at about four-thirty."
Day 4: Tathra to Green Cape to Merimbula
3hr 12mins | 182km
#WhyWeRoadTrip
If you are a local business or a traveller passing through, we want to hear why road trips are important to you!