Chargefox ultra-rapid EV chargers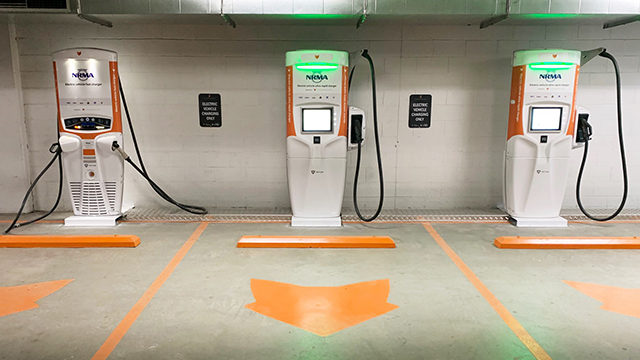 20% off ultra-rapid charging
Chargefox is Australia's first and largest network of ultra-rapid charging stations. These stations, powered by 100% renewable energy, are situated on major highways across the country.
NRMA Members have access to the NRMA EV fast charging network and through the partnership with Chargefox, Members will now have access to benefits when using Chargefox ultra-rapid stations via the Chargefox app.
Member offer
Save 20%* on electric vehicle charging at all Chargefox ultra-rapid sites across Australia.
How to redeem
1. Download and install the free Chargefox app.
2. Follow the instructions to sign up and log into the Chargefox app.
3. In the 'My profile' section, click 'Add program' to add your NRMA Membership number and agree to the NRMA terms and conditions to activate your Member discount.
4. Add your credit card details.
5. Find ultra-rapid charging stations on the app's map and redeem your discount when using these stations. Simply use the filter icon to only display ultra-rapid sites.
6. Once you have completed your charging session, your Member discount will be applied and your credit card will be charged. A tax invoice will also be sent to your email.
Need urgent tech support for the Chargefox app? Call the support team on 1300 518 038
Frequently asked questions
Ultra-rapid charging station locations
NRMA Members can also charge their electric vehicles at
NRMA fast chargers
across NSW and ACT.
Not an NRMA Member?
NRMA Membership gives EV owners a variety of discounts and benefits
*The Offer: 20% off Retail Charging Price charging at all Chargefox ultra-rapid sites.
The Offer is only available at participating Chargefox ultra-rapid sites. For participating locations please download the Chargefox app.
For terms and conditions of use of the Chargefox Network including Chargefox privacy policy under which your personal information will be collected on registration for the app and use of the network then visit:
3.
The offer can only be activated by Members who have completed the following steps prior to charging their vehicle:

a. Downloaded or updated the Chargefox app (on a compatible smartphone).
b. Logged into the Chargefox app and added their credit card information and NRMA Membership number in their profile.

4. The offer is not limited to usage or time restrictions and can be used by NRMA Members at any time.

5. Discounts cannot be applied after a charge session has begun or has been completed.

6. Help and support is provided by Chargefox when using the Chargefox app or any of the Chargefox ultra-rapid sites. This can be found in the Help & Support section in the Chargefox app.
7. The Offer may be withdrawn at any time and without notice.
8. NRMA accepts no responsibility in respect to any damage or loss to a Member caused through their use of, or lack of availability of Chargefox equipment to charge their vehicle. Members should review the Chargefox terms and conditions and privacy policy referenced above.
9. These terms and conditions are subject to change from time to time. Please read here https://www.chargefox.com/member-programs-terms-and-conditions-nrma/ for the latest conditions.