Best small car under $35,000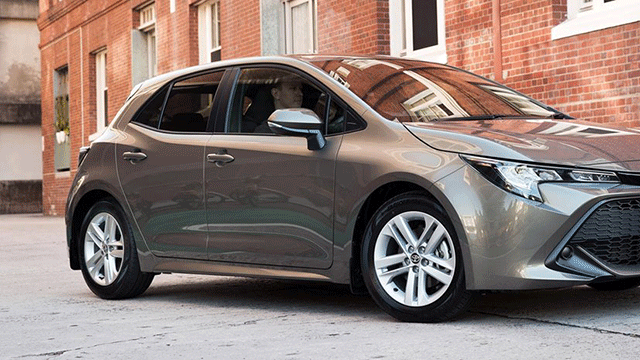 2019 Winner: Toyota Corolla Ascent Sport
Winner: Toyota Corolla Ascent Sport

2nd Place: Mazda3 G20 Evolve

3rd Place: Kia Cerato S
Winner: Toyota Corolla Ascent Sport
Popularity is not always an indication of quality – look at fast food and reality TV. However, in this year's Australia's Best Cars awards, Australia's most popular passenger car, the Toyota Corolla, has also been crowned Australia's best small car under $35,000.
The current model arrived in Australia in August 2018, but since then Toyota has added some important extras to enhance the ownership proposition. These include a five-year factory warranty as of January 1, 2019, which brought Toyota into line with most other mainstream manufacturers. Then, in October 2019, Toyota finally added the smartphone integration capability of Android Auto and Apple CarPlay to the Corolla, making it standard equipment across the range.
On the road, Australia's Best Cars judges were also impressed with the Corolla's performance. The continuously variable transmission's (CVT) provided just the right gear ratios for the vehicle's speed, which certainly can't be said of all CVTs. The use of 10 artificial 'steps' in the CVT's gear changing program, including a mechanical launch gear, helps reduce engine flaring under acceleration.
The 2.0-litre engine introduced with this current model Corolla also provides a useful jump in power and torque to 125kW and 200Nm, up from the previous 1.8-litre engine's 103kW and 173Nm. These outputs place the Corolla ahead of other popular entry-level small petrol cars such as the Mazda3. Yet, the Corolla still delivered competitive fuel consumption of 6.0L/100km in the regulation test cycle.
Toyota Corolla Ascent Sport
Indicative drive away: $26,661
Body type: 5-door hatch
Fuel economy/fuel type: 6.0L/100km; Unleaded 91
Engine/transmission: 2.0L/CVT
ANCAP: 5 stars
2nd Place: Mazda3 G20 Evolve
Second place in this year's awards was the Mazda3, which Mazda launched as an almost all-new model in early 2019. It brought with it a complete redesign, including a marked step up in build and finish quality and a revamp to the infotainment system.
The Mazda3's mechanical refinement was also upgraded to the point where it's now on par with a number of premium European small cars. In particular, the Mazda's start/stop fuel saving feature is far smoother and quieter than in the previous model.
Handling has traditionally been the Mazda3's forte, and that continues with this car – it's a delight to drive. However, the new Mazda3 did bring with it a significant increase in the entry-level price that affected its score. Also, the Mazda3's dramatic styling came at the expense of room in the rear seats.
Mazda3 G20 Evolve
Indicative drive away: $31,431
Body type: 5-door hatch
Fuel economy/fuel type: 6.2L/100km; Unleaded 91
Engine/transmission: 2.0L/6 speed auto
ANCAP: 5 stars
3rd place: Kia Cerato S
Taking third place was the Kia Cerato S, which is one of the best value small cars on the market. It's inexpensive, but cheap would be too harsh a word. With a drive away price of $23,790 and a seven-year warranty, the Kia scored particularly well in these important areas.
Inside, the Cerato is spacious and, for the driver, there's a digital speed readout along with the traditional analogue one, and the infotainment screen has good resolution and is big and mounted high on the dash. The Cerato S scored well in the areas of seating comfort and space, and although some of its on-road scores, like handling and performance, were slightly below average, it remains a very appealing package for the price.
But it was the Corolla's significant improvements to the traits it already had going for it, such as its very cheap servicing costs and the excellent access to Toyota dealers in metro and regional areas across Australia, that all worked to bring home a thoroughly deserved win for Toyota.
Kia Cerato S
Indicative drive away: $23,790
Body type: 5-door hatch
Fuel economy/fuel type: 7.4L/100km; Unleaded 91
Engine/transmission: 2.0L/6 speed auto
ANCAP: 5 stars
Members save with NRMA car loans
You could save an additional 1%* on our competitive car loan rates