Best small SUV under $40k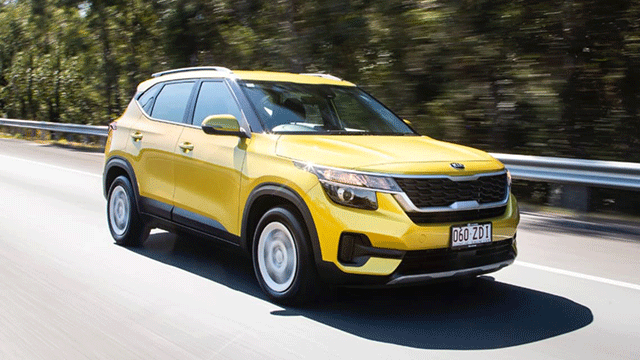 2019 Winner: Kia Seltos Sport
Winner: Kia Seltos Sport

2nd Place: Hyundai Kona Go

3rd Place: Hyundai Venue Active
With Australian public's ever-increasing demand for SUVs, this category is growing at a rapid rate. The majority of vehicles sold in this segment are 2WD, so AWD models have been excluded from judging. The typical buyers are two-fold: empty nesters in the older age group who are looking to downsize from a larger family car and like a higher seating position for easier ingress and egress, and those who haven't started a family but want the versatility of an SUV body for their pre-kids adventures.
Winner: Kia Seltos Sport
For entry-level vehicles, each of these finalists is fairly well appointed with all-important connectivity, and the ease-of-use for most major functions is hard to separate. Consistency was therefore going to win the day and it in that the Kia Seltos started to create a gap between itself and Hyundai Kona Go and Venue Active. Every judge who drove the Seltos was pleasantly surprised – to the point that if they originally blind-tested this vehicle, some would likely have guessed it was premium brand. It definitely had an upmarket feel and produced the top score for build and finish quality.
Value for money was never going to decide this one as there's only about a $2000 price difference between the three SUVs and little difference in running and repair costs or fuel consumption, although the Seltos got a small boost from good warranty and standard features scores.
The Seltos also delivers category-leading ergonomics. Its huge 10.25-inch infotainment touchscreen is extremely clear and intuitive to use, while the door, dash and seat materials are mostly soft to the touch. Space in the second row will comfortably seat two adults over long distances.
The Seltos uses a continuously variable transmission (CVT) that's one of the best of its type, giving an almost perfect imitation of a traditional auto transmission. The Seltos also excels in cabin insulation, with driveline noise well suppressed from occupants. There's very little separating each of the podium finishers in on-road performance.
Prospective buyers would surely be happy with any of the trio, but the Kia Seltos Sport made a long-lasting impression on all judges.
Members save with NRMA car loans
You could save an additional 1%* on our competitive car loan rates