Best sports car $62k-$125k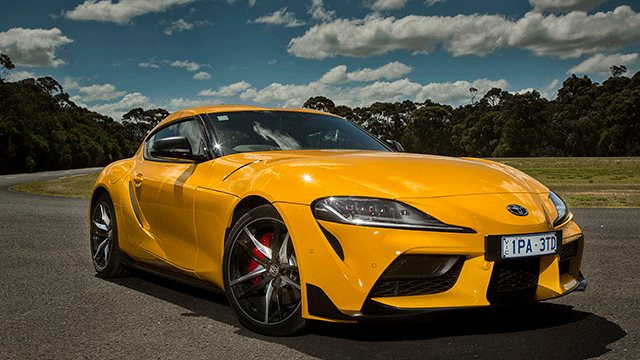 2019 Winner: Toyota GR Supra GTS
Winner: Toyota GR Supra GTS

2nd Place: Volkswagen Golf R

3rd Place: Kia Stinger GT Black
Winner: Toyota GR Supra GTS
The one part of test week that all judges look forward to is driving in the sports categories. And when the scoring gets underway, it's where passions run highest and 'robust' debate ensues. It was no different this year when Toyota's new and highly anticipated GR Supra GTS emerged with the winning crown in the high-end sports category.
Also staking their claim to the throne was the second-placed Kia Stinger GT and third-placed Volkswagen Golf R. All three cars are very different in style and mechanical make-up, but all are united in the common purpose of delivering driver satisfaction.
The Supra name returns to the Toyota stables after a 17-year absence, spawned from a joint collaboration with BMW that also delivered the new Z4. The Z4 M40i is the only model that also runs a 3.0-litre straight-six engine similar to Supra but had a driveaway price too high for inclusion in this category.
The Supra's significantly higher price tag has predictably higher depreciation losses compared to the VW and well-equipped Kia, which work against its value for money credentials. It's the same for higher insurance costs, with Supra owners having to fork out more, but its five-year/unlimited kilometre warranty is only bettered by the Kia's seven-year cover, and its dealer network is superior to the Volkswagen and rated highly. Despite this shaky economic start, Toyota's two-seat sports coupe strikes back with good scores for its design and function and equally impressive on-road skills – essential qualities in the premium sports category.
Amongst the top-spec GR Supra GTS's standard kit of creature comforts, expect to find adaptive LED headlights, leather accented and heated power sports seats, dual climate control, 8.8-inch multi-information display, keyless entry/start, navigation, head-up display, 12-speaker premium JBL audio and wireless phone charging. Performance-oriented hardware includes 19-inch forged alloys with 35-series Michelin rubber, adaptive suspension and drive mode select (normal, sport, VSC off modes), launch control, and an electronically-controlled limited slip differential. It also delivers a category-leading safety score, featuring auto emergency braking with pedestrian/cyclist detection, active cruise control, lane departure alert with steering assist, front/rear park sensors, blind-spot monitor, rear cross-traffic alert, seven airbags and a rear camera.
The Supra has a premium build and finish quality that's consistent with its BMW heritage. Not surprisingly, there's an obvious BMW-esque look and feel to its interior, right down to the switch gear and iDrive-style infotainment system controls. And that makes it easy for the driver to interact with – something the VW and Kia were also praised for. While the Supra's ergonomics were found wanting, with most judges complaining that entry and egress was awkward and led to head knocks on its low-slung roof-line,the body-hugging sports seats have adjustable bolsters and are as good as you'll find in this class.
Though co-developed with BMW, Toyota's engineers have stamped their own hallmark on powertrain, suspension tuning and, of course, on the exterior styling. With 250kW, 500Nm and a lightweight body (1495kg), performance from the silky turbo 3.0-litre 'six' is stunning. And the eight-speed auto delivers ratio changes that are lightning quick and intuitive, with manual shifts via the paddles offering no discernible benefit for most driving situations. Precise steering and handling from the rear-drive Supra impressed the judges and retained that sweet chassis balance that's trademark BMW and comes from a near perfect 50:50 weight distribution.
The Kia Stinger, with 272kW and 510Nm from its 3.3-litre twin-turbo V6, is also a strong and satisfying performer, but ultimately its extra weight (1780kg) holds it back. The 2.0-litre turbo Golf R, despite its engine capacity deficit, was the surprise and held its own against the Korean.
Passionate debate eventually saw the VW's handling score edge ahead with its 4Motion all-wheel-drive chassis feeling dynamic to the point of being clinical in the way it carved through corners and for the sheer speed it could carry. It was confidence-inspiring despite the lower tyre grip levels and tendency to move around on them. The Stinger, good as it is, felt less resolved with the rear end more likely to become wayward when pressing on.
If your budget runs to it and you can get your hands on one, then the Supra really delivers for those after an engaging drive. And if not, then the highly capable Golf R hot hatch or Kia's Stinger GT grand tourer offer great alternatives.