When you jump into a hydrogen or electric-powered vehicle be sure to check one thing – does it have a specific label on its number plate? If it doesn't you could be fined under new rules that came into effect on July 1, 2020 in NSW.
Hybrid and electric vehicles sold in NSW from this year must have an 'EV' (electric vehicle) warning sticker on their registration plates. NSW uses a warning triangle for EVs, while in Victoria a diamond shaped electric-car label. In NSW, hydrogen cars must display a pentagonal-shaped label.
The warning signs are designed to advise emergency service workers and first responders attending to a crash that the vehicle may be equipped with a large battery pack and may need to be disabled or disconnected to prevent a potential fire.
While the design of certain vehicles such as the Toyota Prius hybrid and Tesla electric cars are distinctive and easier for emergency crews to identify, it is becoming more difficult for emergency crews to distinguish which vehicles may have battery packs on board given the widespread rollout of hybrid technology on mainstream models such as the Toyota Corolla, Camry and RAV4.
The NSW requirement to display an EV warning triangle on the front and rear registration plates of hybrid and electric cars – and the rear only on hybrid or electric motorbikes and scooters – was introduced in NSW in 1 January 2019.
All vehicles manufactured after this date must display the 'EV' labels – which are supplied by transport authorities – with the enforcement of the new law having come into effect on 1 January 2020.
A letter sent by Roads and Maritime Services in NSW says the labels have been introduced "as a safety initiative to help Emergency Services staff and first responders in the event of a crash".
"They will allow vehicles to be quickly identified as having an electric or hydrogen component, so specific procedures can be used to make the incident safer for everyone".
Customers are then advised to "please ensure the enclosed self-adhesive labels are securely fixed to your vehicle's front and rear number plates".
What vehicles require a warning label?
The Heavy Vehicle (Vehicle Standards) National Regulation (the Regulation) sets the labeling requirements for vehicles powered by alternate fuel systems.
• Hydrogen-powered vehicle – a heavy motor vehicle that is powered by a hydrogen fuel system and has one or more hydrogen fuel containers fitted to the vehicle for the system.
• Electric-powered vehicle – a heavy motor vehicle that is powered by one or more electric motors or traction motors.
• Hybrid vehicle – a heavy motor vehicle that is powered by an internal combustion engine (regardless of fuel type) and at least one electric motor or traction.
Basic label requirements
The label must be:
• Fixed conspicuously to front and rear number plates.
• Affixed to a plate made of metal that is at least 1mm thick.
• Compliant with class 2 of AS 1906.1 'Retroreflective Materials and Devices for Road Traffic Control Purposes - Retroreflective Sheeting'.
• Fixed to the number plates so that the letters on the label are in an upright position.
• Does not wholly or partly obscure any characters on the number plate.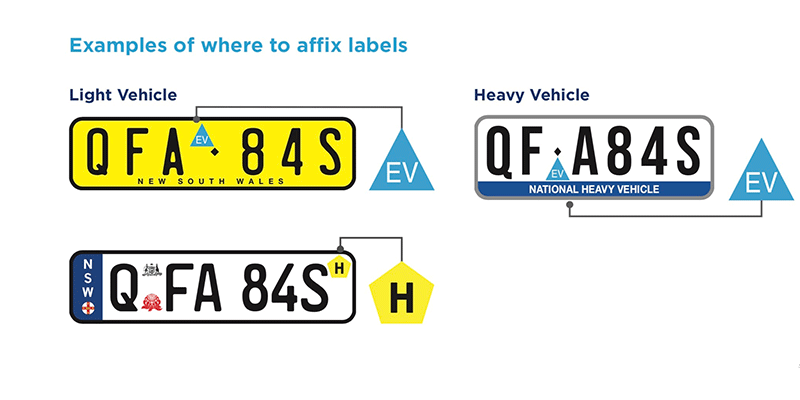 *Image courtesy of caradvice.com.au