Easter Holidays, with the days getting shorter and the temperatures dropping, we think that you should be taking full advantage of the remainder of the sunshine, so box up your Easter eggs and get ready to relax, explore and get a golden glow in these idyllic towns.
How does waking up to the sound of lapping waves in your own beach side cabin sound? It doesn't take too much of a stretch of the imagination, thanks to our holiday resorts which are dotted along the NSW Coastline. We've compiled a collection of some of our favourite destinations, whether you choose to pay a visit to one, two or all five destinations, these locations are an easy drive and a great option to make a road trip to remember.
1. The Snowy Mountains
Breathing in crisp, clean, mountain air, take in the view of the snow-capped Snowy Mountains and be soothed as Lake Jindabyne's foreshore calmly laps against the shore overlooked by Jindabyne Holiday Park. If you are enraptured by the ideas of spending your day fly fishing, hiking up to the highest point of Australia - Mt. Kosciusko, or spend the afternoon upon a long walk around Lake Jindabyne, this is the place for you.
Image Credit: Destination NSW
2. The South Coast
If you are looking for a place to wear out the kids, you have found it, the ocean air and outdoors lifestyle with have the kids completely worn out, the Merimbula Beach Holiday Resort is located just 3 hours drive from Canberra. Here you will be greeted by crystal-clear waters and sandy white beaches, seriously, it's even referred to as the 'gem of the Sapphire coast' by the locals. Snuggle up in a cabin or villa, waking up to the ocean is the best start to any day, and just to top it off, these pet friendly resorts mean that you can take your pooch with you, a true home-away-from-home at Murramarang.
3. The Central Coast
Just an hour and a half drive north of Sydney, Ocean Beach Resort is the ultimate escape, with a huge range of features for all to enjoy, inclusive of everything from heated resort swimming pools, spas, waterpark, a playground, go-karts and kid's activities that you will never have to endure a "I'm bored". Nestled between the dense forest, you have a range of options for your accommodation, whether you are after a one, two or three bedroom cabin, or a tent with an ensuite, the site comes with or without electricity and are easily accessible.
4. Coffs Coast
Discover Arrawarra Beach, this pristine beach is located just above Coffs Harbour and is the dream location to recharge with the family, Darlington Beach Holiday Resort is in an eco-friendly park and is a nature lovers paradise. Begin your day watching the sunrise upon the beach, take a picnic and wait to be greeted by some friendly friends, in the furry form of Kangaroo's or Koalas. You'll be spoilt for choice with things to do whilst visiting Coff's Coast, tennis courts, jumping pillows, twin slide swimming pools, and we're assuming you'll want to recharge your batteries – don't worry, Ponds Café has got you covered.
5. Great Lakes
National Parks have a way of calming the body, giving you ample opportunity to calm your mind, relax and rejuvenate whilst being surrounded by lush plantation and listening to bird calls. We recommend staying at Myall Shores, the holiday park is situated in the centre of the national park which is on the world-renowned Ramasar List of Wetlands of International Importance, you can be greeted by kangaroos, wallabies, possums, koalas, hundreds of birds species and more. With the park being situated next to Myall Shores Lake, you and the family also have the option to take advantage of the lake for all of your water-sport activities.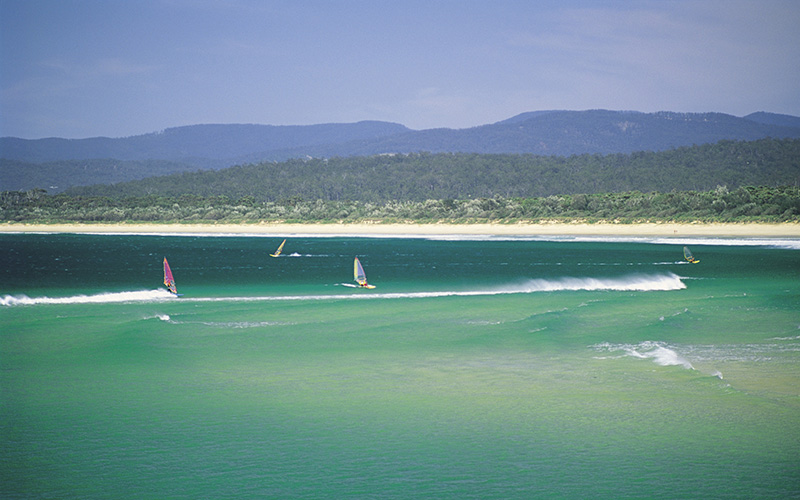 Image Credit: Destination NSW
Our resorts offer a perfect place to relax, unwind and enjoy your holiday. Whether you have a few days off, or a couple of weeks, you can find a holiday park near you, or worth adventuring to on a road-trip; so take it back to basics and get back to nature these Easter holidays.