A gateway town into the Blue Mountains, Penrith has much more to offer than just a stop over destination.
Henri Marc

iFLY Indoor Skydiving 

Sun Masamune

Old Dairy Bed and Breakfast
Penrith is steeped in rich history, it's surrounded by natural beauty, has a thriving arts and culture scene and boasts an impressive list of adrenaline attractions. If that's not enough to convince you to come and visit, it's also located only 50 minutes from Sydney.
Where to eat
Boasting everything from vegan pizza to Middle Eastern tapas, sinful desserts to award-winning pies, Penrith's foodie trail is packed with tasty delights and proves that west really is best.

Ask any resident where to go for breakfast and they'll say Henri Marc. The industrial style café found near Penrith's Memory Park War Memorial has a menu that changes continually, bar a few faves like caramel on toast – where the thick caramel sauce covers every inch of the sourdough bread, topped with a sprinkle of salt. Wash it all down with a coffee, or one of their signature cold pressed fruit juices. Set amongst the inspiring exhibitions at the Penrith Regional Gallery and looking out over the Nepean River, Café at Lewers delivers delicious food in a stunning setting. The menu is packed with all of your brekky faves, as well as good old fashioned sandwiches and a killer lamb pie with mash.

Based on the philosophy that 'less is more', the team at Naked Flame have nailed it with their simple but super tasty wood-fired pizzas. And for all our vegan friends, don't worry you're invited too. The menu currently offers six vegan pizzas complete with just-as-good-as-the-real-thing-vegan 'cheese'. If you're looking for a hidden gem, then The Union Café is where it's at. When we say hidden, we mean hidden. With no front door and only an anonymous back entrance through a shady car park, The Union is one of Sydney's best-kept-secrets. Once you find your way in, you'll be greeted to a candlelit room buzzing with energy. The food and wine bar serves up tapas style food inspired by the flavours of Spain, Morocco and the Middle East. Nailing social dining at an affordable price, you'll get more bang for your buck here.
Located on High Street, Mr Watkin's is a café by day, speakeasy style bar and restaurant by night. Offering quality food and drinks in a unique turn of the century setting, the 80-seat restaurant and bar has been decorated in the style of the first European to discover the Nepean River, Captain Watkin Tench. With bar snacks, share plates and a list of hot dogs, and a $49 banquet for the undecided, there's plenty to suit a grazing feast all night long.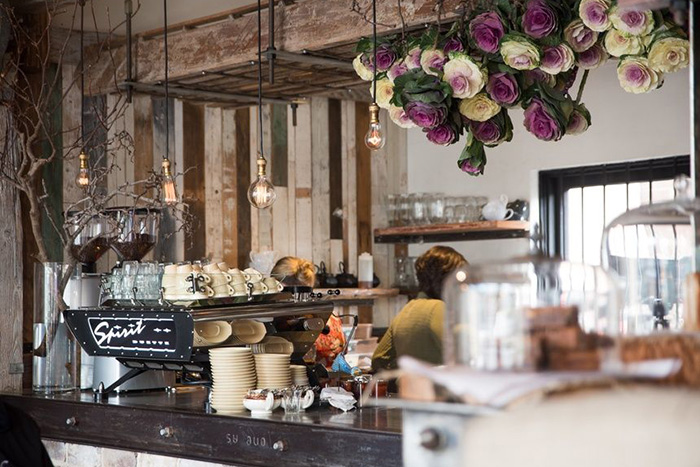 Dining at Henri Marc
iFLY Indoor Skydiving, Penrith (Photo credit: Hello Sydney Kids)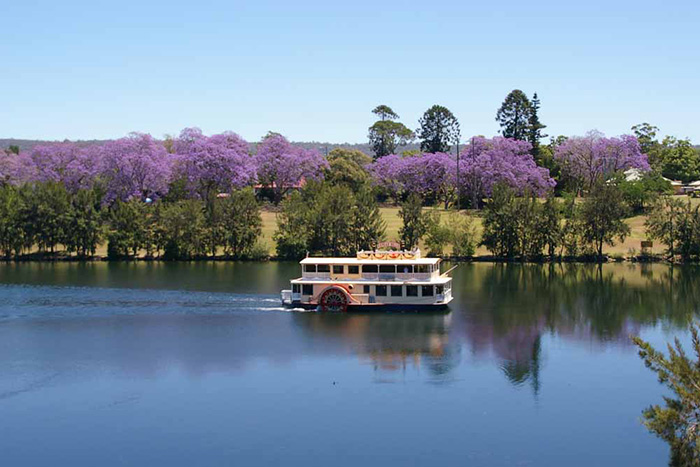 Nepean Belle Paddlewheeler (Photo credit: Destination NSW)
Old Dairy Bed and Breakfast
Mr Watkins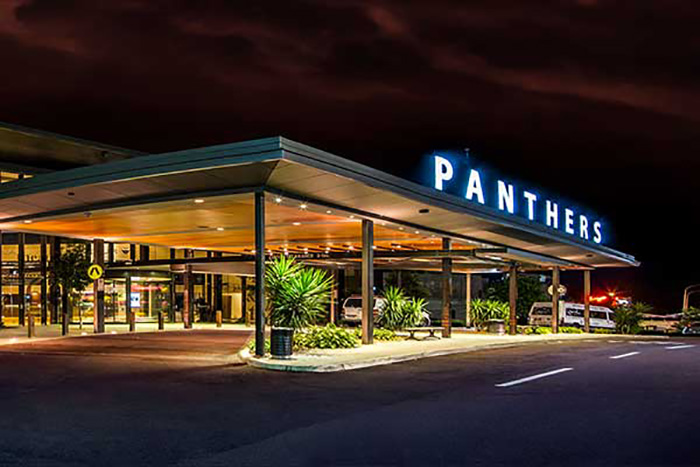 Panthers Penrith Leagues Club (Photo credit: Visit Penrith)
What to do
Penrith is a hub of fun things to do and interesting places to go in Sydney. Soak up the vibrant arts scene at nearby museums and art galleries, or experience the beauty of the Nepean Gorge from the deck of the Nepean Belle Paddlewheeler.
Ever dream of flying? iFLY Indoor Skydiving is a state-of-the-art vertical wind tunnel that provides a fun and safe way to experience a true human body flight. Whether you want to be a master of the sky or simply want to feel what it's like to fly like a superhero, indoor skydiving offers a truly exhilarating and rewarding adventure. How about trying your luck at white water sports at Penrith Whitewater Stadium? Being the competition venue for kayak and slalom events during the Sydney Olympic Games in 2000, Penrith Whitewater Stadium offers a range of facilities for you to experience rafting and kayaking. Its 320 metre 'U'-shaped course will give you a real white water river adventure, but if you'd prefer to take it easy, the stadium has a flatwater racing course, where you can enjoy paddling with ducks and swans on a natural lake.
Found on an industrial estate by the Nepean River is Australia's only sake brewery. Sun Masamune is the offspring of parent company Konishi, who have been making sake in Japan since 1550. For a couple of gold coins, you can visit the sake factory, sample the Go-Shu brand of rice wine that they make on site, and tour the supremely clean and tidy factory floor. Tours are by appointment only, however you can drop into the cellar door at any time. The Penrith Heritage Drive is a great way to see picturesque Penrith. Having recently celebrated its Bicentenary, Penrith's 200 year-long story will captivate and fascinate visitors as they travel through rural and urban areas visiting historical sites across the City. There are 27 sites to visit, some are well-known such as the Victoria Bridge, but others including Mamre House are hidden historical gems. Pack your lunch and have a picnic at the Nepean River to break-up the drive, or stop in at one of the many cafes along the way.
Explore the drama and danger of firefighting and learn about the history of fighting fires at the largest Museum of Fire in Australia. Home to an impressive collection of fire-fighting vehicles and memorabilia, there's enough here to keep even the littlest firefighters interested and occupied for house. The Museum features a rotating display of historic fire engines dating from the late 18th century up to the 1980s, along with uniforms, phones and radio and alarm systems, firefighting tools and protective equipment. To top it all off, there's a children's play and activities area complete with a ride-on-fire-engine and interactive computer games. And finally, if you're visiting Penrith, you can't go past Panthers Penrith Leagues Club. With a wide range of restaurants to suit all tastes, from the carnivore's paradise at the Backyard BBQ to the decadent desserts at Oliver Brown, the team at Panther's can satisfy all cravings. Witness first class live entertainment, gaming, bars and outdoor leisure, while the kids can burn off energy on the multi-level play equipment facilities.
Where to stay
If you've been dreaming about escaping to a quaint cottage house, frolicking among immaculate manicured gardens and getting lost around 20 hectares of estate, then you must have a stay at the Old Dairy bed and breakfast in Wallacia. The cottage/farm stay accommodation located on Bents Basin road is a restored historic two-bedroom, two-story building. Complete with a living room, bathroom and kitchen facilities, the farm stay accommodation also backs on to rugged bush hinterland.
Providing a variety of different apartment style rooms, catering to whatever your accommodation needs might be is the Quest, Penrith. Creating a home-away-from-home experience, the modern apartments provide plenty of open space, making them the perfect fit for larger groups of friends and families. The apartment hotel is a great solution for those looking for accommodation in Penrith within close distance to all that Penrith has to offer. Guests of Quest Penrith can access the onsite gym at no cost and use the business lounge with complimentary Wi-Fi.
Finally, if you want to discover a stylish, relaxing and affordable gateway to Western Sydney, then the recently renovated Mercure, Penrith ticks all of the boxes. Located at the base of the Blue Mountains, and next door to Penrith Panthers World of Entertainment, the Mercure Penrith is the premier choice of hotels for family holidays and weekend getaways. Each of the hotel's 222 rooms have been designed to be the perfect urban oasis, a place to feel relaxed and completely at home. Thoughtful in-room comforts include deluxe bedding, Wi-Fi Internet and flat-screen televisions with Foxtel. Enjoy a workout in the fitness centre and then reward yourself with a dip in the outdoor pool.
Exclusive discounts on fuel, parking and accomodation
And so much more with NRMA Blue for just $5 a month