Local's guide: Blue Mountains
Just a two hour drive west of Sydney, the Blue Mountains is a natural choice for a getaway.
Blackheath Growers Market

Norman Lindsay Gallery and Museum

Grand Canyon track

The Hydro Majestic Hotel
Centred around the main hub of Katoomba, the region features plenty of cute towns in which to base yourself, including Blackheath, Leura, Springwood, Bilpin and Wentworth Falls. Nature lovers will find a fantastic destination for hiking along trails and swimming in secret waterfalls, while foodies will discover an abundance of atmospheric eateries in which to drink and dine.
The Blue Mountains community has been significantly impacted by bushfires and COVID-19 – please check the places you plan to visit before setting off.
Where to eat
Pop into the shed at Hillbilly Cider on Bells Line of Road at Bilpin to try their 100 per cent natural cider. Anonymous Cafe at Blackheath is the place to go for coffee, while Mountain High Pies at Wentworth Falls has about 30 varieties of pie, including a breakfast pie, chicken and chorizo, and lamb, rosemary and shiraz.
Old Hartley Post Office Cafe, which was the longest running post office in Australia from 1846 to 1982, is a lovely place to stop for the Pony Xpress Downhill Special pulled pork slider.
The award winning and eco friendly Leura Garage, based in a former garage next to the train station, has a fantastic tasting menu that includes Central Ranges olives, baked camembert, braised lamb shoulder, roasted pumpkin and grilled broccolini with toasted almonds.
Shop for locally made cow, goat and sheep cheese, olive oil, wine, nuts and honey at Blackheath Growers Market which is held on the second Sunday of the month at Blackheath Community Centre. Springwood Growers Market has similar offerings and opens on the fourth Sunday of each month at Springwood Hub.
The Megalong Valley Tea Rooms is well worth a drive into the valley to stop for one of their famous Devonshire teas or homemade apple pie. Sit outside and enjoy the scenic views and the interesting bird life.
At night, head to the award winning, hatted restaurant Darley's at Lilianfels Blue Mountains Resort and Spa at Katoomba, housed in the heritage listed homestead of Sir Frederick Darley, the sixth chief justice of NSW.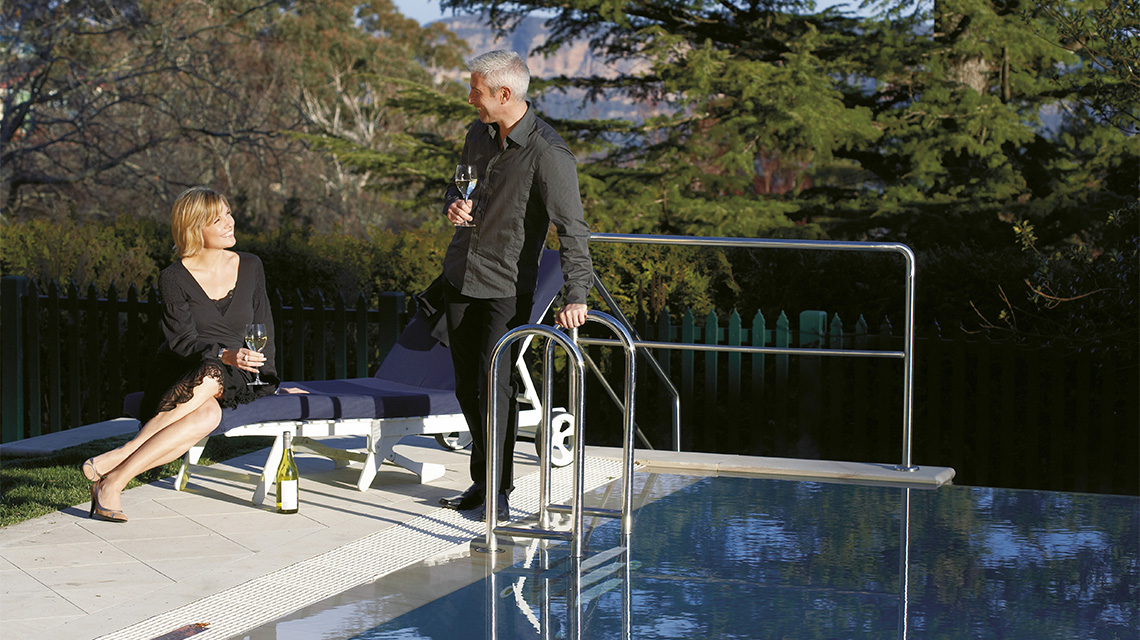 Poolside, Lilianfields (Photo credit: Destination NSW)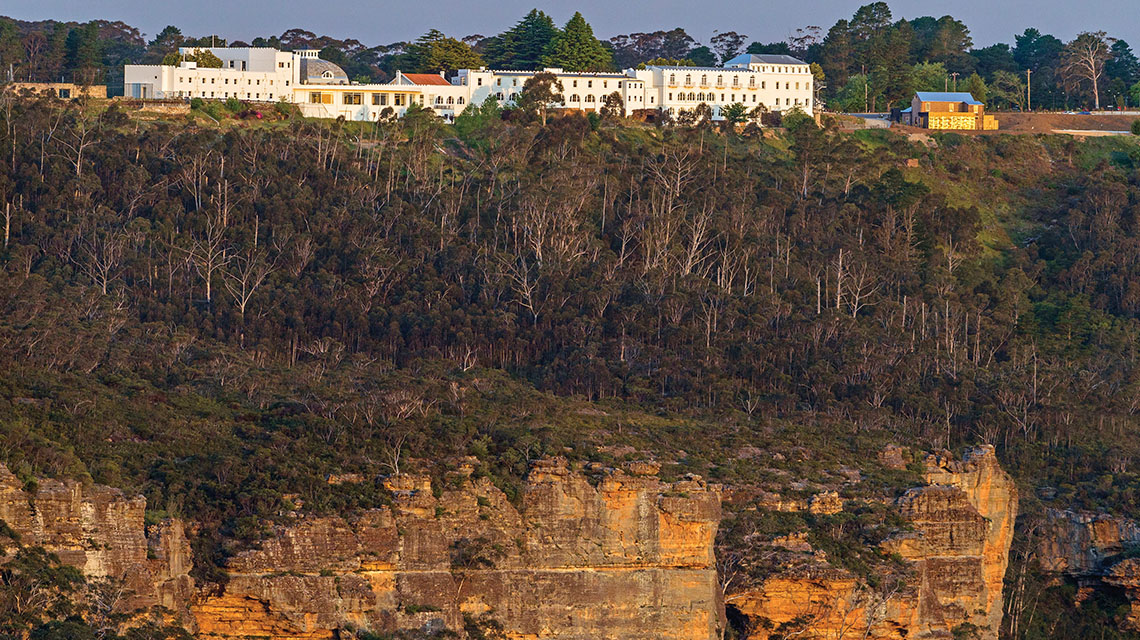 The Hydro Majestic (Photo credit: Destination NSW)
Food and Wine, Leura Garage (Photo credit: Destination NSW)
Where to play
If you're planning to explore the vast areas of the Blue Mountains National park, please first visit the National Parks NSW website for the latest alerts as many areas and walks are still closed due to bushfire damage.
The Blue Mountains is dotted with beautiful swimming holes waiting to be discovered. Just below Victoria Falls Lookout at Mt Victoria you'll find the lovely Silver Cascades waterfall. It's a steep walk down into the Grose Valley to see water streaming off a rocky overhang, but it's energy well spent.
Paradise Pool at Linden is another top spot for a dip. It's about a 30 minute walk to get to the deep pool. Jellybean Pool at Glenbrook, which is shaped like the confectionery, has a sandy beach and rock platforms for sunbathing.
The region is also ideal for hiking. The 6km long Grand Canyon track, which starts at Evans Lookout near Blackheath, takes you along creeks and past ferns, sandstone escarpments and waterfalls. Blue Mountains Adventure Company offers guided treks, as well as abseiling, canyoning and climbing for the adventurous.
Fruit picking is a fun activity for all, and several orchards including Bilpin Springs Orchard Pine Crest Orchard (open November to May) and Bilpin Fruit Bowl (open November to May) give wannabe farmers the chance to harvest their apples, peaches, berries and pears when they're in season.
What to see
For a retro night out, head to the family run Mount Vic Flicks at Mt Victoria. Housed in a 1934 building, the cinema screens arthouse, classic and new release films. Some sessions are introduced by a resident theatre organist.
Art lovers should check out the Norman Lindsay Gallery and Museum at Faulconbridge, where a collection of the much loved artist and writer's works include watercolours, sculptures, novels and exhibition models of his classic children's book, The Magic Pudding.
Kids will also love seeing the antique dolls, teddy bears and model trains on display at the Leuralla Toy and Railway Museum at Leura.
Where to stay
Cosy up in a treehouse, tee pee or a cave like room built on a natural rock platform that you enter through a Hobbit style doorway at Love Cabins at Mt Tomah. There are eight accommodation options to choose from, depending on the type of stay you are looking for.
The Blue Mountains is also strewn with inviting bed and breakfasts. Built in the 1890s, Brechin Cottage at Blackheath has three queen sized bedrooms and two bathrooms with polished Baltic floorboards and French doors opening out to a lovely garden.
For something more modern, the architecturally designed Valley of the Waters Bed and Breakfast at Wentworth Falls has views over the Jamison Valley from its timber balconies, where kookaburras and cockatoos regularly drop by to perch on the handrails.
Or splurge on a stay at the refurbished Art Deco Hydro Majestic Hotel at Medlow Bath, which was built as a health resort in 1903 and stretches for 1km along an escarpment with views over the Megalong Valley.