Local's guide: Wagga Wagga
Known as the 'place of many crows' to the local Wiradjuri people, Wagga Wagga is New South Wales's largest inland city and it's a gem.
The Blessed Bean

Museum of the Riverina

Mantra Pavilion Hotel
Perched on the banks of the Murrumbidgee River, it's a place where the produce is as fresh as the country air. Where the modern city streets lead to stretches of open road through farmland to wineries and artisan food producers.
The Wagga Wagga community has been impacted by bushfires, drought and COVID-19 – please check the places you plan to visit before setting off. Please also be a responsible traveller: if you feel unwell, stay home and do not visit these communities and businesses.
Where to eat
When finding your next foodie destination, don't overlook the Riverina region of NSW. Down among the beautiful tree-lined streets is a little coffee haunt named The Blessed Bean. Creating one of the finest coffee's around best enjoyed on a leisurely morning, The Blessed Bean roasts its own beans in-house and has released four different brews, meaning even the pickiest of coffee snobs will find their caffeine fix. Prefer your breakfast straight up with no frills attached? Sling yourself around to the Pot 'n' Kettle Coffee House where you'll get a decent-sized feed at a price that won't make you give up your house savings.
For those seeking to make an ethically sound choice, make your way to Mock Orange cafe set along Gregory Crescent in Lake Albert. Giving back a percentage of every dollar made at the café to a selection of charities, Mock Orange also supports patients going through cancer treatment, offering them complimentary meals. If you're after a barbeque fix, drop into CAVE BBQ on Fitzmaurice Street. Housed in a renovated 1920s building, CAVE has a funky, industrial vibe inviting diners to inhale the smoky aromas of slow cooked meat and sticky sweet chicken wings while sipping on a brew.
And if you're looking for unforgettable food in a beautiful setting then the Oakroom Kitchen and Bar is where you need to be. With small plates to share, an assortment of mouth-watering mains and superb wines to compliment the flavours of the kitchen - the chefs delight in serving up fresh local ingredients with true passion to ensure diners have an experience to remember.
Regional Art Gallery (Photo credit: Visit Victoria)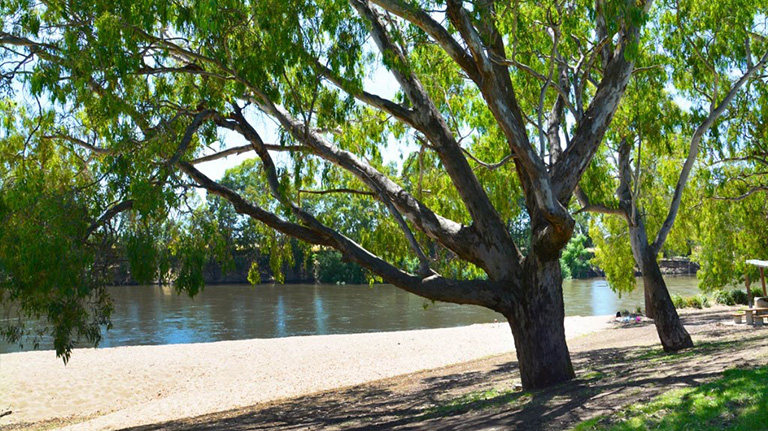 Wagga Beach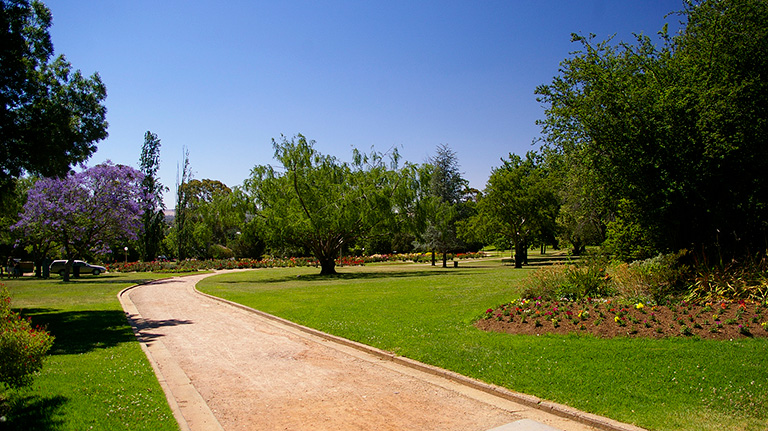 Wagga Wagga Botanic Gardens
What to do
If you're in the mood to learn a little about the local history, why not pay a visit to one of the many museums? With the likes of the Museum of the Riverina, the RAAF Wagga Aviation Heritage Centre and the Wagga Steam and Vintage Engine Museum you'll be spoilt for choice when it comes to deciding where to head first. When it's time to get outdoors and appreciate nature, the options are endless. A visit to the Wagga Wagga Botanic Gardens is a great choice for the whole family, with a mini zoo, children's adventure playground and miniature railway on the premises. During the warmer months a trip to Wagga Beach, which is set on the Murrumbidgee River is great for swimming, a picnic or barbeque.

If you're a fan of the arts, you'll be stoked with what's on offer in Wagga Wagga. A trip to the Regional Art Gallery is a must, where a range of artwork from outstanding Riverina artists are hosted - as well as plenty of other exhibitions. It's also home to the National Art Glass Collection which houses a world class, nationally significant collection of contemporary art glass. The Lockhart Sculpture and Heritage Trail is also worth paying a visit, as is the Wagga Wagga Civic Centre, which regularly hosts high quality productions including music, drama, comedy, circus and kids shows. However if you still want more, why not explore Collins Park, the Wollundry Lagoon and Victory Memorial Gardens, or the 42km long Wiradjuri Walking Track.
Where to stay
If you're heading to the Riverina area for business or leisure you'll find the Mantra Pavilion Hotel is in the perfect location for all things recreational. Exuding quality, style and warmth – its European influence offers a taste of magic for all its guests. An awe inspiring 109 foot fabric roof – the largest of its kind in the world – towers above one of the finest à la carte restaurant in the region. Offering unrivalled quality and flexibility whether you're staying in a studio, family suite or a fully self-contained one and two bedroom apartment, you'll be relaxing in style and comfort.

Sitting on the hill, offering uninterrupted views back towards the lights of Wagga and the mountain ranges beyond is Belisi Farmstay. Built from recycled shipping containers, the luxuriously appointed two bedroom cottage can sleep six and provides a rural sanctuary where adults and children can come and unwind, rejuvenate, interact with horses and other animals, get back to nature and enjoy the simplicity of life. The cottage is located 15-minutes' drive northeast of Wagga's CBD and is perfect for a well-earned break, romantic getaway or even just a bit of family fun.
And if you're after luxurious, bespoke, self-contained apartments – than The Houston, located on the edge of Wagga's CBD will make you feel right at home. Occupying the 1868 neo-gothic building originally known as Belmore House and featuring high ornate pressed metal ceilings, fireplaces and a grand ballroom space the Houston offers a secluded experience unlike anything else in the area.
NRMA members can also save on Car hire in Wagga Wagga at SIXT with 15% off daily car hire rates and a free upgrade.
Get more out of your getaway
Download the my nrma app to find attractions and exclusive Member benefits nearby