EV Road trip: Byron Bay to Tamworth
Important Safety Message
With recent wet weather and flooding across Australia's east coast, check Live Traffic to ensure the route is safe before driving to any of the destinations below. Ensure your NRMA roadside assistance is up to date before any road trip and never drive through flood water. If you are in a dangerous situation and immediately impacted by the floods, call the emergency services.
Acclaimed for its natural beauty, as well as its creative communities and fresh produce – Northern NSW provides everything from spectacular scenery, rolling green hinterland, to rugged national parks and great surf beaches.
And what's more, you can now take this road trip in the comfort of your electric vehicle – all thanks to NRMA and its network of fast chargers. We've taken the guesswork out and planned the journey for you - including charging stops (say goodbye to range anxiety), places to eat, sleep, discover and enjoy.
Day 1: Byron Bay to Grafton
2hr 15min | 164km
Stop 1: Charge at The Farm
Before embarking on this epic Northern Rivers road trip, don't forget to charge up at the NRMA's fast charger at The Farm in Byron Bay – allowing you to charge your car in about 30 minutes all up.
Stop 2: Get caffeinated at Top Shop 
There's no shortage of places to kick- start your day with a coffee shot. Local favourites are Top Shop, where you can sprawl on the lawn in the sunshine, Bay Leaf with its beans roasted next door and the Roadhouse, which is worth the 2km trek out of town for its organic spread and home-brewed kombucha.
Day 2: Grafton
Stop 1: See the Jacarandas
A place where colonial buildings meet leafy streets, Grafton has more than enough to satisfy even the most seasoned traveller. But the real claim to fame is the 2000+ Jacaranda trees that were brought over by a seed merchant and today bathe the city in purple every October when the longest-running flora festival – the Jacaranda Festival takes place.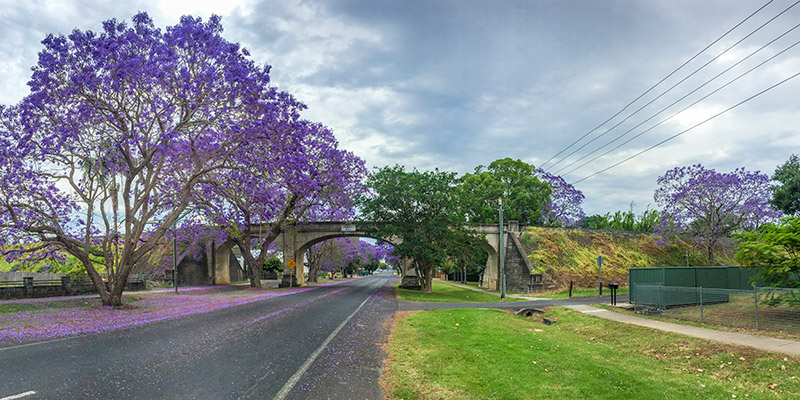 Stop 2: Visit the Grafton Farmer's Market
Buy fresh seasonal produce at the Grafton Farmer's Market, held every morning in the carpark of the heritage-listed Christ Church Cathedral. Take a short drive northeast of the city and you'll find the iconic 113-year-old Ulmarra hotel. Otherwise, Grafton has no shortage of cafes, restaurants and heritage pubs to suit any taste.
Don't forget to charge at the NRMA fast charging station, located in the Grafton Library car park on Pound street – available to motorists 24 hours a day.
Day 3: Grafton to Glen Innes
3hr 42min | 283km
Stop 1: Take the road less travelled
It's the road time forgot - Old Glen Innes road. Before the Gwydir Highway opened in 1962 the only way to get from Grafton to Glen Innes on the other side of the Great Dividing Range in northern NSW was this twisty riverside track. Wander around the ghost town of Dalmorton and stop and take a look at the memorial at Newtown Boyd.
Stop 2: Recharge at NRMA's fast charging station
Once you've reached the captivating rural town of Glen Innes, your first stop should be to charge up at the NRMA's charging station. Located in the Town Hall carpark off Sommerlad lane, you can make use of the local amenities while charging. Catch up on some rest at the Apartments on the Park – a heritage listed building situated in a quiet, central location opposite the parklands.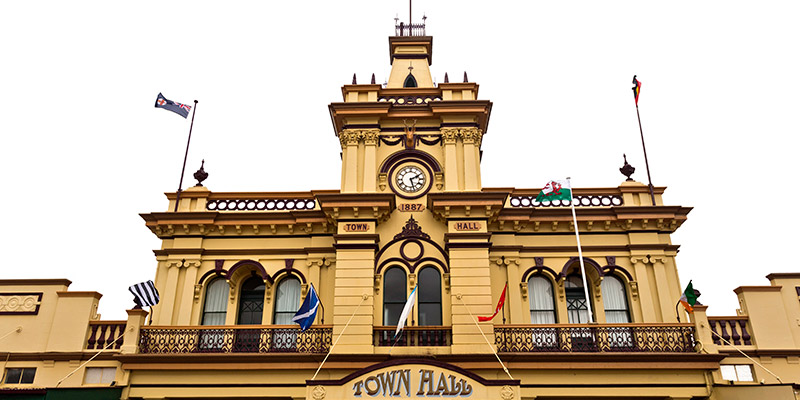 Day 4: Glen Innes to Armidale
1hr 5min | 95km
Leaving Glen Innes and heading to Tamworth, Armidale is a stop that can't be missed. Sitting high on New South Wales' Northern Tablelands – with its broad streets, lattice-wrapped pubs and distinctive blue-brick buildings, it's the de facto capital of this region.
Stop 2: Pack a picnic and head to Bearngutta Picnic Area
This quiet grassy clearing is a charming spot to have a picnic amongst the snow gums. It's ideal for small groups wanting to be conveniently near to Point lookout, yet away from the road. A walking track here links to the Point lookout circuit and through the snow gum woodland to Platypus Valley lookout on the Eagles Nest walking track.
Stop 3: Take the Armidale Heritage Bus Tour
For a great introduction to Armidale, jump on the free guided Heritage Bus Tour which runs for 2.5 hours. You'll learn about the history of Armidale and the people from an informative guide. This tour operates on donations and departs from the visitors information centre at 10.am 7 days a week.
Some of the sights you'll see include Booloominbah, a Victorian mansion situated at the University of New England, heritage homes, impressive churches and perfectly manicured gardens.
Day 5: Armidale to Tamworth
1hr 23min | 113km
Stop 1: Visit the Big Golden Guitar Tourist Centre
Expect plenty of character and postcard perfect scenery on today's drive, ultimately ending in Tamworth, just an hour north of Nundle.
Australia's country music capital is best known for the Tamworth Country Music Festival which takes place every January, but there are plenty of year round attractions including the Big Golden Guitar Tourist Centre, which displays dozens of guitars autographed by famous musicians. If you are travelling with children, they will love the Marsupial Park, where they can get close to kangaroos, wallabies, cockatoos and emus.
Stop 2: Visit and picnic at Bicentennial Park
Tamworth has a wide range of cafes to tantalise every taste, from vegan pancakes to a traditional Aussie style big breakfast. As the afternoon rolls around you might feel like relaxing in one of Tamworth's beautiful parks. Bicentennial Park is located in the heart of the city and is just moments away from the extremely popular Tamworth Regional Playground, the perfect place for children to explore and play.
Stop 3: Relax and unwind at CH on Peel
The heritage-listed CH on Peel, right in the heart of the city centre has been transformed from a pub into an Art Deco hotel in 2014. The good news is, you can still enjoy a beer or a glass of wine in the bar downstairs while watching the world go by. At the leafy Paradise Tourist Park, set on the Peel River – a few minutes amble from the CBD, you can book a cabin, pull up with a caravan or pitch a tent. Its meticulously-kept facilities include a communal kitchen and – the best thing during the heat of a Tamworth summer; a swimming pool.
Stop 4: Recharge at NRMA's fast charger
Before you make your way home, don't forget to charge your electric vehicle at the NRMA's Tamworth fast charger. It's located in the car park of the Country Music Hands of Fame Park, on the corner of Kable Avenue and Brisbane street.
#WhyWeRoadTrip
If you are a local business or a traveller passing through, we want to hear why road trips are important to you!