Road trip: Wollongong to Merimbula
These communities have been impacted by bushfire and lockdown restrictions. Please check the status of roads and places you plan to visit before setting off.
With an array of pretty little towns, pristine coastline and all manner of wild life, the Wollongong to Merimbula road trip is one that should be on people's bucket lists.
Day 1: Wollongong to Murramarang
Stop 1: Visit the Kiama blowhole 
There are multiple ways to admire Kiama's sculpted coastline and rolling green hills. A favourite among local's and visitors alike is the Kiama Coast Walk, a 22km track that runs from Minnamurra to Gerringong, passing Bombo Headland's striking hexagonal basalt columns. While you're in the area, a visit to the famous blowhole to "ooh" and "ahh" each time a saltwater plume shoots into the air is a must, as is rambling around the town's simple 19th century lighthouse.
Stop 2: Crooked River Wines, Gerringong
After a squiz at the Kiama Blowhole, celebrate the fact you've escaped the clutches of the city and you're surrounded by emerald green countryside at Crooked River Wines. The cellar door is open daily from 10.30am to 4.30pm, the winery often hosts live music on Sunday afternoons and the onsite Oak Room Eleven restaurant is cleverly angled away from the Princes Highway towards a bucolic view over grapevines and rolling hills. The restaurant serves fancy fare such as Black Angus with truffle mash and chocolate whiskey soufflé with caramel honey ice cream but for Wednesday to Friday lunches, a simpler blackboard menu is on offer. It features pizzas, toasties, meat, chips and salads. If travelling during the cooler months, head to Gerringong's whale watching platform near the cemetery to see if there's any action on the "Humpback Highway".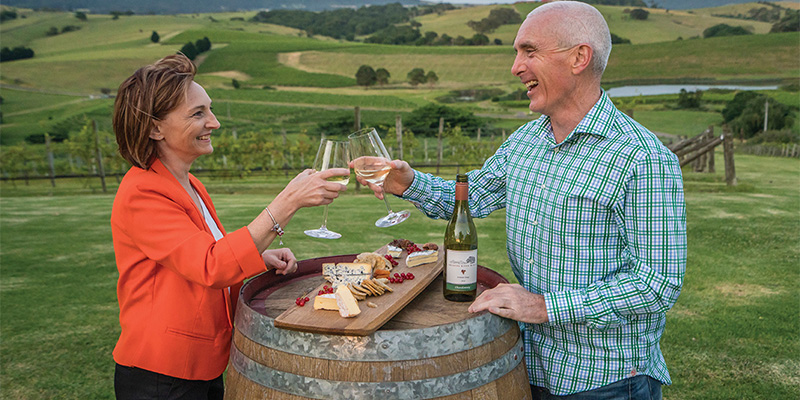 Stop 3: Visit the famous donut van at Berry
Potter along Berry's main street to stretch the legs. Browse antique stores such as Broughton Antiques, check out the homewares and quirky furniture at This Old House Studio or pick up piping hot, cinnamon dusted donuts and a coffee from The Famous Berry Donut Van. Venture a little off the main drag to stock up on old fashioned sweets (such as musk sticks, slate pencils, sherbet lollypops and humbugs) from The Treat Factory.
Stop 4: Spot whales at Huskisson
Jervis Bay Wild, based in Huskisson on Jervis Bay, runs a variety of cruises – think dolphin and whale watching, along with summertime boom net rides – but one of the more intriguing outings is the South Coast Passage tour that starts with a bus ride to the blink and you'll miss it village of Currarong. Board a rigid inflatable boat to skirt around Beecroft Peninsula and back into Jervis Bay. Along the way, the boat noses into dim sea caves and cruises past basking fur seals. There's also some insight into the extreme antics of local rock fishermen, who have inserted ladders into the sheer cliffs and dangled knotted ropes so they can access the lower platforms and fish to their heart's content. On the way back to the Huskisson base, you might be accompanied by dolphins cruising alongside the boat.
Stop 6: Seafood for dinner at Mollymook
Foodies will be in for a treat at Rick Stein's eponymous eatery, where the menu makes much of the South Coast's aquatic bounty, with dishes such as ceviche of Ulladulla mahi mahi, oysters from Narooma, eastern rock lobster thermidor and battered Ulladulla snapper deep fried in dripping and served with mushy peas, thick cut chips and tartare sauce. Take a seat inside or outdoors to enjoy the fruits of the sea with views that stretch all the way to the horizon.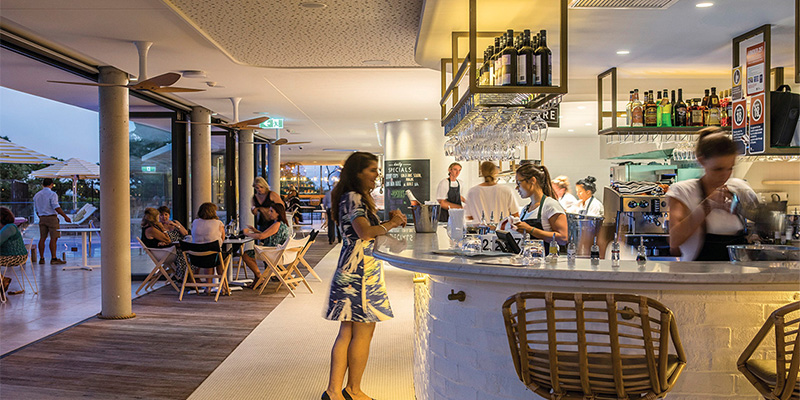 Stop 7: Stock up on wine at Ulladulla
Winemaker Wally Cupitt was always a keen home brewer and, after a stint of work experience with Manly's 4 Pines brewery, he and Tom Cupitt started brewing single batch beers at the vineyard in 2014. Pick up a few bottles or a takeaway growler, or sample the tasting paddle. The fromagerie makes a cows' milk brie and four varieties of goats' milk cheeses.
Stop 8: Explore and stay at Murramarang
In cooler months, detour into Meroo National Park to check out the action on the "Humpback Highway" – the route favoured by whales shuttling between their feeding and breeding grounds. Pack a pair of binoculars or simply cast an eye out to sea from the wind sculpted Meroo Head lookout or Nuggan Point. It's also possible to whale watch at Murramarang National Park, which boasts 44km of rugged cliffs and headlands. One of the highlights of Murramarang, though, is visiting the park's grass fringed Pretty and Pebbly beaches to see the rare sight of kangaroos enjoying a day out (and a snack) at the beach. Bring a camera or your phone to snap the unusual beach going 'roos.
Stay: Villas at the NRMA Murramarang Beachfront Holiday Resort are just metres from the sand and boast views of Beagle Bay. There's also a campground for vans and tents.
Day 2: Murramarang to Merimbula 
See the natural map of Australia at Narooma
On the rocks at the mouth of Wagonga Inlet lies a unique rock formation that, when viewed at just the right angle, it's hole reveals a resemblance to the map of Australia (minus Tasmania). Aptly named Australia Rock, the iconic structure is popular with visitors wanting a snap for the 'gram. Don't forget to keep an eye out for the resident fur seals on the bar rockwall.


Stop 2: Sample a beverage in Greigs Flat
Just outside Pambula town centre, Oaklands Barn is a wonderful rustic precinct combines a stockfeed store, nursery, art gallery, café, and a farm with horses, alpacas, donkeys and even an ostrich. The Imlay brothers, who were pastoralists and gold miners, first settled the land in 1833 and are synonymous with the region. The main homestead that now houses the businesses was built in 1847 for the Walker family. The Longstocking Nano-Brewery (i.e., even smaller than a micro-brewery) was recently added, which serves up beer, cider and oysters. If driving duties preclude you from enjoying a full glass, $2 will get you a 'sample' (slightly larger than a shot glass) of anything on the menu. Try the 'Fatty Arbuckle' dark ale, which is just the shot on a cold afternoon.
Stop 3: Climb to the top of a lighthouse at Green Cape
Erected on a remote windswept point in 1883, this imposing lighthouse was once the tallest concrete structure in Australia, standing at 29m. Many of the materials to build it were shipped from England and brought to the site on a horse-drawn cart along a rudimentary rail system. Today, Green Cape Lighthouse is part of Ben Boyd National Park and the old lighthouse-keeper residences have been turned into bucolic holiday accommodation. Visitors in winter who aren't keen on chilly and blustery isolation might be more comfortable holding off their stay till spring. Much of the 23km road in to the lighthouse is gravel, so take your time. Tours can be arranged with the National Parks and Wildlife Service and include loads of history, plus a climb of 116 spiralling stairs to the top of the lighthouse, which will be lit up in November 2019 to celebrate its 135th anniversary.
Stop 4: Stay in a luxury cabin in Merimbula
When it comes to luxury cabins, you'll be hard-pressed to find anywhere better than NRMA Merimbula Beach Holiday Resort. The clifftop ocean condo is palatial, with three bedrooms, two bathrooms, and a gas fireplace in the living room. In fact, 'cabin' is a misnomer; it's a house that happens to be in a holiday park. You'll be glad of your NRMA Membership discount, especially in the high season, but in the cooler months it feels well worth the outlay.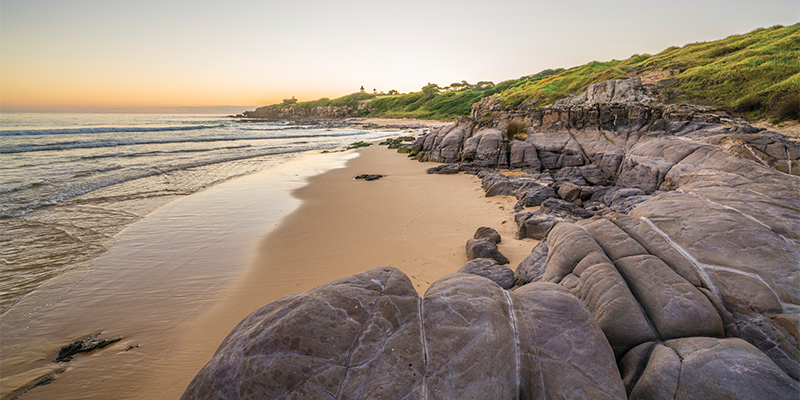 Stay 4 nights, only pay for 3
Or save 10% on shorter stays at NRMA Holiday Parks and Resorts.