FreightExchange is like Uber for logistics. The company operates a unique online portal that does two things.
You can ship goods through it, but its unique aspect is that it allows freight companies to list their spare capacity so planes, trains and automobiles are full before setting off for their final destinations.
This helps make the most of the transport sector's capacity and means there's less wasted space on transport routes.
It's understood FreightExchange is one of the first examples of the emerging peer-to-peer business model that has disrupted sectors such as accommodation with Airbnb and taxis with Uber.
While these business models are based on consumers providing services to other consumers, a business-to-business model is the iteration that has emerged in transport. But it's still very much in its early days and FreightExchange is at the forefront of this movement.
Co-founder Cate Hull came up with the idea for FreightExchange after noticing too many trucks were leaving the Port of Fremantle empty. She thought there must be a way to make sure they leave full of goods.
"I did a lot of research and found wasted space was a huge problem, not just in Fremantle but globally. Up to one in three trucks on the road is completely empty. There's no reason for that. We're at a point where technology can solve that problem," says Hull.
She concedes this is no easy feat. "Our goal is to make it look really, really simple, not matter how complicated it is behind the scenes."
The FreightExchange software is integrated with operators of all sizes making it easy to instantly pick up their pricing, make bookings and track the freight.
FreightExchange ships domestically through trucks, containerised rail freight and coastal sea freight. It is now looking to expand to Singapore, Malaysia and southern China.
Hull says trust in logistics is an issue the business is trying to resolve. The solution will likely involve a new technology called blockchain. This provides a better way of verifying an asset's provenance than existing systems because the electronic transaction that records when an item changes hands cannot be tampered with, and this allows people to see and trust the chain of ownership.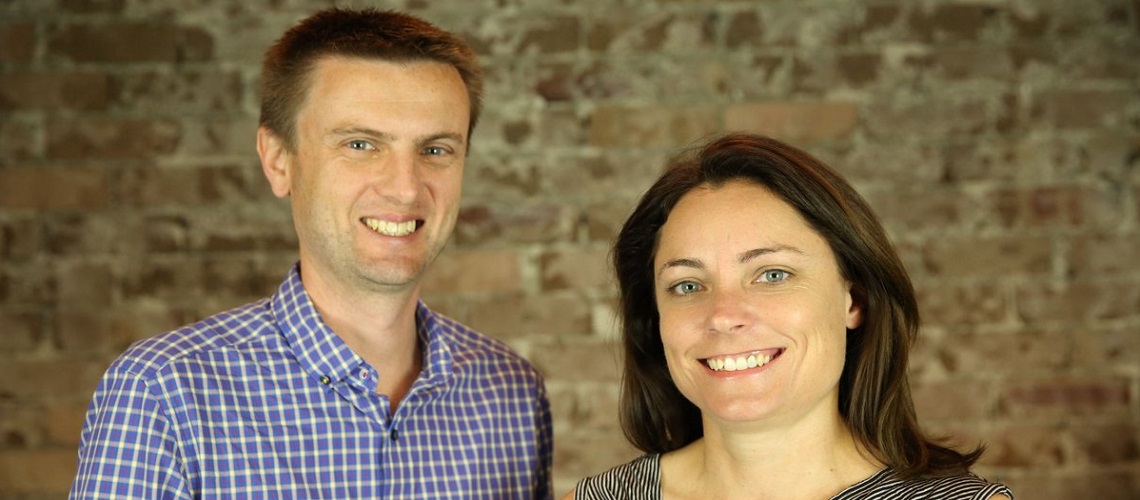 Freight Exchange founders Cate Hull (CEO) and Martyn Hann (CTO)
FreightExchange is leading in this area. Its ability to integrate into all the carrier platforms allows users to see everything that is moving around the system, which improves tracking and tracing.
As for the potential for the peer-to-peer model in the transport sector, Hull says there is a big difference between carrying people in a taxi and freight.
"It is not a person to person transaction; there are lots of parties involved. You need to load and unload the truck or container, transport the goods to the port, load it on the ship, and repeat this process at the other end," she says.
New technologies are already shaping transport. Self-driving trucks may one day put many truck drivers out of a job. Automation of the warehouse and loading and unloading vehicles will one day be standard. But there's still a huge amount of innovation required before arriving at that point.
Says Hull: "The freight piece will take longer than the passenger transportation piece."
Commenting on the emergence of peer-to-peer business models in logistics, Michael Kilgariff, managing director of the Australian Logistics Council, says the way Uber and similar services have taken off in the passenger transport market has certainly been noticed with interest in the freight logistics industry.
"The recent launch of Uber Freight in the US is of particular interest," he says. "Peer-to-peer models may help speed the uptake of technologies that will boost supply chain visibility and make it easier for customers to track their freight on its journey. But that's only one side of the story."
Kilgariff agrees moving freight is far more complex than moving passengers. "Even if an app proves able to navigate some of the complexities, there's the question of compliance with the Heavy Vehicle National Law and a range of other workplace health and safety obligations."
He notes the middle of next year will see a significant extension of Chain of Responsibly (CoR) obligations, which will place a primary duty of care on supply chain participants to ensure the safety of road transport operations, with executive officers such as directors having the primary duties regime applied to them.
"In other words, if you control or have influence over any transport task, you are deemed to be part of the supply chain and therefore have a responsibility to ensure the law is complied with," he says.
Another reason why peer-to-peer models in freight will take time to develop is because the economics of a completely automated system has to be resolved. This is something on which the FreightExchange team is working.
"We are looking at how to automate contract management. Every time a piece of freight or goods changes hands, money changes hands. Simplifying this will cut costs across the sector," Cate Hull says, adding that blockchain is central to this.
"In terms of fraud and risk, we think it's going to be a really important technology, but it's pretty unproven at this stage."
Localisation is the big prize for communities, adds Hull. "Right now, if you've got pumpkins growing in far north Queensland, they get trucked down to Brisbane. Then from Brisbane, they get distributed to the supermarket chains. Then those pumpkins will be shipped back up to far north Queensland.
"With our platforms suppliers will be able to say, "I've got ten tonnes of pumpkins, but instead of shipping ten tonnes down to Brisbane and then five back up to the shops in far north Queensland, I'll keep them in far north Queensland."
This approach supports more efficiencies in the supply chain and less waste.
Right now FreightExchange is raising seed funding to help it open up Asian markets and accelerate development of its technology platforms.
Although the business is very much an emerging one, it's likely the world will be hearing a lot more from FreightExchange in the future.